Home-equity loans make quiet comeback
Lenders worsened the housing bust by allowing homeowners to borrow aggressively against the rising value of their homes. Now they are gingerly testing the waters again.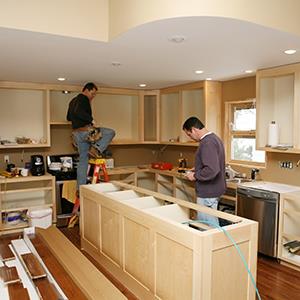 Just when you resigned yourself to the idea that you'll never get that kitchen remodel you dreamed of, home equity loans are making a comeback.
Home equity loans, you'll recall -- along with home equity lines of credit, or HELOCs, were among the shovels that let homeowners dig their own graves and bury themselves in debt during the bubble. At the height of the boom, home values were rising so quickly that homeowners used the loans like ATMs, literally taking cash out of their homes.

Home equity borrowing disappeared after the housing market tanked in late 2008. Lenders concluded -- a little late, to be sure -- that helping borrowers squeeze every last dime of equity from their homes wasn't a safe banking strategy.
They sure were right about that. And anyway, they couldn't make loans on home equity we didn't have. By late last year U.S. homes had lost, on average, nearly a fifth of their value from the peak in 2007. (For the big picture at a glance, see Zillow's terrific color-coded, interactive map. The red shows homes underwater. Zoom in to see your county.)
Home equity losses were worse on the coasts, where prices had bubbled highest. By late 2011, nearly a third of U.S homes with mortgages were under water.

Now things are changing. Maybe you can get that new kitchen after all. With home values rising for 12 consecutive months, lenders are open again to home-equity lending.
Existing-home prices are up nearly 12% from a year ago, on average. That's the biggest year-over-year increase since the superheated days of 2005.
Lenders opening up
Lenders are starting to make equity loans again, especially where home values are rising. Discover Financial Services, which also offers the Discover card, announced in March that it will offer fixed-rate home-equity loans of $25,000 to $100,000, initially to current customers and eventually to others.
But you won't be able to borrow against every last cent of your equity. Lenders may be slow learners but they have noticed that their bubble-era practice of lending on 100% of a home's value left them holding the bag when those homes suddenly were worth a lot less than the loans.
So even with great credit, don't expect to borrow more than 85% of your home's value, real-estate expert Kenneth Harney says. For example, that if your home is worth $400,000 and your mortgage balance is $280,000 (70% of the value), you could borrow, at most, $60,000. That might not bankroll your dream kitchen, but should allow you to give it a nice upgrade.
Once home equity lending starts up in earnest, we'll find out if the recession really did sober us up about borrowing. Lenders are cautious now, and they're unlikely to let you get into deep trouble.
But perhaps the biggest takeaway from the crash for consumers was the realization that we can't rely on lenders to keep us out of trouble.
Stay safe by thinking through your borrowing really carefully. Shop. Don't be pressured by a salesperson, no matter how charming.
If you're unsure how it works or just want to talk over the numbers with an expert, call 800-569-4287, or find a nearby HUD-certified counseling agency on this map. And remember: 
It's not free money.

This sounds obvious, so forgive us. But spending home equity is consumption, not an investment. On average, homeowners get back about

61% of each dollar

spent on remodeling. That's down from nearly 87% in 2006, but up from last year's 58% return.

Your payment can rise. Home equity lines of credit generally use adjustable interest rates. That means your minimum payment is certain to rise, since rates have nowhere to go but up.

You could lose your home. Fall behind on your payments and the lender can foreclose. Home equity products were behind some of the worst abuses of bubble-era lending. Right now, lenders are fussy, so easy credit is not the danger. But that could change.
More from MSN Money:
Can it actually get any more stupid? My ID stands for "veteran_lender" and it was my career for more than 25 years before a bad bankster fired me. The Tax Reform Act passed in May, 1986 and I was told to begin creating the process procedure affiliations and marketing approach for Home Equity Loans in June, 1986. There aren't many more people exposed to the entire universe cycle of equity products than me. We can't possibly be doing the right thing bringing them back NOW. We haven't fixed what's wrong in credit, especially mortgage credit. How can we? Banks dominate the industry and 100% of abuses come from banks and narrow-minded psychopathic management in banks. The current trend is to book a mortgage and sell it to the Federal Reserve as soon as possible. It takes about 3% of the interest rate to service a mortgage, so if the rate is 2.75% it is a negative draw on the lender's cash flow right off the closing table. Half the nation's housing is in foreclosure, being repossessed, stagnant and unsaleable, or masqueraded to not appear vacant and bank-owned. How do you establish values with cancer like that? Further, home equity loans are junior liens on property, so if they go bad, the lender has to buy out the first mortgage to create an ability to repossess the home. If we can't make good first mortgages, imagine how bad these new seconds will be? We need to get Congress off it's uncooperative assses and close the banks, get them reconciled, bar every existing employee from returning to them, regulate them and restore the jobs competent people had in them prior to 2008. We're just destroying any possibility of recovery ever-- if we don't.
I also wanted to remind everyone that the banks are issuing "we're sorry" checks to all the wrongful foreclosures and repossessions. People who likely spent time in a homeless shelter got $300. People who served in the military while their families were wrongfully evicted got $1,000. Some of those folks were foreclosed on and lost their home to a bank that didn't own their mortgage, one didn't even have a mortgage and several weren't delinquent at the time of foreclosure. I might add that NOT ONE... not a single lawyer who managed the service of the delinquency notices to foreclosure and repossession were even reprimanded, much less spent time in prison. We have to end this. It isn't lending that's the problem... it's banks, financiers, lawyers, administrators and politicians... people who make a living out of the economy while contributing nothing to it. It's time to go after pariah, not make equity loans.
Are you sure you want to delete this comment?
DATA PROVIDERS
Copyright © 2014 Microsoft. All rights reserved.
Fundamental company data and historical chart data provided by Morningstar Inc. Real-time index quotes and delayed quotes supplied by Morningstar Inc. Quotes delayed by up to 15 minutes, except where indicated otherwise. Fund summary, fund performance and dividend data provided by Morningstar Inc. Analyst recommendations provided by Zacks Investment Research. StockScouter data provided by Verus Analytics. IPO data provided by Hoover's Inc. Index membership data provided by Morningstar Inc.