Is a secured card the best way to rebuild credit?
If you're looking to boost a low credit score, you want to use the right financial tools. Here's what you need to know to pick one that suits you.
This post comes from Allison Martin at partner site Credit.com.

If your credit score is in the ditch, there are a number of reasons you may want to rebuild it. Perhaps you are looking to make a major purchase, such as a home or a vehicle, or you may need to obtain a credit card for something as simple as a car rental. Regardless of the situation, raising your credit score can be very difficult and time-consuming if not done properly.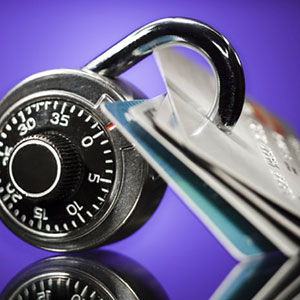 Although a secured credit card may seem like a simple way to start rebuilding a damaged credit score, is it the best option available? Well, the answer to this question depends on your unique financial situation, and there are a few factors that can help you determine if it will best suit your needs.
What to consider
Before applying for any secured credit card, carefully review the terms and conditions of the particular card to determine your eligibility. Some credit issuers offer secured credit cards to only those without a credit history, and not to those who are seeking a second chance at rebuilding their damaged credit.
Fees and interest: Some cards have annual, activation and monthly maintenance fees, which can end up costing you more than the card is worth and absorbing a substantial amount of your available balance even before you make a purchase. This is problematic if you do not have the means to quickly reduce the outstanding debt balance, because it could give you a high debt to available credit ratio, which could have an adverse effect on your credit scores. To avoid this pitfall, select a secured card that requires little to no fees to acquire and maintain.
Reporting practices: In order for your score to be impacted by a secured credit card, the credit issuer must routinely report activity to each of the major credit bureaus -- Equifax, Experian and TransUnion. This serves as proof that you are responsibly handling your debt.
Other ways to rebuild credit
A secured credit card can be the pathway to better credit if you choose the right card for you, and you use it responsibly. However, there are other factors that affect your credit, and if any of these issues apply to your credit situation, these steps can help you if you're looking to rebuild.
Also, as you work to rebuild your credit, it can be helpful to track your progress by monitoring your credit scores.  You can do this for free using a tool like Credit.com's Credit Report Card, which updates your credit scores every month, and gives you an overview of your credit profile so you can see which areas of your credit need help.
Dispute inaccurate information: Start by obtaining your free credit reports. If you notice any inaccurate information after reviewing them, immediately file a dispute online or via certified mail with one of the major credit bureaus. They must notify the other two credit bureaus and respond to your dispute within 30 days. If you win your dispute, the errors must be removed immediately from your credit file; this can have a positive effect on your credit score. On the other hand, if the creditor does not rule in your favor, request that a note be placed in your file that details the dispute.
Timely payments: Approximately 35 percent of your credit score is determined by payment history. As a result, you can also rebuild your credit over time by catching up on all past-due payments and developing responsible payment habits. If you are unable to meet an obligation, reach out to the creditor to inquire about arranging an alternative agreement.
Pay off debt: The fastest way to reduce the amounts owed to creditors, which accounts for about 30 percent of your credit score, is to pay off any outstanding debt obligations. You can do this by cutting your costs and re-allocating any residual funds to your debt-management fund. You can also pick up side jobs to aid in the efforts.
If you make the decision to move forward with a secured credit card, use it responsibly to derive the greatest benefit. Maintain a very low credit balance, ideally no greater than 10 percent of the credit limit, and make timely payments each month. You might decide to use the card as temporary medium until your credit score gets better; however, responsible use of credit over time can be a great way to further build or maintain a strong credit score.
Regardless of the route you choose, be sure to avoid credit repair scams, as they provide only temporary relief.
More from Credit.com:
DATA PROVIDERS
Copyright © 2014 Microsoft. All rights reserved.
Fundamental company data and historical chart data provided by Morningstar Inc. Real-time index quotes and delayed quotes supplied by Morningstar Inc. Quotes delayed by up to 15 minutes, except where indicated otherwise. Fund summary, fund performance and dividend data provided by Morningstar Inc. Analyst recommendations provided by Zacks Investment Research. StockScouter data provided by Verus Analytics. IPO data provided by Hoover's Inc. Index membership data provided by Morningstar Inc.