Are credit scores rising?
More people are making their loan payments on time, which should have a positive effect.
This post comes from Gerri Detweiler at partner site Credit.com.

A recent FICO survey finds that lenders are predicting fewer delinquencies on mortgages, small-business loans, auto loans and credit cards. If those predictions prove to be accurate, then consumers' credit scores may also continue to improve.

The survey, conducted for FICO by the Professional Risk Managers' International Association, found fewer lenders expecting a rise in delinquencies on home loans, car loans and small-business loans than at any time since FICO launched its survey in early 2010.
Payment history makes up about a third of credit score calculation. So if fewer consumers are paying late, it stands to reason that their credit scores could benefit as well. "What we should expect to see is a small upward movement in the credit score distribution," says Andrew Jennings, the chief analytics officer at FICO. "If delinquencies fall, therefore people are making more payments on time that should translate into better health of the credit population."

Post continues below.
In the earlier days of the recession, FICO reported that "lenders saw a sizable increase in the number of consumers who scored in the lowest (300-499) and the highest (800-850) segments of the FICO score range." But FICO reported a reversal in that trend after 2008, noting that "consumer scores have moved away from the tails of the distribution curve, and 2.8 million more consumers have scored in the 550-649 range." (Estimate your credit score for free.)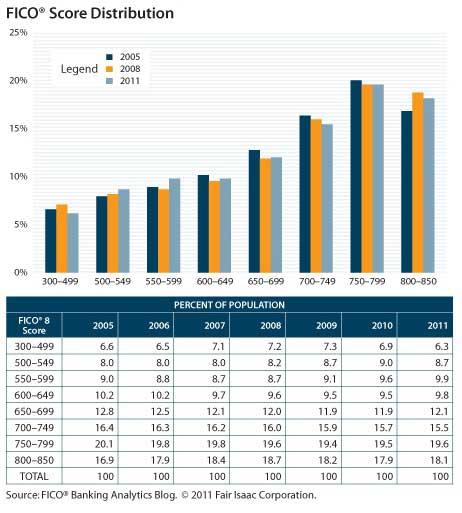 Of course, it takes more than a drop in delinquencies for credit scores to improve. Negative information can remain on consumers' credit reports for seven years in most cases. As it gets older, this information often has less of an impact on credit scores, but it does factor into credit score calculations. Still, even those consumers who have been through very difficult financial problems can begin the process of rebuilding their credit once their situation is stabilized. And paying bills on time is the first step.
It takes credit to get credit
A current on-time payment history is essential to building strong credit. For those borrowers who are ready to get back in the game, the good news is that lenders are making credit more available. "The sentiment that comes out of the survey is that in particular in credit card and auto lending . . . supply will be there," observes Jennings.
The key, of course, will be for consumers to borrow cautiously so new loans don't create future late payments.
More on Credit.com and MSN Money
DATA PROVIDERS
Copyright © 2014 Microsoft. All rights reserved.
Fundamental company data and historical chart data provided by Morningstar Inc. Real-time index quotes and delayed quotes supplied by Morningstar Inc. Quotes delayed by up to 15 minutes, except where indicated otherwise. Fund summary, fund performance and dividend data provided by Morningstar Inc. Analyst recommendations provided by Zacks Investment Research. StockScouter data provided by Verus Analytics. IPO data provided by Hoover's Inc. Index membership data provided by Morningstar Inc.