Credit score query on first date?
Some think that asking a potential mate about his or her credit rating is a must very early on in the process, even on the first date.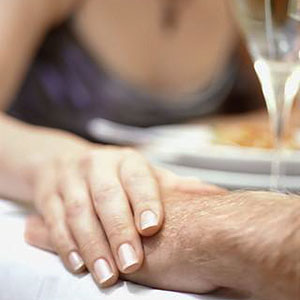 Would you ask someone about their credit score on a first date? Would a low score alone destroy your interest?
That's really happened, says The New York Times, adding that interviews with more than 50 people younger than 40 who are on the dating scene strongly suggest that a good credit score is now a romance essential. It's "sometimes eclipsing more traditional priorities like a good job, shared interests and physical chemistry," the story said.
There are even online dating sites dedicated to matching up creditworthy people.
We have to wonder: Is this really a trend? And, if so, does it give credit scoring undeserved importance in our lives?
"I've always considered 'what's your credit score?' to be more of a third date sort of question," a Times reader wrote.
Commented another: "I would walk out on a date who had the temerity to ask me that. Definitively not an appropriate question when one begins dating. How grotesque and materialistic."
Agreed. However, if your relationship has legs, you do need to talk about money. Don't hesitate to query your love interest about credit scores, debt and other indicators of financial well-being. Eventually make a date to examine each other's credit reports and other documents.
MYNorthwest.com shares the story of a maid of honor who had to tell all the wedding guests that the bride had changed her mind because the groom had hidden debts.
There are other practical considerations for gravitating toward those with a good credit history and avoiding those without. While your solid credit can remain intact even if you marry someone with bad credit, that could change if you combine accounts. If you buy a house together, your spouse's credit scores will affect the interest rate you get. And if your partner can't qualify for a decent car loan, chances are you'll have to step in and you alone will be considered responsible for the payments.
Besides, could you really be happy with someone who struggles with paying bills on time?
But asking about credit scores on a first date? That seems to cross the line into "none of your business."
Jen Doll on The Atlantic Wire expressed doubt that this is, in fact, a trend. But, just in case, here's part of Doll's guide to assessing your date's numbers:
"800-850 is 'MARRIAGE POTENTIAL DING DING DING'
"750-800 is 'take him/her home to Mom'
"700-750 is a 'fixer-upper'
"650-700 is 'fun for a night out, maybe, but bring cash'
"600-650 is 'keep lookin'!'"
When's the right time to inquire about a prospective partner's credit scores? Do you know of anyone who found out the hard way that their betrothed or spouse had lousy credit or secret debt?
More on MSN Money:
DATA PROVIDERS
Copyright © 2014 Microsoft. All rights reserved.
Fundamental company data and historical chart data provided by Morningstar Inc. Real-time index quotes and delayed quotes supplied by Morningstar Inc. Quotes delayed by up to 15 minutes, except where indicated otherwise. Fund summary, fund performance and dividend data provided by Morningstar Inc. Analyst recommendations provided by Zacks Investment Research. StockScouter data provided by Verus Analytics. IPO data provided by Hoover's Inc. Index membership data provided by Morningstar Inc.