Art-school graduates saddled with debt
The creative class is crushed by loans, but isn't that much worse off than squares with a law degree or an MBA.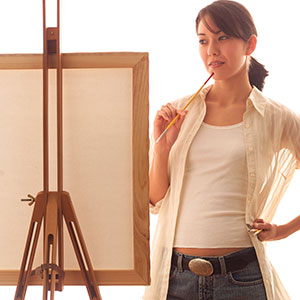 What? Art school is expensive and artists tend to start their careers saddled with debt? What's next, using "starving" as part their job title?
In one of those stunning revelations that folks with "real jobs" love to hear just about as much as a story about Ph.D. recipients on food stamps (even though those same eggheads are far more likely to get jobs than some schlub without a degree), The Wall Street Journal found that graduates from schools specializing in art, music and design tend to have the most student-loan debt. Follow-up pieces on the sky being blue on clear days and school buses typically being yellow are presumably in the works.
Citing numbers from the Department of Education and PayScale.com, the WSJ learned that art school graduates average $21,576 in student debt while earning $40,000 a year in starting salary. That's well above the average debt carried by students from liberal arts schools ($19,445) and research universities ($18,100). At the for-profit Creative Center in Omaha, Neb., for example, a three-year bachelor's degree in fine arts comes with an average debt of $52,035. Median pay for recent graduates, meanwhile, is $31,400.
Before art students stop baring their souls and start working on their business school applications and taking other cubicle drones' morning Starbucks orders, they should realize it's tough all over. The very same Wall Street Journal that implied an art school degree couldn't be more frivolous and worthless if it was presented to you as origami told readers last year that even business-minded employers avoid business majors because they're, well, not too bright. That's not our assessment, but that of folks speaking to a paper whose subscription is practically a requirement for a business degree.
The biggest complaint: Undergraduate degrees focus too much on the nuts and bolts of finance and accounting and don't develop enough critical thinking and problem-solving skills through long essays, in-class debates and other hallmarks of liberal-arts courses.
The WSJ went even further in January, when it again used PayScale.com data to show that median pay for MBA graduates had declined 4.6% since 2008 to $53,900 last year thanks to more MBA recipients diluting the job pool. Meanwhile, business professors told Israeli publication Haaretz outright last week that business majors should consider specializing in "pure sciences, math, economics, psychology, computer science, history, literature, philosophy, architecture" and just about anything other than business.
Law's not exactly a safe bet either. The WSJ downpoured all over that parade in January when it noted that the Bureau of Labor Statistics estimates that the economy will provide 21,880 new jobs for lawyers annually between 2010 and 2020, but law schools have produced more than 44,000 graduates each year since 2010.

The lesson, art students, is that you're going to be saddled with debt no matter which station in life you aspire to. If expressing yourself through various media and creating something others can admire, enjoy or own will make you happier than sitting under fluorescent bulbs, checking stock tickers, sifting through divorce papers and counting the paychecks until retirement, the paper of record for sellouts doesn't make any strong arguments for you to quit doing what you love.
More on moneyNOW
DATA PROVIDERS
Copyright © 2014 Microsoft. All rights reserved.
Fundamental company data and historical chart data provided by Morningstar Inc. Real-time index quotes and delayed quotes supplied by Morningstar Inc. Quotes delayed by up to 15 minutes, except where indicated otherwise. Fund summary, fund performance and dividend data provided by Morningstar Inc. Analyst recommendations provided by Zacks Investment Research. StockScouter data provided by Verus Analytics. IPO data provided by Hoover's Inc. Index membership data provided by Morningstar Inc.