Cost of a new hip? Many hospitals won't say
A new study shows how difficult it is to get a price quote for a common medical procedure.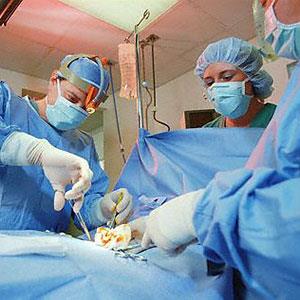 Some say U.S. health care wouldn't cost so much if patients were better consumers -- comparing prices and services.
That's the idea behind health savings accounts and high-deductible plans: If you're paying for a bigger chunk of your medical care out-of-pocket, you'll be more likely to shop around -- and providers will cut their prices to be competitive.
That's theory. Here's reality: Getting a hospital to quote a price is very difficult, and prices, if available, can vary wildly. So finds a study published in a recent edition of JAMA Internal Medicine.
Researcher Jaime Rosenthal called 122 hospitals -- two in each state and Washington, D.C., plus the top 20 orthopedic hospitals -- and pretended to be the granddaughter of an uninsured but healthy 62-year-old woman who needs a new hip. Not easily deterred, she called up to five times asking for a price.
According to a press release, here's what she learned:
"The study found that nine top-ranked hospitals (45%) and 10 non-top-ranked hospitals (10%) were able to provide a complete bundled price. Complete price estimates were obtained from an additional three top-ranked hospitals (15%) and 54 non-top-ranked hospitals (53%) by contacting the hospitals and physicians separately. At top-ranked hospitals the complete price ranged from $12,500 to $105,000 and at non-top-ranked hospitals prices ranged from $11,100 to $125,798."
The study said, "For reference, available data suggest that Medicare and other large payers frequently pay between $10,000 and $25,000 for primary joint replacement surgery." 
The Associated Press observed, "A California study published last year about surgery to remove an appendix found similar cost disparities."
Why would they not provide the information? "Common reasons that hospital representatives gave for not being able to provide a price included that the patient has to see a physician before they could provide a price, that they do not provide price estimates over the telephone, and that they had no way to provide such an estimate," the study said. 
What should you expect a hip replacement to cost? Healthcare Blue Book says the standard amount insurers pay is $22,527, including:
$2,597 for physician services -- the procedure and routine post-op care.
$18,854 for hospital services, including a $5,000 implant and four days in the hospital. 
$1,077 for anesthesia services for two hours and 15 minutes. Of course, depending on what the surgeon finds in there, it could take longer.
The new study is important not only to the uninsured and those who buy their own insurance, which often has a high deductible, but also to people with work-based coverage as employers raise deductibles and co-pays.
What can a health consumer take away from this?
You must be persistent. The New York Times said the researcher eventually got lower price quotes from some of the hospitals after she questioned an initial high price.
You've got to know what's involved and whether the amount you're quoted includes it. It's not like buying a light bulb or even getting a car repaired. With a hip replacement, there's the orthopedic surgeon, your primary care physician, X-rays, blood and urine tests, the hospital bed, the anesthesia team, medications, physical therapy, not to mention the new hip itself. So a price you've been quoted might leave out some important and expensive components.
The cost often depends on who is paying the bulk of the bill. Generally only the uninsured are charged what's considered full price. Large insurers have negotiated discounts.
The price you're quoted likely won't be the final tab, often because of complications or unanticipated costs. While many states require a certain amount of price disclosure, it's often not very useful. Kaiser Health News reported:
"Paul Ginsburg, president of the Center for Studying Health System Change, a research organization in Washington, says published hospital charges are 'useless for consumers.' One reason . . . is that hospital prices are moving targets, varying with patients' needs and doctors' treatment strategies."
Price should not be your only consideration. But a higher price doesn't guarantee better care either. "Without quality data to accompany price data, physicians, consumers and other health care decision makers have no idea if a lower price represents shoddy quality or if it constitutes good value," said an editorial that appeared with the research report.
Have you had difficulty finding out upfront about the cost of care? Have you been shocked by the final bill? How have you coped?
More from MSN Money:

I provide cash quotes sometimes.  The cost of the hip implant itself can vary widely, so you need to know if you are asking for a single ceramic hip or metal hip.
The real problem is Medicare paying the same "major joint replacement"  for a knee and double hip replacement.  These are two wildly different surgeries.  This sends a financial message to Hospitals to perform knee and not hip surgeries. Medicare needs to make their payment system more complicated (distinguish between hips and knees) and not the talking point of more simple (lump payments together to invite abuse.
This is why the call for "free market medicine" is so ridiculous.  You don't know what the costs are going to be and, in emergencies, you're not going to tell the ambulance driver to wait while you call around to hospitals to see which is cheapest.  And since you're normally seeing just your standard copay for treatments and most people don't read their Explanation Of Benefit statements past what they owe, the total cost doesn't register with most people.
"The cost often depends on who is paying the bulk of the bill. Generally only the uninsured are charged what's considered full price. Large insurers have negotiated discounts."  This is another problem that's ridiculous.  My doctor added a Vitamin D test onto 12 other tests I normally get with my every-three-month blood test for diabetes.  The lab mixed up my BCBS ID for just that one test, its computer assumed I was uninsured and sent me a bill for $256.  A 60-second phone call straightened out the problem and so I got the EOB statement from BCBS: the lab charged them $13 - and I have no copay for tests!

Are you sure you want to delete this comment?
DATA PROVIDERS
Copyright © 2014 Microsoft. All rights reserved.
Fundamental company data and historical chart data provided by Morningstar Inc. Real-time index quotes and delayed quotes supplied by Morningstar Inc. Quotes delayed by up to 15 minutes, except where indicated otherwise. Fund summary, fund performance and dividend data provided by Morningstar Inc. Analyst recommendations provided by Zacks Investment Research. StockScouter data provided by Verus Analytics. IPO data provided by Hoover's Inc. Index membership data provided by Morningstar Inc.