Why public colleges cost so much
Tuition at public colleges and universities has more than tripled in the past 30 years.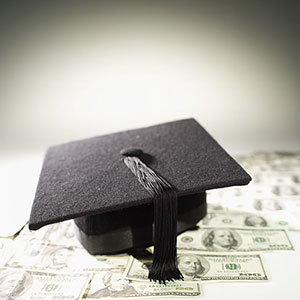 There was a time when those who wanted a solid and exceptionally affordable education headed off to a state university. Now, many states have cut their funding, and tuition has been rising -- a lot.
In fact, the College Board says (.pdf file) in-state tuition at public schools has more than tripled in the past 30 years.
"Over the 30 years from 1982‑83 to 2012‑13 . . . the increase for in-state students at public four-year institutions was 257%, from $2,423 to $8,655" in 2012 dollars, it said. The increase in tuition at private schools was a relatively modest 167%, from $10,901 to $29,056.
The Wall Street Journal reported disturbing news from a new study by the State Higher Education Executive Officers Association:
"The average amount that students at public colleges paid in tuition, after state and institutional grants and scholarships, climbed 8.3% last year, the biggest jump on record. . . .  

 

"The average state (and local) funding per student, meanwhile, fell by more than 9%, the steepest drop since the group began collecting the data in 1980."
The average per-student funding is now $5,896, according to the SHEEO report.
The figures are troubling even if you remove California, where a voter-approved tax hike prevented yet another substantial tuition increase and allowed schools to refund or credit this year's tuition hike. Sans the Golden State, net tuition rose 6.3% and per-student funding dropped 8%, the Journal said.
In fact, state funding has dropped so low in recent years that NPR wondered whether some public universities still qualify as public. State funding  is less than 10% of the overall budgets of the University of Virginia and the University of Colorado, NPR said. 
Why is this significant? More than 70% of postsecondary students attend public colleges and universities, the State Higher Education Executive Officers Association report says. That's the equivalent of 11.5 million full-time students -- a number that has grown by 12.4% in five years -- so lots of students are paying more.
Expect public schools to work harder to attract not in-staters, but instead more lucrative students from out of state, foreign students and those who can afford to pay the full price, says an article in Inside Higher Ed. For example, tuition at the University of Colorado is $9,482 for in-state students and $31,559 for those from somewhere else.
Tuition as a larger share of public university revenue has been a long time coming. "Over the past 25 years, the percentage of educational revenue supported by tuition has climbed steadily from 23.3% in 1987 to 47.0 % in 2012," said an SHEEO news release about the report (.pdf file).
The Great Recession and its aftermath just made things worse for cash-strapped state governments. And in some states, you also get the impression that lawmakers no longer consider higher education a priority.
All but two states cut per-student funding between 2007 and 2012 -- 30 by more than 20%, the report said. Federal stimulus money helped initially, but that was pretty much spent by 2012.
This sounds mighty depressing, particularly if you were counting on an affordable public education to prepare you for the post-recession economy without burying yourself in student loan debt. So keep a few things in mind:
Few students pay full price. The College Board says:
"In 2012‑13, full-time undergraduates at public four‑year institutions receive an estimated average of $5,750 in grant aid from all sources and federal tax benefits to help them pay the average $8,665 published tuition and fees. The students pay an average net price of just over $2,900."
Many schools are still affordable. The Huffington Post identified the 10 cheapest public schools in the country once grants and other aid were factored in. Kiplinger produces an annual list of best values among public colleges based on academic performance and affordability.
You have options, like attending a nearby community college for your first two years and then transferring to a bigger school. Or you can graduate in three years.
Keep in mind that blame for higher costs for students extends beyond state lawmakers. Says another Wall Street Journal story about rising tuition at public schools:
"A number of factors have helped to fuel the soaring cost of public colleges. Administrative costs have soared nationwide, and many administrators have secured big pay increases .... Teaching loads have declined for tenured faculty at many schools, adding to costs. Between 2001 and 2011, the Department of Education says, the number of managers at U.S. colleges and universities grew 50% faster than the number of instructors. What's more, schools have spent liberally on fancier dorms, dining halls and gyms to compete for students."
Has a greater tuition burden caused you or someone in your family to rethink your college plans?
More from MSN Money:
DATA PROVIDERS
Copyright © 2014 Microsoft. All rights reserved.
Fundamental company data and historical chart data provided by Morningstar Inc. Real-time index quotes and delayed quotes supplied by Morningstar Inc. Quotes delayed by up to 15 minutes, except where indicated otherwise. Fund summary, fund performance and dividend data provided by Morningstar Inc. Analyst recommendations provided by Zacks Investment Research. StockScouter data provided by Verus Analytics. IPO data provided by Hoover's Inc. Index membership data provided by Morningstar Inc.