The top complaints about debt collectors
The Consumer Financial Protection Bureau's complaint database highlights the worst problems people have with collectors.
This post comes from Christine DiGangi at partner site Credit.com.

We've all had the experience of answering the phone only to have the "Sorry, I think you have the wrong number" conversation. Maybe there's some awkward exchange after that, perhaps an apology, and then someone hangs up. The end.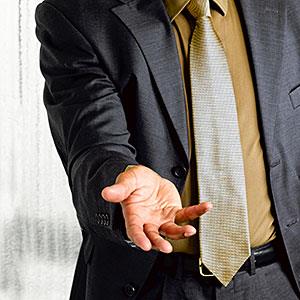 Imagine it went differently: What would you do if the caller said, "I don't care you're the wrong person," and proceeded to talk to you? You'd probably hang up and hope he doesn't call back.
If it's a debt collector, he's calling back.
Collections mix-ups
Some debt collectors don't necessarily care who you are, they just want to get paid. This can be problematic if a collector contacts you by mistake.
A new report from the U.S. PIRG Education Fund says the top complaint the Consumer Financial Protection Bureau receives about debt collectors involves this exact issue.
The problem stems from debt collectors who fail to verify consumers' identities, according to a news release from the U.S. PIRG Education Fund, a consumer advocate group. The CFPB started accepting complaints on debt collectors in July 2013.
Through January, more than 11,000 debt-collector complaints have poured into the CFPB's database, and the most common issue (more than 2,700) consumers described was a collector trying to collect a debt that did not belong to them.
How to end the nightmare
Before you dismiss the collector, be certain the account doesn't belong to you or show up on your credit reports. It's possible you may not know about an outstanding debt before a collector reaches out, and if it really isn't yours you don't want it adversely impacting your credit. If incorrect information appears on your credit report, you need to dispute it with the credit reporting agency. If the account is the result of identity theft, you'll need to file a police report.
But a credit report dispute may not get the job done if a collector insists the debt legitimately belongs to you. You'll have to deal with the collector and perhaps the source of the debt in order to clear up the problem, and you can file a cease and desist letter to stop a collector from contacting you. It's a mess, yes, but it's not one you should ignore.
Other top debt collector complaints include: frequent or repeated debt collection calls; not being given enough information about the debts owed; and attempted collection of debts that had already been paid. Solving most of these issues usually requires reaching out to the collector, which may not be on the top of your to-do list, but it's best to promptly address debt problems.

More from Credit.com
Pay your bills people.  It's the right thing to do.  Don't run up bills you can't pay.  If you do, file bankruptcy.  Whatever you do, don't complain about debt collectors.  Without them everyones interest rates would double because of every loser thief that tries to skate out on obligations.
K? Thanks.


"Some debt collectors don't... care who you are, they just want to get paid."
NCO Financial to a "T"!!!!!!!!!!!  They called me for five months asking for someone else. Even after I advised NCO's Legal and Compliances Dept that they were calling the wrong number, the calls continued... up to 12 calls-per-day, everyday. I had a lawyer friend overnight a registered letter stating that a multi-million dollar law-suit was going to be filed if the phone calls didn't stop by 12noon on the date the letter was received. The calls (surprise, surprise) stopped immediately. NCO Financial is one of the most corrupt, un-ethical, immoral companies on the planet.

I have a recommendation for anybody who wants one. Throw away your suit, cash in your chips, go to the website Gold Trading Academy and learn how to trade and then move to South East Asia and live a life that you never dreamed you could live. That's what I am doing now and very happy instead of being in fear all the time and stressed.
Are you sure you want to delete this comment?
DATA PROVIDERS
Copyright © 2014 Microsoft. All rights reserved.
Fundamental company data and historical chart data provided by Morningstar Inc. Real-time index quotes and delayed quotes supplied by Morningstar Inc. Quotes delayed by up to 15 minutes, except where indicated otherwise. Fund summary, fund performance and dividend data provided by Morningstar Inc. Analyst recommendations provided by Zacks Investment Research. StockScouter data provided by Verus Analytics. IPO data provided by Hoover's Inc. Index membership data provided by Morningstar Inc.