Foreclosed homeowners shopping again
'Boomerang buyers' are re-emerging to qualify for mortgages. Ever wonder what it takes?
This post comes from Marilyn Lewis of MSN Money.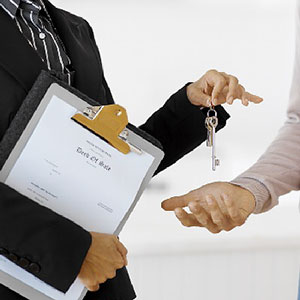 Homeowners who went through foreclosure a few years ago are becoming a small but growing force in the homebuying market. The Wall Street Journal calls them "boomerang buyers."
The WSJ says that "real-estate agents, mortgage brokers and home builders all say a significant number of new buyers are families and individuals who went through foreclosure as recently as three years ago, the time period that buyers who defaulted on a mortgage must typically wait before becoming eligible for a mortgage backed by the Federal Housing Administration."
Rising in Phoenix
One is Ronda Martinez, 39, who, with her husband, Mark, lost a $430,000 home to foreclosure in 2007 when they had to move to Phoenix for a job and couldn't sell their home in Perris, Calif. Since then, the Journal says, "the family has repaired their finances" and Ronda Martinez, after losing one job, has found another:
"This month, the family is closing on a $150,000 home in Phoenix that has five bedrooms and a pool in the back.

"'Initially people are upset and think, "I'll never buy again,"' she said. But 'there's no reason to give up on owning.'"
The low cost of buying, compared with rising rental costs, is what's pushing many to re-enter the market, Reuters says: "'Most are not ashamed or bashful about what happened because so many people were forced into that reality in the last six years,' says Graham Epperson, vice president of sales in Arizona for the PulteGroup, a leading U.S. home builder."
Lennar, the homebuilding company, sees more of these buyers "coming out of the penalty box." Cornerstone Communities, a San Diego home builder, says about 20 of their 110 closings this year involved buyers with a history of foreclosure or short sale.
Moody's Analytics estimates that 729,000 households that were foreclosed on during the housing bust are now eligible to apply for an FHA loan, up from 285,000 in mid-2011. Moody's expects that to grow to 1.5 million by early 2014. It doesn't mean all those people will qualify for mortgages, of course, only that they're eligible to make an application.
How do they do it?
How did they recover so quickly from foreclosure to buy a home, and when so many other would-be buyers can't get a mortgage when they haven't been through foreclosure?
Buyers with a foreclosure history find FHA loans friendlier. They're easier to obtain and require down payments as small as 3.5%. But they're also more expensive over the long run, with slightly higher interest rates and the requirement that buyers purchase mortgage insurance (to protect the lender). The upfront insurance premium is 1.75% of the loan amount (it can be financed). Additional yearly premiums amount to 1.25% of your outstanding loan amount.
"'These are not mainstream programs geared for mainstream borrowers,' says Greg McBride, a senior financial analyst at Bankrate.com, who expects to see more of those with blemished credit re-enter the housing market," writes Reuters.
Lenders are "much more likely to lend to people who lost a job than to consumers who could have afforded their mortgage but chose to default," Reuters says.
The Journal adds:
"There is a web of rules for when and how people who have lost homes to foreclosure or short sales or have gone through a bankruptcy can become eligible for a new mortgage. It typically takes three years after a foreclosure or short sale for a buyer to qualify for an FHA-backed loan. In many cases, it takes just one year after a Chapter 13 bankruptcy discharge, according to the agency."
Fannie Mae and Freddie Mac require longer -- as long as seven years.
Rebuilding credit
Besides enduring a waiting period to apply, buyers also must rebuild credit. Foreclosures and short sales deal massive, but potentially temporary, blows to credit histories.
Experian, the credit reporting company, says:
"According to VantageScore Solutions LLC, a mortgage loan settled through a short sale typically results in a change of 120 to 130 points to the VantageScore credit score. A foreclosure generally causes a decline of 130 to 140 points."
The impact and recovery time vary, depending on your scores and on your personal credit history. FICO, the credit scoring company, offers three examples:
A 680 FICO score before foreclosure may fall to between 575 and 595 after and it could take just three years to restore the score.
A 720 score could drop to 570 to 590 and need up to seven years to recover.
A 780 score could fall to 620 to 640 and, likewise, take up to seven years to rebuild.
"In general, the higher your starting score, the longer it takes for your score to fully recover," FICO says.
It takes seven years for most delinquencies to disappear from your credit report. Chapter 7 bankruptcy can linger for 10 years. Unpaid tax liens hang around "indefinitely."
As tough as foreclosure is on your credit scores, bankruptcy is worse, shaving off more points and taking longer for credit to repair.
"Extenuating circumstances like a job loss, illness or divorce" could help you establish credit more quickly after foreclosure, says The New York Times.
The Times lists requirements for qualifying with Fannie Mae and Freddie Mac:
"With such (extenuating) circumstances, Fannie and Freddie specify a two-year wait after a short sale, deed in lieu, or discharge or dismissal of bankruptcy, and three years after foreclosure. Without extenuating circumstances, waits can extend to four years after bankruptcy and seven years after foreclosure."
Realty Times offers guidance on repairing credit after foreclosure.
More from MSN Money
Are you sure you want to delete this comment?