5 must-have money apps for 2013
Let your smartphone help you plan and track your spending and monitor your debt and retirement accounts. But don't be lax with your phone's security.
This post comes from Deanna Templeton at partner site Credit.com.

Despite predictions that the world would end in 2012, January is here and 2013 is off to a promising start. Not surprisingly, many New Year's resolutions revolve around money and finances -- whether it's to save more, make more, spend less, pay off debt or just get a better handle on our finances.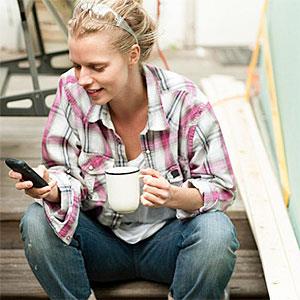 If you've marked 2013 as a year for financial resolutions, here are five free money apps that can give you a little extra help with sticking to (and achieving) your financial resolutions this year.
Mint.com
With more than 10 million users, there's a reason why people use Mint.com to track, budget and manage their money. To use the app you'll need to open a free account, add your bank, credit card, loan and retirement accounts, and Mint.com will do the rest. Mint .com automatically pulls your account data to track and categorize transactions, and includes a customized budgeting feature that's based on your spending patterns and net worth. If you're looking for an app to help you monitor and manage your finances, Mint.com can help you with that.
LearnVest
With its release in October, LearnVest has one of the newest finance apps to hit the market and its feature-rich design could change the way you manage your finances. The app allows you to sign up and add your accounts directly from your phone, making it super-simple to track your spending, stick to your budget and master your cash flow. The app also offers access to money-saving tips and financial advice, perfect for those new to managing finances or fresh out of college.
ReadyForZero
If your New Year's resolution is to get out of debt, the ReadyForZero app is a great tool for helping you reach debt-free status. This app helps you create a debt-repayment plan and track your progress as you go. When you sign up, simply add your credit card, student loan and/or mortgage accounts to get started. Despite being a relative newcomer to the personal finance realm, this small startup has made a tremendous impact, claiming to have helped users pay off more than $32 million in outstanding debt.
Adaptu Wallet
This app offers many of the financial management features you'd see in apps like Mint.com and LearnVest, plus a few more. Adaptu automatically updates, tracks and categorizes your bills and expenses for you, but it also allows you to store pretty much anything you carry in your wallet with a simple snap of a picture from your phone -- membership cards, rewards cards, insurance and business cards, you name it. This is a comprehensive all-in-one mobile wallet.
Balance
If you're uncomfortable with granting access to your financial accounts for apps that provide automatic real-time updates, Balance might be more to your liking. It's a great app to track and monitor your money, but without the automated feature you'll need to manually enter your transactions in order for the app to update and recalculate your account balances.
With the sheer number of money management apps flooding the market, finding the right app for your financial goals can be a daunting task, but this list should give you a solid foundation to start. When choosing an app, make sure it meets the needs of what you're trying to accomplish, and always double-check the app's security policy to make sure your personal financial information is safe and protected.
It's also a very good idea to use a PIN or password lock on your smartphone to keep the information from falling into the wrong hands if your device is ever lost or stolen. Enabling this feature on your phone will give you enough time to wipe the phone remotely without the added worry of having your private financial information compromised.
More on Credit.com and MSN Money:

These apps are great. But has anyone heard of BillGuard? It's the best iOS app out there for credit card monitoring. It turns your statements into a "smart inbox" so that you can quickly review your charges with swipes. If you're looking for a smart, new finance tracking app, then check out BillGuard on the App Store.
Are you sure you want to delete this comment?
DATA PROVIDERS
Copyright © 2014 Microsoft. All rights reserved.
Fundamental company data and historical chart data provided by Morningstar Inc. Real-time index quotes and delayed quotes supplied by Morningstar Inc. Quotes delayed by up to 15 minutes, except where indicated otherwise. Fund summary, fund performance and dividend data provided by Morningstar Inc. Analyst recommendations provided by Zacks Investment Research. StockScouter data provided by Verus Analytics. IPO data provided by Hoover's Inc. Index membership data provided by Morningstar Inc.