Should Mom and Dad choose your major?
If your parents are footing the bill, they can decline to pay for certain courses of study. And no, they're not trying to crush your dreams.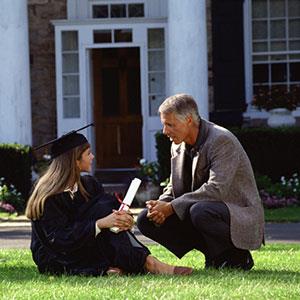 A personal finance blogger named Evan started a lively conversation after tweeting a photo of his toddler son playing with a camera and the caption, "Already told the boy no chance I am paying for a photography degree."

He expanded on his position through a post on his site, My Journey to Millions. "I think the more money you as a parent are on the hook for the more say you should have in your child's degree the more say you should have in your child's degree," Evan wrote.
"If I am paying for my son's degree I will be damned if he ends up with an art history or creative writing degree at a private university. If the world stays the same then there is just no justification for a $200,000+ degree for the ability . . . to make $40,000 per year."

Do your parents really have the right to choose your major? Sort of. They can't force you to go to law school or to get a master's in petroleum engineering.

If they're footing the bill, however, they have the right to veto your plans to major in Sanskrit or philosophy. As with governmental vetoes, it's important to (a) exercise that power wisely and (b) remember that compromise is preferable to a power play. (More on that below.)

It's not that Mom and Dad have no faith in your vision of headlining on Broadway or writing the Great American Novel. What's more likely is that they want you to survive.

College isn't only about how much money you can make when you're finished. But you need to take a very focused look at how you'll support yourself after you've tossed your mortarboard in the air.

"I think parents should require that their children think about their job life after college and find out what major will get them to that," author Susan Ende told The Washington Post.

Classes that lead somewhere
Ende, who co-wrote "How to Raise Your Adult Children," noted that the teen who chooses "the easy major or just what he likes" is making a second, de facto choice: "to become one of the college graduate drifters who drift back home and often take a long time to find their way back into the adult world again."

The takeaway? Have a clear idea of how a master's in women's studies or a PhD in rhetoric will translate to the working world. This is where the parental veto comes in: They get to say what kinds of education they will pay for and what kinds they won't.

Do they have the right to crush your dream? You bet, if they're buying.

Parents: This kind of conversation needs to take place early and often. I'd start as soon as middle school and repeat it every year:
I cannot in good conscience pay for you to spend four (or more) years taking whatever class strikes your fancy, only to graduate unable to get a job.
Students: You have rights, too; specifically, the right to say, "OK, then, I'll pay for my own education." However, you still need that clear idea of where what you love (or think you love) can take you.
Don't take out $100k in student loans and graduate with a bachelor's in interpretive dance. There aren't many teaching positions for that, and the loans will come due whether or not you find gainful employment.
As MSN Money columnist Liz Weston notes, college is "
the ticket to the middle class
." But while some people can parlay a photography degree into a decent job upon graduation, it's safe to say most people can't.


Make your dreams practical ones
Keep your eyes on your dream, but be practical as well. A stage-struck young relative is double-majoring: theater and performing arts management. The second degree is heavy on business, so I expect it's transferable even to a non-arts management setting.
Another young man I know got that philosophy degree, and spent several years drifting from job to job, writing a sports-related blog and generally enjoying life. But he wanted a family, so shortly after marrying he enrolled in an intensive two-year program and got a master's degree in teaching.
Follow your dream, but also follow the money -- as in, "How am I going to pay the bills after graduation?" You probably don't want to live with your parents forever. Believe me, that's probably not what they want, either.


Readers:
Do/did you place restrictions on your child's college degree?


More from MSN Money
:
DATA PROVIDERS
Copyright © 2014 Microsoft. All rights reserved.
Fundamental company data and historical chart data provided by Morningstar Inc. Real-time index quotes and delayed quotes supplied by Morningstar Inc. Quotes delayed by up to 15 minutes, except where indicated otherwise. Fund summary, fund performance and dividend data provided by Morningstar Inc. Analyst recommendations provided by Zacks Investment Research. StockScouter data provided by Verus Analytics. IPO data provided by Hoover's Inc. Index membership data provided by Morningstar Inc.