Community college credits may not transfer
A new report finds that lost transfer credits can sometimes doom graduation plans for college students.
This post comes from Krystal Steinmetz at partner site Money Talks News.


A new study suggests that 1 in 7 transfer students lose nearly all of their course credits when they switch from a community college to a four-year university.
The research paper -- "The Community College Route to the Bachelor's Degree" -- was co-authored by two academics from the City University of New York and funded by the Bill and Melissa Gates Foundation.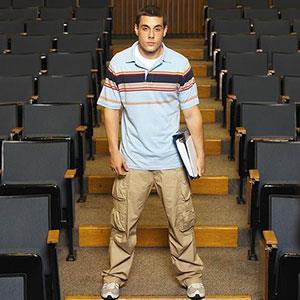 The unfortunate result of requiring those students to essentially start over by accepting only a scant 10 percent of college credits they earned is that they're much less likely to earn a bachelor's degree. According to Inside Higher Ed:
The research also dumps cold water on several other explanations for why many community college students fail to eventually complete bachelor's degrees, such as assumptions about lowered expectations, a vocational focus or inadequate academic rigor during their time at two-year colleges.
In fact, students who were able to transfer nearly all of their credits were 2.5 times more likely to go on to earn a bachelor's degree than students who transferred less than half of their credits, the study said.
Inside Higher Ed also said it pointed out that "community college transfer students are just as likely to earn a bachelor's degree as equivalent students who started at a four-year college."
The transfer rates break down as follows, Inside Higher Ed said:
58 percent of community college students were able to transfer 90 percent or more of their credits to a four-year school.
28 percent of students lost between 10 and 89 percent of their community college credits.
14 percent of students lost more than 90 percent of the credit coursework.
Columnist Liz Weston of Reuters said some states are attempting to address this issue by "creating guaranteed pathways from their community colleges to their public four-year schools." Massachusetts and Virginia already offer guaranteed admission and credit transfers for students who pass courses and maintain minimum grade-point averages.
Todd Weaver, a consultant from Strategies for College, told Reuters it's a good start, but more needs to be done.
Students have to know such paths exist and take the right courses to follow them, Weaver said, while those attending school in states that don't have such programs need to find out in advance which credits will transfer to their target schools.
Have you experienced the college credit transfer nightmare?

More on Money Talks News:

Determine what your four year college requires and take only those courses at a CC. Such as
English 1 and 2
History
science
math-.
Make sure that the course you pick will transfer by contacting the 4 year school ahead of time.

Many psychology, sociology, art, music, etc. courses will transfer but not meet the 4 year requirement. This is how a student graduates with 200 hours when only 120 were required.
Are you sure you want to delete this comment?
DATA PROVIDERS
Copyright © 2014 Microsoft. All rights reserved.
Fundamental company data and historical chart data provided by Morningstar Inc. Real-time index quotes and delayed quotes supplied by Morningstar Inc. Quotes delayed by up to 15 minutes, except where indicated otherwise. Fund summary, fund performance and dividend data provided by Morningstar Inc. Analyst recommendations provided by Zacks Investment Research. StockScouter data provided by Verus Analytics. IPO data provided by Hoover's Inc. Index membership data provided by Morningstar Inc.