How to find cheap last-minute holiday flights
If you've put off buying your tickets for a holiday season flight, it may still be possible to find airfare that's not exorbitant.
This post comes from Allison Martin at partner site Money Talks News.

It's no secret that airfare during the holidays is sky high and continues to steadily climb as the years progress. The Wall Street Journal reported in late October that Christmas week fares were 7.3% higher than they were in 2012.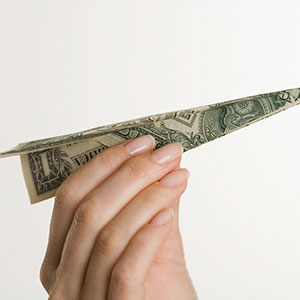 With such bloated rates, how in the world are you supposed to go home for the holidays without going broke? We all know that great deals can be found when booking ahead, but do you have any alternatives when you wait until the last minute?
Why, of course you do!
Here are five ways to find cheap last-minute holiday flights without breaking the bank:
1. Comparison shop
Prior to booking, use an online search engine such as Kayak, Expedia, Priceline, Orbitz or Travelocity to get an idea of how much flights are going for across the board. Once you have an idea of the most affordable rates, head over to the websites of the airlines to view their prices. Check to see if they have any holiday sales or promotions.
Once you've found your top choice, go ahead and book with the airline directly. The airline may offer a price adjustment benefit, typically in the form of a voucher minus a re-booking fee, if you notice that the ticket price declines after you've made your purchase.
2. Set up price alerts
A number of travel websites, including FareCompare, Airfarewatchdog, Yapta and CheapAir, offer tracking tools that alert you once your desired flight reaches an optimal price point.

or all you Southwest Airlines fans, they offer this service through Ding. However, it is important to understand that you must be prepared to take advantage of the offer as soon as you are alerted because the seats usually don't last long.
3. Mix and match
Even if you are a diehard fan of a particular airline, don't be afraid to select different carriers for the departing and returning flights if the rates are lower. You may have to give up the television or Wi-Fi for a few hours, but switching it up a little may well be worth the cost savings realized in the end.
4. Be flexible
Even if you would really like to depart and arrive on a particular day, being open to other travel dates that vary slightly from your original itinerary can help reduce the cost of last-minute holiday airfare. When conducting your search, look for flights that are not popular with travelers, such as those that depart early in the morning or late at night, or have long layovers.
According to CheapAir.com, you should refrain from searching for flights on the Saturday and Sunday after Christmas or New Year's Day. Instead, try looking for flights on the Monday leading up to or on the actual holidays, as the rates appear to be cheaper.
5. Consider alternate airports
While a small commute will probably be required to reach your final destination, it is possible to save a substantial amount of money by flying to smaller airports in outlying cities and catching the train or a cab upon arrival to be with your loved ones.
Of course, it may be tempting to sit around and wait until the last minute to snatch up an unfilled seat at a rock-bottom price. Unfortunately, this tactic is a thing of the past, and airlines are handling scheduling in the most economical way possible to cut costs and be more efficient.
More on Money Talks News:

There are some effective techniques you can use when booking one-way flights to save a lot. I wrote up a few over at our site. For example, booking "through" the city you want to go to can result in a much lower fare for the leg you really want. In the example at  we show how the HPN->PHL (White Plains to Philadelphia) direct route costs $473, but a HPN->PHL->PIT (adding a Pittsburgh leg to the same exact itinerary) brings the whole cost down to $181. Your mileage will vary depending on the cities and times involved, but there's often real money to be saved. Check out the other tips as well.

Are you sure you want to delete this comment?
DATA PROVIDERS
Copyright © 2014 Microsoft. All rights reserved.
Fundamental company data and historical chart data provided by Morningstar Inc. Real-time index quotes and delayed quotes supplied by Morningstar Inc. Quotes delayed by up to 15 minutes, except where indicated otherwise. Fund summary, fund performance and dividend data provided by Morningstar Inc. Analyst recommendations provided by Zacks Investment Research. StockScouter data provided by Verus Analytics. IPO data provided by Hoover's Inc. Index membership data provided by Morningstar Inc.