Feds ding biggest debt collector for harassment
The largest debt collection agency in the world is penalized $3.2 million for harassing consumers who owed money.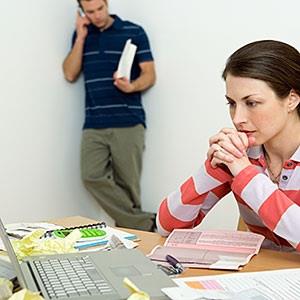 When consumers who are in debt don't pay, creditors employ companies set up to go after that money. However, unlike the local loan shark, who might employ someone to pummel you or bust a kneecap, debt collection companies have to be a bit more respectful of those who owe.
That is, they're supposed to be.

While they don't have to be genteel, the federal government has a set of rules collectors must play by -- intended to help consumers avoid harassment. But ask any debtor: that often isn't the case.
To that end, the Federal Trade Commission accused the world's largest debt collector, Expert Global Solutions, of stepping over the line, violating the Fair Debt Collection Act and other laws that govern how debts can be collected.
As a result, the company has agreed to pay a $3.2 million penalty and to stop the illegal harassment alleged by the FTC. The penalty is the largest ever against a third-party debt collection agency, the FTC said.
The company and its subsidiaries (ALW Sourcing, LLC; NCO Financial Systems, Inc.; and Transworld Systems, Inc., which also does business as North Shore Agency, Inc.) were accused of calling people over and over again -- including after being told to stop -- as well as calling early in the morning and late at night, at consumers' workplaces, and leaving messages that included details of the debt. Those practices all violate the established rules of conduct.
To make matters worse still, the FTC alleged the companies engaged in this pursuit even when they weren't sure the debt was owed, including when those they were going after said they did not owe the money.
Once the agreement to settle the case is finalized, when someone in collection "disputes the validity or the amount of the debt, the defendants must either close the account and end collection efforts, or suspend collection until they have conducted a reasonable investigation and verified that their information about the debt is accurate and complete."
To check on whether the companies are complying, they will be required to record a minimum of three-quarters of the debt collection calls they make for a year.
Here is a list of practices that debt collectors are forbidden to use,
according to the FTC
:
Harassment. That includes threats of harm, the use of obscene language or repeatedly calling.
Lying. They can't claim to be lawyers or government workers, allege you have committed a crime or send you documents and assert they are legal documents when they aren't.
Cheating. They can't collect extra fees beyond what you owe, to threaten to take your property (unless they legally can), or contact you using a postcard.
Calling at all hours. A collector can't call before 8 a.m. or after 9 p.m., unless you say they can, and they can't call you at work if they're told you can't receive their calls there.
You can also stop a collector from contacting you. Here's what the FTC says you must do:
Write a letter to the collector (keep a copy) and send it by certified mail and request a return receipt. "Once the collector receives your letter, they may not contact you again, with two exceptions: a collector can contact you to tell you there will be no further contact or to let you know that they or the creditor intend to take a specific action, like filing a lawsuit," the FTC said. "Sending such a letter to a debt collector you owe money to does not get rid of the debt, but it should stop the contact."

More from MSN Money:
DATA PROVIDERS
Copyright © 2014 Microsoft. All rights reserved.
Fundamental company data and historical chart data provided by Morningstar Inc. Real-time index quotes and delayed quotes supplied by Morningstar Inc. Quotes delayed by up to 15 minutes, except where indicated otherwise. Fund summary, fund performance and dividend data provided by Morningstar Inc. Analyst recommendations provided by Zacks Investment Research. StockScouter data provided by Verus Analytics. IPO data provided by Hoover's Inc. Index membership data provided by Morningstar Inc.