My kids are learning from my student loan nightmare
Some young adults have to learn about debt by watching their parents and doing the opposite.
This post comes from Christine DiGangi at partner site Credit.com.

When Sharon Cece's oldest son was starting to think about college, she had a message for him: Avoid student loans if at all possible. She's still repaying hers, and the drawn-out experience of financing her education has been so frustrating she doesn't want her kids to go through it.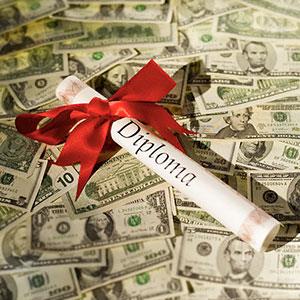 The approach has worked so far. Her son is a sophomore in community college and hasn't had to pay for any of it -- he earned college credits in high school, and scholarships have covered the costs of tuition and books. He lives at home and works part time while maintaining his status as a full-time student.
"By being really creative and exhausting all your options, it's quite possible to get to your junior year of college without taking out student loans," Cece said. She figured this out after learning the hard way during her own college years.
Putting herself through school
Like her son, Cece started out as a community college student. She worked two jobs, paid her tuition and  transferred to Florida State University after two years. Cece took out a student loan and quickly paid it off, but she left school before earning her degree. Fourteen years later, she decided to finish her education, and she took out another loan.
"It was the biggest mistake I ever made," she said. It's not the education she regrets -- she's happy to have graduated -- but she wasn't prepared for the financial and emotional impact of repaying a student loan.
By the time she picked up the books again, she no longer lived in Florida, and going back as a distance-learning student meant she paid out-of-state tuition. A $10,000 loan got her the degree she wanted, and she started making loan payments on time as soon as she entered repayment.
The never-ending loan
After Cece graduated in 2006, things didn't go according to plan, but she never defaulted on her loans.
"Our family went through a series of hardships. I did some forbearances," she said. In forbearance, payments stop but interest continues to grow, and if you don't pay the interest during forbearance, it is added to the principal of your loan and accrues interest of its own. "We did this a few times to make sure we could put food on the table."
Eventually, Cece resumed her regular payments. She was alarmed to see her balance at $11,060 in 2013. She had repaid more than $1,000 by then, so how could she owe more than she started with?
Her student loan servicer set her payments at $50.06 a month when she went into repayment. That small payment, coupled with the cost of forbearance, meant she had made essentially no progress over the course of seven years.
Looking back, she's frustrated she didn't know more about student loans. She had trusted the payment structure she was given when entering repayment and didn't realize she could have opted for a more aggressive approach. Once she realized how absurdly low her payment was, she started saving more and threw as much money as possible at the loan. She now has about $200 left to pay.
Learning from mistakes
By the time her oldest son was in high school, Cece started researching ways to help him avoid student debt. She learned about programs that allow high school students to earn college credit, and she helped him find scholarships to pay for courses once he graduated from high school.
He's at the point where he'd like to transfer to a four-year institution to finish his degree in social science, so the family is discussing payment options for that route. He has between two and three years of school left, because he takes fewer credits so he can work.
Even though she had a bad experience with student loans, she's happy to have put herself through school, and she just wants to make sure her kids understand exactly what they're doing when they decide how to pay for their educations. Her younger son is in eighth grade, and she hopes he can get a head start on college, just like his older brother.
"I put myself through school, and it took me longer, but I'm really glad I did," she said. "What I'm stressing most of all is balance. ... I think that's the best education I can give him."
Even if he needs to take out student loans to finish his degree, he's ahead of the game by having gotten so far without paying out of pocket. After all, student debt isn't inherently bad; it's the unaffordable debt that can wreak havoc on a person's finances and credit.
Student loans can have a big influence on your credit standing, particularly if you're a recent graduate with a limited credit history. If you're concerned about your credit standing, and how your loans are affecting it, you should check your credit reports and credit scores.  You can check your credit reports for free once a year, and you can check your credit scores for free through Credit.com, where you can also see what impact your loans are having on your score, and get clear idea of what you need to do in order to work toward a better score.
More from Credit.com

What I fail to understand is why people don't seem to understand "LOAN" means...They give you money and YOU will have to pay it back.  It's not rocket science...it's been that way since one caveman loaned another caveman his favorite mammoth skin...He expects it to be paid back.  If you don't have "worse case scenario" game plan for paying back the loan.  Then you can't afford it.  Banks are not "greedy or evil" they're doing you a favor...it's YOUR job to pay attention and mitigate costs where you can (stay in state, live with family, start at a junior college, go to a public college, apply for
grants/scholarships,​
join
military/guard...etc​)...And...#1
a college loan is NOT for a car, furniture or a trip to Europe!  If you have "extra" money for "expenses" start paying the loan BEFORE you get out of college.  It's NOT rocket science.

It's very easy to get a very small snapshot of a situation and make sweeping generalizations, but in light of what we faced, I'm proud that we didn't go deeper into debt, and in fact paid off all of our debt the old fashioned way: by learning from our errors, working hard and making it happen. And also, by passing along what we learned to our kids. Win-win.
The truth is, that I'm excellent with my finances. However, I was not well versed in financial aid, and the information I received from Sallie Mae when I first graduated was very misleading. That's my message here: don't just jump because it sounds great and easy. Do your research and consider other options (such as an ambassador program, life credits, CLEP, PELL grants, etc). There are many ways to pay for college, and private loans should be your last option. I told my story to help others.

To say we're debt -free in this day and age is a huge accomplishment , and can't help but wonder how many who are speaking critically can say the same, likely not many! :)
Are you sure you want to delete this comment?
DATA PROVIDERS
Copyright © 2014 Microsoft. All rights reserved.
Fundamental company data and historical chart data provided by Morningstar Inc. Real-time index quotes and delayed quotes supplied by Morningstar Inc. Quotes delayed by up to 15 minutes, except where indicated otherwise. Fund summary, fund performance and dividend data provided by Morningstar Inc. Analyst recommendations provided by Zacks Investment Research. StockScouter data provided by Verus Analytics. IPO data provided by Hoover's Inc. Index membership data provided by Morningstar Inc.