Your new payday lender: The Post Office?
A plan to offer more financial services to people who don't use traditional banks has the support of Sen. Elizabeth Warren.
This post comes from Christine DiGangi at partner site Credit.com.

The Office of the Inspector General is exploring the idea of having the U.S. Postal Service provide financial services to those underserved by the nation's banking structure. Namely, the poor.
A report issued late last month notes that about 68 million American adults — more than a quarter of U.S. households — make up that underserved population. These Americans are more likely to turn to payday loans and cash-checking services for their money needs.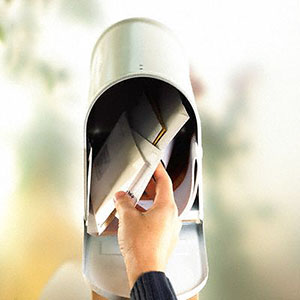 Those products carry high costs, and in 2012, this group spent about $89 billion in interest and fees associated with those financial offerings, meaning cash-strapped Americans pay more than others to do everyday financial tasks like getting loans or cashing checks.
The idea has at least one vocal supporter in Congress. In a Huffington Post op-ed, Sen. Elizabeth Warren (D-Mass.) praised the idea, saying it would not only alleviate financial pressure on those without banking services, it would also help the Postal Service overcome the financial troubles it has battled as letter volume has declined in recent years.
"The Postal Service is well positioned to provide non-bank financial services to those whose needs are not being met by the traditional financial sector," the report said, and it outlines those ideas, describing potential payment services, savings products and credit services.
The existing postal infrastructure, combined with the limited financial services already offered at USPS locations (i.e., money orders and international money transfers), gives the concept some traction.
"With post offices and postal workers already on the ground, USPS could partner with banks to make a critical difference for millions of Americans who don't have basic banking services because there are almost no banks or bank branches in their neighborhoods," Warren wrote in her op-ed. She highlighted the way such partnerships could help those living paycheck to paycheck, again touching on the double-whammy of limited services and high interest rates available to non-banking Americans.
Payday loans can carry interest rates of about 300 percent, and most people can't afford to pay them off within the original terms of the loan. Check cashing fees may not seem like that much — a check up to $1,000 costs $3 to cash at Walmart stores, for instance — they add up, taking away from the limited money the consumers may have in the first place.
Warren seems fired up about the idea and said she plans to diligently explore the matter. If more affordable, accessible non-banking financial services emerge for underserved populations, it could make a huge difference for struggling families' budgets and, consequently, their quality of life.
More from Credit.com:
DATA PROVIDERS
Copyright © 2014 Microsoft. All rights reserved.
Fundamental company data and historical chart data provided by Morningstar Inc. Real-time index quotes and delayed quotes supplied by Morningstar Inc. Quotes delayed by up to 15 minutes, except where indicated otherwise. Fund summary, fund performance and dividend data provided by Morningstar Inc. Analyst recommendations provided by Zacks Investment Research. StockScouter data provided by Verus Analytics. IPO data provided by Hoover's Inc. Index membership data provided by Morningstar Inc.