5 tips for hiring contractors
Every business has tricks of the trade, and construction is no exception. Knowing them will keep you from getting nailed.
This post comes from Jeffrey Trull at partner site Money Talks News.

As thousands of superstorm Sandy victims are now beginning to discover, hiring the right contractor is critical. Choose wrong and you could be in for months of agony dealing with incomplete or shoddy work, or worse, being scammed.
Gripes with home improvement contractors rank among the highest by industry. The Better Business Bureau received (.pdf file) 5,558 complaints  related to general contractors in 2011 and an additional 8,190 for roofing contractors, putting both in the top 30 for complaints of 4,790 industries tracked.
Before you build or repair, build your knowledge of tricks of the construction trade.
1. Check credentials and complaints.
Before you sign on with a contractor, do a little detective work.
Always get at least three estimates. As you go over the estimates with the contractors, ask questions, such as how long they've been in business, if they can provide proof of proper licensing and insurance, and if they belong to a national trade association. Then verify the information they've given you by contacting the appropriate board or organization.
You can find local regulations for contractors as well as information for licensing boards using this
list of licensing requirements by state
. Search online or call to check on your specific contractor.
Use other resources to find out more about your contractor's record. Check with the Better Business Bureau to see if it has a history of complaints. Look for contractors that have been in business for at least three years under the same name; some change names to hide past complaints.
Services like Home Advisor and Angie's List also provide consumer reviews and recommendations.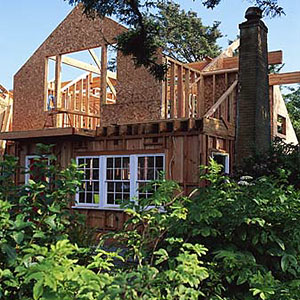 2. Be thorough with references.
When it comes to a contractor's previous work, look beyond the beautiful work they'll show in photos. They could be fake. Ask for the names of customers and talk to them about the quality of work as well as the contractor's ability to stay on budget and on schedule. If possible, visit their homes and see for yourself.
3. Beware of low bidders.
Don't assume you're getting a deal with a significantly lower bid. Contractors know they're in competition, and some will bid the job low to secure the work, then jack up prices later by claiming the job is more costly than originally anticipated. Some will substitute lower-quality materials.
Don't be afraid to show the low bid to the contractors with higher estimates and ask why their competitor's bid is so much lower. Doing this will help you understand the details of your project. It could also give you leverage to get a better deal from a better contractor.
4. Get everything in writing.
Protect yourself by getting all project details included in a formal contract. This includes:
Itemized estimates. Having separate prices for each component of the project makes adjustments for changes easier later. Ask them to list prices for labor, materials, permits and any other costs related to the job.
Permit responsibilities. Specify who's responsible for pulling permits to meet local regulations and avoid delays.
Subcontractors. You hired this specific contractor for a reason, so you'll want to know whom he hires as subcontractors to complete the job. Make sure to get the details on what work will be subcontracted out and to whom, and don't be afraid to check up on subcontractors just as you have for your general contractor.
Change orders. It's easy to point to the work in progress and ask for a change that's beyond the original scope. Instead of relying on a verbal agreement, put the changes in writing so both sides are clear on the requested changes and the corresponding costs.
Late penalties. Some contractors are truly busy, but they shouldn't keep you waiting forever with a home that's in mid-renovation. Negotiate to have the contractor complete the work by a specified date or risk losing part of their fee.
5. Don't pay too soon.
Negotiate the lowest down payment possible. It's not a good sign if a contractor can't start a job because he or she doesn't have the money or credit for materials. If your contractor insists on you paying for materials before starting work, pay the source directly and have the materials delivered to your house.
If the contractor asks you for all the money upfront, be afraid. That's a sign of a scam.
Certain states restrict the down payment amounts. California law limits down payments to 10% or $1,000, whichever is less, and this may be a good guideline no matter where you live. 
Once the work has begun, a general rule of thumb is to avoid paying out more than the level of completion on the project. If you pay out 90% for work that's only 25% complete, you risk that the contractor will stop showing up as often or at all. 
When the work is complete, consider waiting a few weeks to make the final payment to ensure you're satisfied.
More on Money Talks News and MSN Money:

Choosing a roof contractor for the house or a building can be a tedious task as one has to take care of the things like the working experiences of contractor and most importantly the roofing contractor should has the insurance policies in case if something bag occurs. Roof construction is most important to the integrity of home that is why a homeowner shouldn't trust a roof installation to just any roofing contractor as a wrong person can make the situations even worst.
Reference: -

Also a contractor don't rely on just references. Contractors aren't going to list bad references. Customers should also not rely on agencies like the BBB or the AGC instead check with the local Labor and Industeries for complaints and judgements against the contractor. If they are licensed L&I will have all the info. L&I will also be able to show if a contractor has changed names, but don't hold that against the contractor, some change names because of merging or dissolving companies because more money is made going out on own opposed to partnerships.
Are you sure you want to delete this comment?
DATA PROVIDERS
Copyright © 2014 Microsoft. All rights reserved.
Fundamental company data and historical chart data provided by Morningstar Inc. Real-time index quotes and delayed quotes supplied by Morningstar Inc. Quotes delayed by up to 15 minutes, except where indicated otherwise. Fund summary, fund performance and dividend data provided by Morningstar Inc. Analyst recommendations provided by Zacks Investment Research. StockScouter data provided by Verus Analytics. IPO data provided by Hoover's Inc. Index membership data provided by Morningstar Inc.