When a full college scholarship really isn't
Some schools demand that students personally foot a portion of the bill, even if they have financial aid that would cover everything.
This post comes from Brandon Ballenger at partner site Money Talks News.
Schools call it a minimum student contribution. Families might call it unaffordable.
Dozens of schools make students pay some of their education costs out-of-pocket -- even when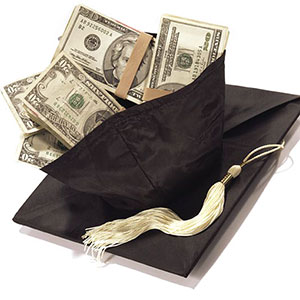 they have enough financial aid to cover everything, MarketWatch says. The site tells the story of Beatriz Barros, who was a freshman at Cornell forced to pay $8,100 even though she had a scholarship large enough to cover everything.
"[Barros] says the school's financial aid office declined to accept it, saying it was a required payment that she would have to make on her own," MarketWatch says. "To pay for her and her family's extra costs, Barros signed up for federal student loans, abstained from flying home for Thanksgiving, and cut back on her meal plan."
The contribution is usually a flat amount between $1,500 and $4,000 a year, moving toward the higher end as the student gets closer to a degree, MarketWatch says. But at some schools, even that's not enough.
"Some schools, such as Boston College and Rice University, say students must make this required payment plus turn over 25% of their assets, such as savings or brokerage accounts," MarketWatch says. Why?
The most charitable interpretation offered in a National Scholarship Providers Association report (.pdf file)  that tackles the issue is that students who have skin in the game will take college more seriously. "Some institutions require a minimum student contribution because they believe that a student will not appreciate the education if it is completely free," it says, "[or] because of a belief that it leads to improved academic performance."
But the problem is, students who can't afford the contribution expected of them often have to turn to student loans. And because these can seem like a free ride when they're taken out, that sort of defeats the purpose of requiring students to pay.
Students may need a mix of need-based (determined by finances) and merit-based (determined by academic performance) financial aid to escape the conundrum at these schools. "Some schools will permit merit-based scholarships, which students earn based on their grades rather than their finances, to cover this student contribution," MarketWatch says.
Ten of the 61 schools surveyed by the NSPA demanded student contributions, while MarketWatch found more than 36 across the country that do.

More on Money Talks News:

It's just plain wrong to demand a student who EARNS merit scholarships based on intellectual ability and/or true talent (music performance - yes; sports - no) to do this. They've already demonstrated via past behavior that they are serious about education.
There are too many options out there for good students to put up with this.

The government will only loan $5000 total per year in subsidized student loans and the rest falls to the parents to pay/finance.  If the student earns additional scholarships, a portion of the scholarship amount is deducted from the student loan and applied back to the parents' portion.
According to the government, we, as parents, are expected to contribute 20% of our income toward college costs. With two teenagers still at home,  a mortgage, car loan, student loans of our own, rising costs of EVERYTHING (and no pay increase to match), where are we supposed to reallocate 20% of our total income from? The last option is to apply for high interest private loans.  Obviously that is up to the parents because most college freshman do not have the credit to qualify for a loan.  It's a horrible situation,  My daughter is distressed because she knows everything we have to sacrifice for her to go to school and we're worried how long we'll be able to keep it up, especially since we'll have another one ready for college in just 18 months.




I attended Cornell University my Freshman year and had a very similar financial aid Package.  I had a $5,000 federal student loan, a small pell grant, and a very small perkins loan, plus elidgibility for $1,800 work study (I did obatin a work study position for both semesters).  The rest was covered by a need based grant.  The portion not covered by the grant was about $8,500, same as the student in the article.  Also, the financial aid package from the university factors in around $2000 for incidentals and about $800 per semester for books.  In my case, the work study provided cash in hand for the incidentals.  The scenario being presented in the article is not a hardship if you do it right.  If you graduate from one of these schools with $125,000 in free money and $25,000 in deferred student loans, that's a pretty good deal.

Are people really surprised about this?
It is all a scam.
Even if a poor student does everything right and earns a college education through excellent academic performance and genius-level SAT scores, they are undercut with a minimum out-of-pocket payment that is unaffordable for most families.
College is a scam to keep the wealthy wealthy and the poor poor.
Just look at all the college graduates who cannot get a job at McDonalds now.
A college degree is nothing more than the excuse with which one's rich uncle can offer one a job.
Are you sure you want to delete this comment?
DATA PROVIDERS
Copyright © 2013 Microsoft. All rights reserved.
Fundamental company data and historical chart data provided by Morningstar Inc. Real-time index quotes and delayed quotes supplied by Morningstar Inc. Quotes delayed by up to 15 minutes, except where indicated otherwise. Fund summary, fund performance and dividend data provided by Morningstar Inc. Analyst recommendations provided by Zacks Investment Research. StockScouter data provided by Verus Analytics. IPO data provided by Hoover's Inc. Index membership data provided by Morningstar Inc.