How Obama's plan might lower college costs
The president has called for a ratings-based reform of higher education funding. Will it work? And if so, how soon?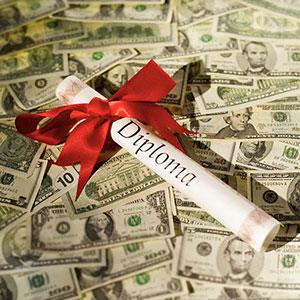 President Barack Obama recently called for performance-based funding of higher education. In front of a cheering crowd of students at the University of Buffalo, the president declared that the United States should stop "subsidizing schools that are not producing good results, and reward schools that deliver for American students and our future."

The government provides more than $150 billion in financial aid annually -- and most of that money is handed out based on enrollment, not on the number of degrees awarded or what students actually learn.

The president's proposal would tie funding to a system that rated factors like affordability, access and outcome (completion rates, graduates' salaries). Theoretically, this would encourage college and universities to keep costs down.

A White House fact sheet suggests that "students can continue to choose whichever college they want, but taxpayer dollars will be steered toward high-performing colleges that provide the best value."
But don't count on this program making a difference in your kid's college plans until 2018 -- that is, if it even gets through Congress. Like most political statements, it's long on idealism and somewhat vague in terms of execution.

Besides, the cheers had barely died away before pundits and professors were questioning exactly how the government would go about obtaining and analyzing the data, and pointing out potential inequities in the metrics. 

The rankings could help families determine the best return on their college dollars. Seeing that College X graduates most students on time and with minimal debt load could be useful information, especially as compared to College Y's record of five- and six-year bachelor's degrees and higher overall costs.

Here's another reason to read the ratings: Under the proposed plan, students who attend higher-ranked schools could be eligible for more Pell Grant funding and more affordable loans.
A few other proposed grant changes: 

The plan proposes legislation for bonus funding to colleges based on the number of Pell students they graduate.
Another proposed law would require students to complete "a certain percentage" of their classes before receiving additional funding. 
Colleges with high dropout rates would be required to parcel out student aid throughout the semester, versus in a lump-sum payment at the start. That way students who do drop out won't receive grant money for time not spent in school.
Comparing apples to oranges?
The administration does not have its rating system in hand, saying only that it will be prepared by 2015. However, college and university leaders say they're concerned about how fair such metrics will be.
For example, public universities tend to cost less (score points for affordability) than private schools, but they have lower graduation rates (deduct points for lack of diplomas). Schools that graduate a lot of teachers and social workers would fare just fine for completion, but would underperform with regard to earnings, because those jobs aren't necessarily high-paying.
(The latter is a moot point because 
current postgraduate earnings data aren't available
, according to The Chronicle of Higher Education. It isn't yet clear how the government will obtain those figures.)
What about at-risk students who flounder and ultimately drop out due to a lack of preparation and/or academic support? One university president told Bloomberg News that the president's proposal would cause his institution to seek students who are best prepared, "financially and academically," to finish college. 
Thus Obama's plan "would deter colleges from graduating more students,
particularly in the middle-income and lower-income populations
," says James T. Harris, president of Widener University. These are the very groups the president is trying to help, he notes.


Keeping track
Another sticking point is how completion rates will be compiled. If a student starts at one school and transfers to another, will the original institution be penalized? More than 33% of all students
will attend more than one institution
, according to the Context For Success: Measuring Colleges' Impact research project.
"At a minimum, to account for this phenomenon, states need to have data on in-state transfers," study authors say -- and ideally, the government would use the National Student Clearinghouse for data on
transfers/completion​s
at out-of-state and private colleges.
Currently the federal graduation rates "include only first-time, full-time students (though a more-inclusive rate is being developed)," according to The Chronicle of Higher Education.
(That would exclude me: I attended college from age 18 to 19 and then dropped out. Three decades later and on the other side of the country I returned to school on a full-ride university scholarship and graduated magna cum laude -- not that the government would know that.)
These and other details will have to be worked out over the next two years, although the program would not go into effect until 2018. Again, that's assuming that Congress goes along with the plan.
In other words,
don't stop looking for scholarships
yet.


More on MSN Money:
DATA PROVIDERS
Copyright © 2014 Microsoft. All rights reserved.
Fundamental company data and historical chart data provided by Morningstar Inc. Real-time index quotes and delayed quotes supplied by Morningstar Inc. Quotes delayed by up to 15 minutes, except where indicated otherwise. Fund summary, fund performance and dividend data provided by Morningstar Inc. Analyst recommendations provided by Zacks Investment Research. StockScouter data provided by Verus Analytics. IPO data provided by Hoover's Inc. Index membership data provided by Morningstar Inc.