Student loan delinquencies hit new high
The numbers don't even include student loans that are in deferment or forbearance because the borrower can't afford to pay.
This post comes from AnnaMaria Andriotis at partner site MarketWatch.

Late last year, total student debt outstanding surpassed $1 trillion for the first time. Now, the problem of student loan delinquency is generating its own eye-popping numbers.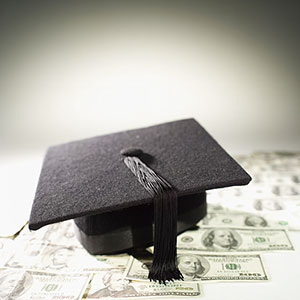 New data show that 11% of student loans were 90 days or more past due in the third quarter, up from 8.9% in the previous quarter and 8.8% a year prior, according to the Federal Reserve Bank of New York. It's also the highest since at least 2003, when the bank first started tracking student loan delinquencies.
"It's a red flag and a warning sign that more Americans are struggling to repay their student loans -- things are bad, really bad, and getting worse," says Rich Williams, a higher education advocate for the U.S. Public Interest Research Group, a nonprofit based in Washington, D.C.
The latest statistics come at a time when delinquencies on many other consumer debts, including credit cards and mortgages, are dropping. Overall, delinquency rates on outstanding consumer debt fell to 8.9% in the third quarter, from 10% a year prior, according to the Federal Reserve.
And the rise in student loan delinquencies could be far from over. The Federal Reserve's calculation counts borrowers who are in deferment or forbearance -- periods during which they can put off payments without penalty -- as being current on their loans. But there's no telling whether these borrowers will be able to keep up with payments once these temporary relief periods are over.
More than 1.5 million federal student loan borrowers were in economic-hardship deferment (which is granted for hardships like unemployment) and in forbearance (which borrowers can apply for if they can't afford to repay the debt based on their current income) at the end of September 2009, up 26% from a year prior, according to the latest data from FinAid.org, which tracks student loan debt. That number could be higher now, given the high unemployment rates that have persisted since.
To be sure, some experts say student loan debt is still nowhere near becoming a real economic crisis. That would require the two-year default rate on federal student loans, which was 9.1% at the end of September 2011, to triple, says Mark Kantrowitz, the publisher of FinAid.org.
Still, for students, the burden continues to grow. As college costs keep climbing and free financial aid is slashed, students have been signing up for more loans in order to cover their tuition bills. The average student who graduated with a bachelor's degree this spring left school with roughly $28,700 in student debt, up 31% from five years ago, according to FinAid.org.
And in many cases, borrowers who have fallen behind on loans have also dropped out of college. Those borrowers are four times more likely to default on student loans than those who graduate, says Kantrowitz.
The good news, say financial advisers: Borrowers who have fallen behind can still get back on track. With federal student loans, if they can't afford to make regular payments or if their student loan debt exceeds their annual income, they can qualify for income-based repayment in which they'll pay no more than 10% to 15% of their so-called discretionary income. Some private lenders offer flexible repayment options as well.
More from MarketWatch and MSN Money:

Why don't we ever address the elephant in the room. Colleges are out of control. The system has practiced virtual collusion for years that has driven costs high enough to cripple the people that graduate financially. Our state has a web site that allows looking at wages of the faculty. The wages are way beyond any level that the real world has. I'm tired of hearing about poor underpaid professors, 80$ - 90$ K starting pay? 20 to 30 hr work weeks, encouraged to moonlight off the job that takes teaching time from the students they are there to teach. I have taught adjunct (I.E. fill in low pay teaching position) and see how the rich and famous live in academia. Come on the whole system is out of control. The one thing they are good at is aggressive defense of their position. Mention this subject and you will get an ear full of how they walk on water and deserve to be paid many times what the average person gets. We need to start looking at overseas education and online education and give the system a little competition.

Are you sure you want to delete this comment?
DATA PROVIDERS
Copyright © 2014 Microsoft. All rights reserved.
Fundamental company data and historical chart data provided by Morningstar Inc. Real-time index quotes and delayed quotes supplied by Morningstar Inc. Quotes delayed by up to 15 minutes, except where indicated otherwise. Fund summary, fund performance and dividend data provided by Morningstar Inc. Analyst recommendations provided by Zacks Investment Research. StockScouter data provided by Verus Analytics. IPO data provided by Hoover's Inc. Index membership data provided by Morningstar Inc.