Precious opportunities for traders
Gold and silver ETFs are sending bearish technical signals.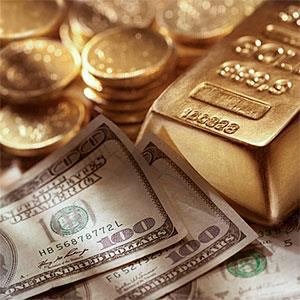 By Billy Fisher, Stock Traders Daily
The commodity markets have been in a state of flux as politicians have struggled to sort out the fiscal cliff mess in Washington. There have been other significant influences acting upon these markets as well. The unrest will present some golden opportunities for traders in the weeks ahead. Here is what to look for.
Losing streak
The price of gold is coming off its sixth straight week of declines after it was reported that the FOMC could end its $85 billion of monthly bond buying this year. The SPDR Gold Trust ETF (GLD) fell 0.5% on Friday.
Is the precious metal set to bounce back or could it continue its slide? 
"If GLD breaks longer term support, it can fall to $141," says Tom Kee Jr., president and CEO of Stock Traders Daily. "Our Stock Traders report and my additional technical analysis indicate that GLD may actually be developing a downward trend."
GLD closed at $160.47 on Friday.
The Market Vectors Gold Miners ETF (GDX) has experienced similar headwinds in recent weeks. The fund traded sideways during the month of December and is down 15.5% over the course of the last three months. This deterioration has left investors in the exchange-traded fund circling their wagons as the 50-day moving average of GDX is threatening to break below its 200-day moving average.
Silver lining
Another precious metal play that bearish traders can set their sights on for a possible short is the iShares Silver Trust (SLV). Poor man's gold has also been backpedaling. It has been facing some of the same headwinds as gold and could see a significant uptick in supply from Peru coming to market in 2013. In mid-December, the Peruvian miner Volcan said its production should rise by 40% this year.
The iShares Silver Trust peaked in 2012 shortly after its 50-day moving average broke above its 200-day moving average. The 50-day is still hovering above the 200-day, but if a crossover occurs to the downside, the fund is likely to bottom out at a significantly lower level.
One other commodity play for traders to look at in the coming days is oil. The United States Oil Fund LP (USO) has risen 4.7% during the last five trading sessions. It may be time to take profits on this upswing. The lower-than-expected decline in crude inventories reported on Friday could weigh on this ETF up until the Department of Energy releases its next inventories report on Wednesday.
MARKET UPDATE
NAME
LAST
CHANGE
% CHANGE
There's a problem getting this information right now. Please try again later.
NAME
LAST
CHANGE
% CHANGE
There's a problem getting this information right now. Please try again later.
[BRIEFING.COM] The S&P 500 ended this week with a bang, roaring to a new all-time high on the back of stronger-than-expected economic data, influential leadership, and an ongoing appreciation for the Fed's monetary policy support.

The bullish bias was evident in premarket action as the S&P futures pointed to a higher start without the benefit of any definitive news catalyst. Stocks indeed benefited from a blast of buying interest at the opening bell on this ... More
More Market News
Currencies
NAME
LAST
CHANGE
% CHANGE
There's a problem getting this information right now. Please try again later.