How long will the crash last?
After one of the worst sell-offs in history, a look at what's next.
Wall Street traders returned to work Monday in the mood to sell after mulling the consequences of America's first-ever credit downgrade last week. Main Street investors, with a mix of fear, anger and uncertainty, piled on, too.
The result was one of the deepest sell-offs in market history and a continuation of a now 3-week-old wipe-out for stocks. Out of the 3,085 issues that trade on the New York Stock Exchange, just 42 managed to move higher. That's less than 1.4%. And that's the worst result in more than 70 years.
Over the past 11 trading days, the Dow Jones Industrial Average has lost nearly 1,900 points, falling to levels not seen since September 2010. That's a drop of nearly 15% -- enough to nearly wipe out the gains from the Federal Reserve's most recent $600 billion stimulus. This is a drop on par with the 2008 financial crisis, the 1987 Black Monday crash and the various Great Depression meltdowns. 
For beleaguered investors, the question is: When does this nightmare end?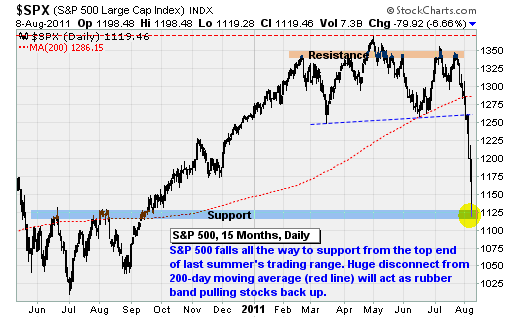 The good news is, at least a temporary reprieve seems to be in the cards.
Could we see a turn?
History points to a bounce. SentimenTrader looked back at all the times since 1950 that the S&P 500 had sunk at least 5% in one day to a six-month low after having already lost at least 5% in the previous week. In all five cases -- 1962, 1987, 1998, and twice in 2008 -- stocks rebounded strongly during the next several sessions.
The median gain three days later was nearly 10%, with a max gain of nearly 15% and a max loss of 3.7%.
Technically, by just about any short-term measure you'd care to use, the situation is extremely overextended to the downside. I'll review two.
The first is the McClellan Oscillator, which is a measure of breadth momentum. Right now, the measure has dropped to a level that has been seen only four other times over the past 11 years. One was the 9/11 sell-off. The other was in October 2008 after Fed Chairman Ben Bernanke seemed to downplay the need for additional monetary policy stimulus at a time when interest rates were near 2% even as the financial system was collapsing. The other two were during last summer's "flash crash" and eurozone collapse.
In all four cases, the deep oversold reading marked a point of maximum downward velocity. Back in 2008, which is probably most like our current predicament, stocks bounced more than 10% in the days that followed.
The second is the ARMs Index, which measures the intensity of selling pressure. High readings, like Monday's, happen when down volume relative to up volume outpaces advancing issues versus declining issues.
Translation: Investors are much, much more focused on the stocks that are falling. That's a sign of panic. And panic tends to mark the washout selling events that occur near market lows.
All of this suggests that, for a few days at least, the downside pressure should begin to dissipate.
But is the bull dead?
Now for the bad news. The sell-off we've all just witnessed may have been enough to kill the long-term bull market. It's too early to know for sure. But there are troubling signs.
For one, long-term measures of market breadth, such as the cumulative NYSE advance-decline volume line, suggest buyers were less interested in stocks heading into the mid-July highs than they were back in May and February. These types of declines in interest typify major market tops such as the one seen in mid- to late 2007.
I recommend investors move to a 100% cash position if they've been short. If you've been holding on to your long positions, there isn't much sense in selling now. Give it a few days.
My newsletter subscribers covered their remaining short positions Monday after riding the market down since July 22. For the month to date, they are up more than 7% versus a 13.4% decline for the S&P 500.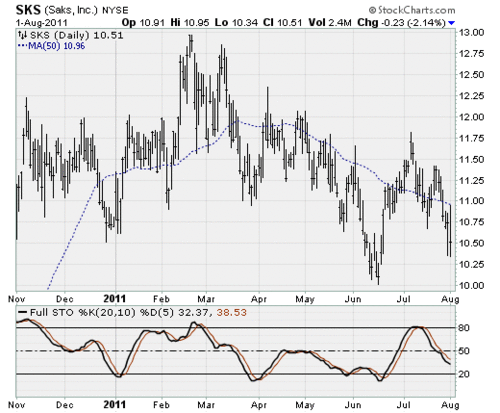 Highlights include a nearly 20% gain for our short in high-end retailer Saks (SKS) -- a pick that was featured in the Edge Sample Portfolio, which tracks picks for my MSN Money readers in real time here. You can see how the trade progressed since we added it on Aug. 1 in the chart above.
Time will tell whether this is a dip to buy or a temporary reprieve on the path to new lows. Tuesday's Federal Reserve policy meeting could provide the catalyst needed for a rebound rally. If it does, I'll have new recommendations soon. Stay tuned.
Check out Anthony's new investment advisory service The Edge. A two-week free trial has been extended to MSN Money readers. Click here to sign up.
The author can be contacted at anthony@edgeletter.c​om and followed on Twitter at @EdgeLetter. You can view his current stock picks here. Feel free to comment below. 
DATA PROVIDERS
Copyright © 2014 Microsoft. All rights reserved.
Fundamental company data and historical chart data provided by Morningstar Inc. Real-time index quotes and delayed quotes supplied by Morningstar Inc. Quotes delayed by up to 15 minutes, except where indicated otherwise. Fund summary, fund performance and dividend data provided by Morningstar Inc. Analyst recommendations provided by Zacks Investment Research. StockScouter data provided by Verus Analytics. IPO data provided by Hoover's Inc. Index membership data provided by Morningstar Inc.
MARKET UPDATE
NAME
LAST
CHANGE
% CHANGE
There's a problem getting this information right now. Please try again later.
NAME
LAST
CHANGE
% CHANGE
There's a problem getting this information right now. Please try again later.
Market index data delayed by 15 minutes
[BRIEFING.COM] The stock market finished an upbeat week on a mixed note. The S&P 500 shed less than a point, ending the week higher by 1.3%, while the Dow Jones Industrial Average (+0.1%) cemented a 1.7% advance for the week. High-beta names underperformed, which weighed on the Nasdaq Composite (-0.3%) and the Russell 2000 (-1.3%).

Equity indices displayed strength in the early going with the S&P 500 tagging the 2,019 level during the opening 30 minutes of the action. However, ... More
More Market News
Currencies
NAME
LAST
CHANGE
% CHANGE
There's a problem getting this information right now. Please try again later.