9 'oops' moments that cost me money
We all make silly, sometimes costly mistakes. For instance, how many of you have left a cellphone in an airport bathroom stall?
This post comes from Len Penzo at partner blog Len Penzo dot Com.
Last week I needed to venture into my attic to check on some rat traps, so I grabbed my flashlight to help me navigate my way through the rafters. As luck would have it, the flashlight wasn't working; the last person who used it forgot to turn the darn thing off, so the batteries died.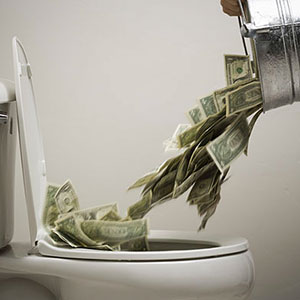 Oops.
Anyway, with no spare C cells in the drawer and an unplanned trip to the store in the offing, I was determined to find the absentminded dunderhead responsible for wasting my hard-earned money and precious time.
I began my investigation by barging into my son's room. Naturally, Matthew denied everything. Undeterred, I then interrupted my daughter's homework session. But Nina insisted she was innocent.
So I hollered at the only remaining suspect. "Hey, Honeybee!" I screamed. "Did you use the flashlight recently?"
"No!" she fired back. "But you were using it behind the entertainment center last week."
Oops.
Hey, our lives are full of "oops" moments. If we're lucky, they only end up being minor inconveniences, rather than major financial disasters.
Here now, in no particular order, are nine of the most memorable scatterbrained events that have affected my pocketbook. Thankfully, despite my family's best efforts, I've managed to escape relatively unscathed -- so far.
How does my list compare with yours?
1. The jousting junkets
Guilty party: Me.
Financial loss: $260.
Space cadet summary: A couple of years ago I spent an entire day meticulously researching, planning and coordinating a last-minute Hawaiian vacation. Unfortunately, I inexplicably managed to book our island junket for a week I had previously scheduled a weekend trip to Scottsdale, Ariz. The Scottsdale mini-vacation was put on hold, but I was never able to sell the four baseball tickets I had pre-purchased as part of that trip.
2. The 401k fail
Guilty party: Me.
Financial loss: $232 (plus 24 years of investment returns).
Space cadet summary: One of the biggest no-brainer decisions any new employee can make is to take advantage of an employer's 401k match. After graduating from college many years ago, I had somehow failed to check a box signifying my desire to enroll in my new employer's 401k program. Even worse, it took several months before I finally caught the error.
3. The submerged cellphone
Guilty party: Nina.
Financial loss: $0, but potentially much more.
Space cadet summary: As a kid, at breakfast time I used to read a cereal box or, more often, something called a newspaper (if you're under 35, ask your parents). These days, kids would rather text their friends at the breakfast table -- which at least partially explains how my daughter managed to drop her cellphone into a big bowl of milk and cereal a couple of years ago. Thankfully for her, the phone was insured.
4. The submerged cellphone (Part 2)
Guilty party: Matthew.
Financial loss: $25.
Space cadet summary: Then there is my son, God love him. One day, on a whim, he decided to impress his friends by leaping into a swimming pool fully clothed. By the time Matthew remembered that his cellphone was in his pocket, gravity had sealed his fate. Again, insurance saved the day.
5. The feckless fan kit
Guilty party: The Honeybee.
Financial loss: $47.99.
Space cadet summary: We recently purchased a new cooktop hood and a supporting fan kit. To make a long story short, it turns out the fan kit wasn't really needed, so the Honeybee returned it. Several weeks later we were informed that we wouldn't be getting a refund because "we" (ahem, the Honeybee) had opened the original packaging prior to returning it, thereby voiding the terms of the manufacturer's return policy.
6. The contemptible coupons
Guilty party: Me.
Financial loss: $60.
Space cadet summary: Benihana is one of my favorite restaurants. Last year, as part of Benihana's birthday club, the Honeybee and I received matching $30 gift certificates. When I tried to redeem them one particular evening, I was politely informed that, per the fine print, they were valid Monday through Thursday. Unfortunately, it was Saturday.
7. The mighty mailbox
Guilty party: Honeybee.
Financial loss: $0 (unless I paid for the repairs).
Space cadet summary: Never mind my recent car accident. Whenever I want to argue that the Honeybee is a worse driver than me, I like to remind her of the time she obliviously backed our 2001 Honda Odyssey into her friend's mailbox. It was a classic battle: the immovable object versus an unstoppable force -- and this time the immovable object won. I'm unwilling to pay $500 to repair relatively minor cosmetic damage, so our minivan still carries the battle scars.
8. The sidelined subscription
Guilty party: Matthew.
Financial loss: $50.
Space cadet summary: One year for Christmas, my son asked us to buy him a 12-month Xbox Live subscription for his Xbox gaming system, so we did. Two days after Christmas, guess whose Xbox broke? Uh-huh. Soon after that, my son used his saved Christmas and birthday money to switch allegiance and buy the Xbox competitor, a PlayStation 3.
9. The forgotten phone
Guilty party: Nina.
Financial loss: $25.
Space cadet summary: Remember that well-researched Hawaii vacation I was talking about earlier? Well, on our way there, during a brief layover in Phoenix, my daughter left her cellphone in a bathroom stall. I know. Happily, an honest person turned the phone in at the airport's lost and found office while we were flying over the Pacific. I made Nina pay for the shipping bill. As you can see, kids like to text their friends while going potty too. Chalk that up as yet another loss for newspapers.
More on Len Penzo dot Com and MSN Money:

C'mon, these 10 points are so specific to the writer's personali life, the whole thing has nothing more than entertainment value.
What is so ludicrous is the thought of the writer actually getting paid to write this personal blog..

I actually found The_Mick's response below more useful and applicable to what I do.
What was the point of this story?  There should be a discussion of how we should admit to ourselves our "oops" moments and how we can eliminate them or minimize their effects.  We all make "mistakes" where we know better in the first place but we simply trip over ourselves.  If this was about not bothering to look into Roth IRAs or being conned into believing it's shameful to buy store-brand products or similar things where you fail to save money the best way, the moral of the story would be to take the time to learn more.  But mistakes are mistakes and we can either alter plans or behavior to avoid them or do things to minimize their effects.  I usually only go down into my basement once every few days and every once in a while I forget to turn the last basement light off when I return to the 1st floor because I've got a basket of clothes, etc. in my hands - and the light burns needlessly for a few days straight.  So, even before it burned out, I replaced the 60W incandescent bulb with an equivalent 14W bulb CFL bulb back when they were a new development. I'm considering replacing the light switch with one that glows or has a light when the switch is on.  And then I bought a 2013 Honda Fit and got 28.4 mpg combined in January - a few mpg below what I expected.  The online forums said there was a big difference between Honda's recommended 32 psi in the 40 psi max tires and inflating them to 36 psi.  At 36 the tires don't wear unusually and if heat pushed them up to 40 psi the car's Tire Pressure Monitoring System will warn me.  I waited a few weeks before trying 36 psi.  Now I'm getting 31.5 mpg combined as expected - 40+ mpg on expressways.  So now, to avoid a future "oops" moment, I have to devise a way of making sure I check the cold pressure and make sure I'm staying around 36 psi.  I've got a piece of paper and pencil in a glove compartment to write down the odometer reading and pump gallons/price each fill-up, so I wrote: CHECK TIRE PRESSURE on the sheet.

Are you sure you want to delete this comment?
DATA PROVIDERS
Copyright © 2014 Microsoft. All rights reserved.
Fundamental company data and historical chart data provided by Morningstar Inc. Real-time index quotes and delayed quotes supplied by Morningstar Inc. Quotes delayed by up to 15 minutes, except where indicated otherwise. Fund summary, fund performance and dividend data provided by Morningstar Inc. Analyst recommendations provided by Zacks Investment Research. StockScouter data provided by Verus Analytics. IPO data provided by Hoover's Inc. Index membership data provided by Morningstar Inc.