1 year left to live: How would you spend?
Readers explain what they'd do with their time and money if they knew their life would end in 12 months.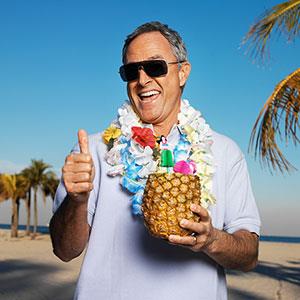 MSN Money asked a provocative question on Facebook: "If you knew you had just one year to live, how would you spend your money?"
This is akin to asking people what they'd do if they won the lottery, except there's that somber and sad note at the end.
The responses were, as you'd expect, all over the map, but we can make some observations  based on the 100 or so replies (some of which are quoted here, lightly edited for clarity).
Travel. A great number of people obviously haven't traveled as much as they'd like. About 30 people said they'd spend their money going places -- whether it be Disneyland or a trip around the world. (Those of you with paid vacation, start using it. Americans are notorious for not taking all of their paid leave each year, sometimes allowing it to expire.)
"Cash out the largest 401k and TRAVEL while I was still well!" Lea B. wrote. That would be my plan.
Courtney M. said, "I would max out every credit card I own . . . taking trips to places I will never be able to afford!!" That might work just fine if yours is the only name on your credit card accounts (no joint cardholders) and you don't care how much estate is left once your creditors tap it to cover your debt once you're gone. If your estate is used up, generally the rest of your credit card debt dies with you. (Rules vary from state to state.)
Party. There were the expected responses about hookers and booze or controlled substances. (I didn't take the time to add them up. I'd rather live my last days with as much mental clarity as I could muster.)
Family. About 12 people put family first -- making sure family members were provided for.
Shaliza H.'s "Die debt-free" is admirable since the estate would pass unencumbered to Shaliza's beneficiaries. (Not a single person who responded to the question mentioned paying a lawyer to prepare a will.)
Charity. Giving to charity was a priority for about six or so people, including donations for homeless cats and healthy lungs. 
Some people said they wouldn't change much.
"Same as now, increasing net worth for my kids. He wins who has the most chips when he dies," wrote George B.
Most people assumed they would have the physical stamina to fulfill their dreams. That's optimistic. I know someone who was recently told he may live another year and he's embarking on a steady routine of energy-zapping chemotherapy and radiation to get that extra time. World travel would be difficult.
Some said they couldn't afford to do anything special, confirming what polls have shown about the number of Americans who live paycheck to paycheck, without savings.
"Can't spend what you don't have," Linda K. said.
Not everyone accepted that their death would be a sure thing after a year. Maybe a cure will be found, or the doctors were wrong. Ash R. wrote:
"(Spend it) wisely! In a balanced way, because maybe I somehow got one more year to live, so positivity would be part of the strategy! . . . Every day we never really know if we will be alive tomorrow, left alone in an year, yet we are always cautious about our money. We don't spend it all at once."
My pick for most thoughtful response would be that of Debbie V.:
"I try to live every day as if it might be my last. Plan for the future, but use your life energy to make the best impact on life while you are here on this planet because it is not about finding the meaning of life, rather making your life meaningful. No regrets."
More on MSN Money
DATA PROVIDERS
Copyright © 2014 Microsoft. All rights reserved.
Fundamental company data and historical chart data provided by Morningstar Inc. Real-time index quotes and delayed quotes supplied by Morningstar Inc. Quotes delayed by up to 15 minutes, except where indicated otherwise. Fund summary, fund performance and dividend data provided by Morningstar Inc. Analyst recommendations provided by Zacks Investment Research. StockScouter data provided by Verus Analytics. IPO data provided by Hoover's Inc. Index membership data provided by Morningstar Inc.