Moms' worth falls under $60K
According to the 2013 Mother's Day Index, the value of a mom's labor is down from 2012 levels.
This post is by Barbara Marquand, from partner site Insure.com
.

From bandaging skinned knees to balancing the checkbook to making sure the kids eat their vegetables, being a mom is the mother of all jobs.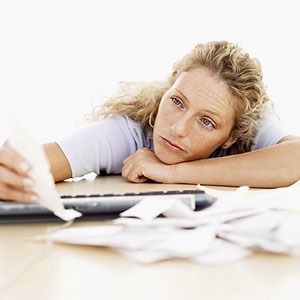 Perhaps because they know the demands of "mommying" first hand, women place a higher price tag than men on the work that moms do at home, according to a new survey from Insure.com.
When asked how much they would have to pay someone else to do their tasks around the house, 56
%
of women -- compared with 62% of men -- said under $40,000 a year.
A smaller portion of women than men -- 11% versus 16% -- valued moms' household work at under $10,000 a year. And a larger portion of women than men -- 7% versus 3% -- valued Mom's tasks at $100,000 a year or more.
Determining the cost to replace household tasks performed by Mom is important for estimating how much life insurance she needs. Marvin Feldman, president and CEO of the LIFE Foundation, says every mom needs life insurance coverage, whether or not she earns a salary outside the home.
"Just because someone doesn't earn a salary doesn't mean that they don't make significant contributions to the family that could be costly to replace," Feldman says. "Things like child care, cooking, cleaning, transportation and other household activities are all important parts of a family's everyday lifestyle."
Spouses often underestimate the value of those tasks, Feldman says. Or they assume someone else, such as in-laws, will step in to provide them if necessary, but that's not something one should count on.
"You must think about whether your spouse could afford to pay someone else to provide these services in your absence," Feldman says.
Mom's value dips below $60K
According to Insure.com's annual Mother's Day Index of common tasks, the 2013 market value of Mom is $59,862, down from $60,182 in 2012, and dropping from $61,436 in 2011. The Mother's Day Index is calculated from Bureau of Labor Statistics wage data for a pre-set list of household tasks.
Mothers rank child care as their most time-consuming task, with 38% of women saying that's how they spend most of their time. Cooking (27%) and cleaning (12%) were also ranked among the most time-consuming tasks.
Taking care of the kids ranked as a favorite duty, with 30% of moms saying it was the motherhood job they enjoy the most. Rounding out the top five favorite tasks:
    •    Cooking: 15%.
    •    Shopping for the family: 15%.
    •    Planning summer activities: 7%.
    •    Yard work: 6%.
But moms hate cleaning up, and who can blame them? Among the most disliked tasks:
    •    Cleaning up: 27%.
    •    Yard work: 19%.
    •    Family finances: 13%.

You'll be doing what?
Insure.com's survey found a disconnect between what men and women think moms would do with extra time if someone else performed all their household tasks.
Both men and women think moms would spend extra time with their families (40% of women and 28% of men). But after that, men and women had widely different ideas.
Men figured women would go shopping, read, go to school or spend time with friends (in that order).
But moms put shopping near the bottom of the list. After spending time with family, moms chose visiting museums, parks and historical sites; exercise or sports; working; and gardening.
Did a Mom come up with these numbers?
The Index used Bureau of Labor Statistics wages to compile a
chart of common mom duties.
For example, it highlighted 40 hours a week as a childcare provider, at $9.65 an hour for 52 weeks for a total yearly figure of $20,072.
But ask any mother, of newborns or high school kids; child care is more like 24/7.
And 10 hours a week as a teacher or instructor, helping with homework, 40 weeks out of the year, at $18.23 an hour for a total of $7,290?
Maybe for just one kid. What happens when you have three? And that's certainly not counting the Science Fair project.
Still, the chart is certainly fodder for the ongoing discussion of who does more around the house.
Methodology
"Mom's value" is based on occupational wages from the Bureau of Labor Statistics and does not include a salary from work outside the home.
For mothers' and fathers' views on household tasks, Insure.com commissioned a survey of 500 men and 500 women with children age 12 and under living at home. The survey was fielded in April 2013.
More from Insure.com:
DATA PROVIDERS
Copyright © 2014 Microsoft. All rights reserved.
Fundamental company data and historical chart data provided by Morningstar Inc. Real-time index quotes and delayed quotes supplied by Morningstar Inc. Quotes delayed by up to 15 minutes, except where indicated otherwise. Fund summary, fund performance and dividend data provided by Morningstar Inc. Analyst recommendations provided by Zacks Investment Research. StockScouter data provided by Verus Analytics. IPO data provided by Hoover's Inc. Index membership data provided by Morningstar Inc.