10 marriage-busting money mistakes
Research suggests the way you and your spouse handle money is a significant predictor of whether you'll have a long-lasting marriage. What should you look out for?
This post comes from Renee Morad at partner site Money Talks News.

As anyone who's been there knows, there's no such thing as a friction-free marriage. But arguing can be ominous when the topic is money.
Couples who reported disagreeing about finances once a week were 30% more likely to get divorced than couples who disagreed about them once a month, according to a Utah State University study. In another survey, published in the Forum for Family and Consumer Issues, finances proved to be the leading cause of conflict in marriage, with 39% of respondents listing it as their primary issue and 54% as their secondary issue.
But there are simple (although not easy) solutions to most money-related marriage problems.
Here are 10 common mistakes couples make when dealing with money:
1. Not talking enough about finances
There's a time and place for everything, but it's often difficult to find the right time and place to talk money.
Some couples benefit from scheduling a time to talk about money matters, just as they would for a date night or business meeting. Other couples might choose to set a monetary limit that would initiate a conversation. Let's say, for example, they decide that purchases under $500 are discretionary but spending money over that amount warrants a discussion.
Find what works for you and your spouse, and commit to it. It might not be the most enjoyable way to spend time together, but you'll thank yourselves later.
2. Thinking you can buy love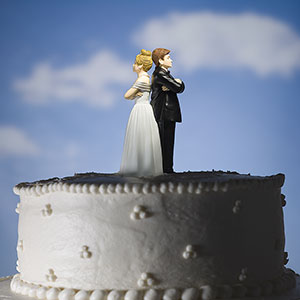 If you think splurging on a new diamond ring or luxury car will help improve your marriage, think again.
A Brigham Young University study found that couples composed of two materialistic spouses were worse off on nearly every measure. Following behind were couples with one materialistic spouse.
Couples who claimed money was not important to them, however, were lucky in love: They scored 10% to 15% better on marriage stability and other measures of relationship quality than couples with one or two materialistic spouses.
Interestingly, it didn't matter how much money they had, but rather how much value they put on money. In the study, couples who were better off financially but admitted to having "a strong love of money" found that money was a bigger source of conflict.
3. Ignoring conflicting spending habits
Scholars have found that individuals gravitate toward spouses who look, sound and act as they do -- except when it comes to money, according to surveys conducted by the University of Pennsylvania, the University of Michigan and Northwestern University.
Penny-pinchers and reckless spenders tend to marry each other, but these couples report unhappier marriages than those in which both spouses have similar spending habits, the studies revealed.
Disparity in spending can be manageable, but if issues aren't addressed, research says this could increase your likelihood of divorce. The Utah State University study found that people who feel their spouse spends money foolishly reported lower levels of marital happiness and gauged their likelihood of divorce at 45%.
4. Not agreeing on how to divide money
Whether you have joint or separate accounts -- or both -- doesn't really matter. What does is whether your financial plan is the right one for your marriage.
This comes down to each spouse's spending habits and money values. If you're unnecessarily stressing about small, day-to-day purchases, for example, it might be better to put part of your finances in separate accounts so you'll be less likely to question your spouse's every buy. If you work better as a team knowing where all your money is and where it's going at all times, then merged accounts could be better.
5. Taking on too much debt
About 76% of Americans admit that money is a significant source of stress in their lives, according to an American Psychological Association report (.pdf file).
There's nothing more stressful about money than debt -- especially the high-interest, hard-to-pay-off kind. If there's debt hanging overhead that's threatening to come between you, focus on paying it off together.
6. Hiding purchases or debts
Eighty percent of married couples hide some purchases from their spouse, according to a survey by the nonprofit CESI Debt Solutions, with men admitting they're more likely to routinely cover up their spending.
The survey said 30% of respondents view financial infidelity as being just as harmful as sexual infidelity. What's more, 79% of married respondents were more likely to confess their financial infidelity to a friend than to their spouse.
7. Lending or borrowing money from family
Borrowing money from family comes with major strings attached. After all, you're risking your relationship if the deal goes bad.
These waters are even more treacherous for married couples. Rule of thumb: Whether it's borrowing or lending, the fewer in-laws involved, the better.
Of course, with the right scenario, borrowing money from or lending it to family can work out. But proceed with caution: Consider drafting a legal document to ensure everyone is on the same page, and resist splurging on luxury items while you still owe family members money.
8. Believing you need to split up financial responsibilities traditionally
Traditional roles suggest that women manage the day-to-day finances, like balancing the checkbook and paying the utility bills, and men typically handle investing and financial planning. But traditional isn't always best.
A better option: Recognize each other's individual strengths, and divvy up the financial tasks accordingly. You want the best candidate for the job, regardless of what other couples do or used to do.
9. Failing to recognize that money carries emotional weight
Compared with disagreements over any other topic, financial disagreements last longer, are more salient for couples and generate more negative-conflict tactics, such as yelling, research shows.
Money conflicts in marriage particularly affect men. Research suggests that since they are socialized to be providers, men tend to take financial conflict harder than women.
10. Not enjoying your money together
Money doesn't always have to be a source of stress or conflict. It can also be a source of pleasure. Some of my happiest memories with my husband wouldn't have been possible without us spending money on things like exploring Italy or taking our daughter on her first trip to Florida.
In fact, research indicates that spending money on new experiences, like concerts or a wine tasting, produces longer-lasting satisfaction than spending money on material possessions. Experiences bring us happiness not only when we're experiencing them but also whenever we reflect back on them as memories.
Fond memories, after all, usually turn out to be one of the most valuable assets in a marriage.
More on Money Talks News and MSN Money:

My husband is a control freak,this includes the money thing.And our marriage is crap.Money isn't the only problem,but it makes things worse.About 4 years ago,we had a joint checking account.I went to  the gas station to fill up my tank and take our son to my mom's so I could go to work.Guess what.The
****
closed our account.I should have left him then.I'm a nurse.I work hard.I want out.He's also got Asperger's and won't get help.I've had enough.I will be taking our son and leaving next year.There's something I want to do that he of course doesn't back me on.I want to be left alone.Which I will be once we leave.I'm tired of talking,tired of telling him to get help.He won't listen.

It would be too embarrassing for me to say anything about money and my ex.  He was married to it and not me and he was worried to death about it.  He said he thought it was horrible that the first husband made the money, dropped dead from a heart attack, and the wife ends up spending the money with a second husband.  Say what?  As if I'd want a SECOND HUSBAND.  During a period he wasn't feeling well, he told me he had written a letter so I would know what to do if he died.  Trouble was he wouldn't tell me where the letter was, among all his various locked filing cabinets and about a hundred keys on a ring.  We had young children then so the secretiveness was very troubling.  Good riddance to him - he can take his money and shove it.  He sure made sure I didn't get anything.
Are you sure you want to delete this comment?
DATA PROVIDERS
Copyright © 2014 Microsoft. All rights reserved.
Fundamental company data and historical chart data provided by Morningstar Inc. Real-time index quotes and delayed quotes supplied by Morningstar Inc. Quotes delayed by up to 15 minutes, except where indicated otherwise. Fund summary, fund performance and dividend data provided by Morningstar Inc. Analyst recommendations provided by Zacks Investment Research. StockScouter data provided by Verus Analytics. IPO data provided by Hoover's Inc. Index membership data provided by Morningstar Inc.