A grand slam wedding at Denny's?
A new Denny's in downtown Las Vegas will open a wedding chapel next year. Is that your idea of a suitable location?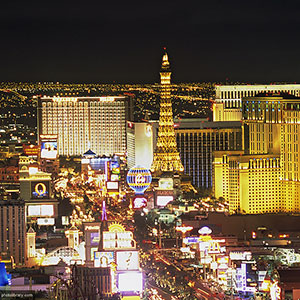 It's no big deal that a brand-new, huge Denny's restaurant in downtown Las Vegas will open a wedding chapel next year, right? Vegas is well-known for such things.
But do you know anyone who would want to get married there? With so many chapel options in Vegas to choose from, including one dedicated to vampires and assorted gore, and a truck that brings a wedding to any location, would Denny's be near or at the top of your list?
"Nothing says 'our special day' quite like the drab late-night diner I go to expecting and consistently receiving the worst service and most pedestrian food possible," says a post on Retail Hell Underground. The post is called "Denny's with wedding chapel -- when you have to elope and everywhere else is closed."
Weddings will be available sometime in the first three months of 2013 at the snazzy, new 6,400-square-foot Denny's in the Neonopolis shopping center on Fremont Street in downtown Las Vegas. It's one of the 10 largest Denny's in the world and one of fewer than 50 equipped with a full-service bar.
The idea is that after the ceremony in a chapel in the center of the restaurant, you and your guests can easily transition to reception mode for breakfast, burger or dinner fare, and perhaps enjoy a Pancake Puppies wedding cake. This Denny's includes an interactive photo booth where celebrators -- and anyone else -- can immediately post on Facebook and Twitter. 
The restaurant chain told The Huffington Post that people have gotten married in a Denny's before.
"Many of our guests have actually held a number of weddings in our diners across the country. Either they met at a Denny's, their first date was at a Denny's, or they worked at a Denny's, so that's why they come back to us for their special occasions," chief marketing officer Frances Allen said.
HuffPo asked its readers if they would ever consider Denny's as a suitable place for nuptials. Among the comments:
"Would this now make Denny's a ball and chain restaurant?"

"Denny's is my favorite. I would LIKE getting married there."

"A grand slam wedding!" -- named after Denny's most famous breakfast.
Inevitably, some of the comments were political, including: "So a chapel in a Denny's doesn't cheapen the idea of marriage, but marriage equality does?"
The new Vegas Denny's has a French toast sandwich of bacon, peanut butter and banana called, what else, the King Stack, in honor of Elvis' favorite snack, and a King Milkshake in case you need something to wash it down.
More on MSN Money:
Are you sure you want to delete this comment?
DATA PROVIDERS
Copyright © 2014 Microsoft. All rights reserved.
Fundamental company data and historical chart data provided by Morningstar Inc. Real-time index quotes and delayed quotes supplied by Morningstar Inc. Quotes delayed by up to 15 minutes, except where indicated otherwise. Fund summary, fund performance and dividend data provided by Morningstar Inc. Analyst recommendations provided by Zacks Investment Research. StockScouter data provided by Verus Analytics. IPO data provided by Hoover's Inc. Index membership data provided by Morningstar Inc.