Will Junior ever move out?
A new survey finds that a quarter of teens expect to depend on their parents until their mid- to late 20s. Is the economy that bad? Or is home just too comfortable?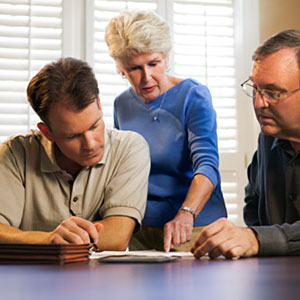 Do you get all misty-eyed at the thought of your kids leaving home after graduation? Take heart: They might not go.

According to the "Teens and Personal Finance 2013" survey (.pdf file), 25% of kids ages 14 to 18 expect to depend on their parents until their mid- to late 20s.

When Junior Achievement and The Allstate Foundation asked that question back in 2011, only 12% of teens expected to need help that long. Why did the number double in just two years?

It's the economy, stupid.

"There's been a lot of (economic) uncertainty over the past few years, and recovery has been kind of slow. They're thinking about whether or not they're going to be able to manage," says Junior Achievement spokesman Ed Grocholski.

The 1,025 teens surveyed do expect a rosier financial picture in the long term, saying they expect to do as well as or better than Mom and Dad. But their current lack of confidence "reinforces the need for parents to get their kids up to speed on how money works," Grocholski says.

Back when the Earth was still cooling, I and my high-school classmates couldn't wait to be independent. But living with the folks no longer carries much stigma, according to "The Boomerang Generation," a 2012 report from the Pew Research Center.

That survey of 2,048 young adults showed that 78% were "satisfied with their living arrangements," and that 77% were optimistic about future finances -- just as the kids in the JA/Allstate survey were.

"One reason young adults (are) relatively upbeat about their situation is that this has become such a widespread phenomenon," the Pew survey notes. "Among adults ages 25 to 34, 61% say they have friends or family members who have moved back in with their parents over the past few years because of economic conditions."

Mutually beneficial?
Have we made it too comfortable for this generation? Is their failure to launch our own fault? Maybe not. Poor job prospects really have kept some young people in place whether they want to be or not, according to MSN Money columnist Liz Weston's "Boomerang kids moving out again."
As you can surmise from the headline, the trend is reversing itself. What the U.S. Census calls the "household formation rate" had dropped as low as 650,000 per year from 2008 to 2011. But last year, nearly 950,000 new households were formed.

It's worth noting that some cultures fully expect grown kids to remain at home until they've married. Even in the U.S., multigenerational households can be mutually beneficial: Adult children get a chance to look for a job/recover from job loss, and their aging parents get a little help with chores and, maybe, with finances.

"Adult children living at home set new standards for normalcy," a post on the DailyPerk blog, points out that help is being offered, and accepted: 52% of adult children chip in for food, 34% help pay utilities and "a surprising 29% help pay the rent or mortgage," notes blogger Kyle Psaty.

This makes it seem more like the multigenerational households of the past, he says, rather than "a rise in the number of parasitic offspring mooching off their parents until they're old themselves."

Pooling finances can keep everyone afloat, Psaty writes, and it can result in "stronger family ties, better financial literacy due to more familial conversations about money, or improved financial stability for generations to come thanks to increased family efforts to avoid debt."

A little too comfortable
On the other hand, failure to launch or a return to the nest can also lead to major family stress. It can rankle if you're working all day while your son or daughter sleeps until noon and then sits around watching TV.

Keep in mind that job loss -- or a job never found after graduation -- can be emotionally devastating, leading to depression and/or a need for nurturing. No wonder that "sometimes older kids do get comfortable back home," says mental health counselor Debbie Pincus.

"It takes a lot of pressure off their shoulders because Mom and Dad are there to cook and clean and pay the bills," Pincus writes in an article on the Empowering Parents website.
Try to head this off by hammering out an agreement before your kid comes back. But what if he's already there, or if he never left? Come up with some talking points about your expectations (job hunting, doing chores, paying rent, a time frame for moving back out) and also about what is and is not acceptable in your house.

This may not sit well, according to Phil McGraw, aka "Dr. Phil." In an article on his website, McGraw notes that children may very well play the victim card: I have to live here -- I can't support myself!

"Parents buy into this thinking, and then feel guilty because they want to help their kids," he says. However, "when they feed that guilt, they ignore the fact that they are crippling their children's advancement in life."

So don't play along if Junior or his sister wails, "I can't believe my own parents want me to pay rent!" The ultimate goal is self-sufficiency and financial fitness. A free ride won't get them any closer to that destination.

Encourage, rather than enable
Judging from a couple of the "boomerang kids' rules for parents" in this Huffington Post piece, some young adults evince a staggering sense of entitlement.

"My room is not a storage facility! If I move back home, I hope you move your stuff OUT of that 'extra space' you were used to. Didn't you always complain that I had too much stuff?!" sniped one.

Another told parents that by "imposing too many rules and creating unnecessary fights, you are only pushing them to move out faster."

Well, what's wrong with that? And whose house is this, anyway? (Parents, repeat after me: When you have your own house, you can make your own rules.)

Loving parents will want to help, but that help is still optional. Don't infantilize your adult offspring by treating them like helpless toddlers. Encourage, rather than enable. It's essential that they get back on their own two feet.

That's for their own good -- and for yours, too. It's OK to want more out of this stage of your life than doing extra loads of laundry and remembering to buy your now-grown kid's favorite cereal.

If all else fails, try a tactic told to me by a therapist. One of her clients, a middle-aged divorcée whose two adult children had moved back in, felt she had no space to be herself. "What would you do with that space if you had it?" the therapist asked. "You know, stuff like being able to walk around in my underwear," the woman replied.

The therapist suggested that she try doing so, right away. She did. Within a month, both her kids had moved out.

Readers: Have your adult kids ever moved back? How did you handle it?

More from MSN Money:

DATA PROVIDERS
Copyright © 2014 Microsoft. All rights reserved.
Fundamental company data and historical chart data provided by Morningstar Inc. Real-time index quotes and delayed quotes supplied by Morningstar Inc. Quotes delayed by up to 15 minutes, except where indicated otherwise. Fund summary, fund performance and dividend data provided by Morningstar Inc. Analyst recommendations provided by Zacks Investment Research. StockScouter data provided by Verus Analytics. IPO data provided by Hoover's Inc. Index membership data provided by Morningstar Inc.