9 cheap sports for the rest of us
While the very wealthy have yachting and polo to keep them occupied, we common folk can kayak or take a wild ride on a mechanical bull.
This post comes from J. Money at Budgets are Sexy.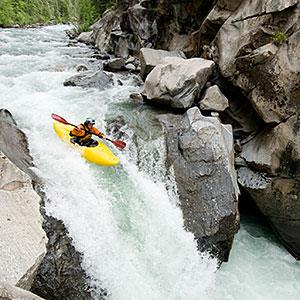 You may not have caught this, but MSN Money recently came out with the article "9 pricey sports of the wealthy." Some of them cost well into the hundreds of thousands of dollars, even into the mega-millions -- something I'm sure most of you can relate to.
But not to be outdone, I've decided to one-up them and share my own set of sports that could easily be just as fun, and that come without all those zeros at the end of the price tags. Who needs to get fancy, anyway?
My nine substitute sports for all of us non-wealthy types:
Their list: dressage. My list: yoga. What is dressage, you ask? It "entails a horse and rider performing a series of highly choreographed movements." Much like yoga, only $100,000 cheaper. And trust me, you'll look sexier while doing it.
Their list: yachting. My list: kayaking. Who needs vessels when you can race plastic containers around the lake. No use for a pink sweater tied around your neck, either.
Their list: golf. My list: Putt-Putt. I'm pretty sure you don't need to be rich to play golf, but the more challenging way to go anyway is with a rousing game of Putt-Putt -- plastic gorilla hazards and all.
Their list: croquet. My list: bocce. With a quick trip to Target and some yard scouting, you'll be all set to play within the hour. And most people will think you're playing croquet anyway, because not that many folks know the difference.
Their list: figure skating. My list: Rollerblading. Who cares that it's not the '90s anymore. Head out to your local swap meet and pick yourself up a sweet set of inline skates. Then do all the twirls and jumps you want -- so long as your fanny pack remains zipped.
Their list: polo. My list: mechanical bull riding. No need to fly to England, or be a man for that matter. Just hit up your favorite country bar and let the good times roll! No need to do any practicing either. The crowds will love you more the more uncoordinated you are. 
Their list: pheasant hunting. My list: fishing. You can literally do it with a stick and some string. Save all those dollars spent on guns and gear, and go catch yourself some fish, which you'd actually eat too. (Or if you prefer, just play Duck Hunt.) 
Their list: snowboarding. My list: skateboarding. Snowboarding is another sport not belonging exclusively to the wealthy, but if you can't afford it, then, yes, I say pick up the old skateboard instead. There are no season passes to save up for, and you can create your own black diamonds walking up some hills.
Their list: horse racing. My list: running. It's the only sport here that doesn't have to cost a dime. And if you want to kick it up a notch or two, try it out at midnight in some of the more unsavory parts of your town. No easier way to beat your records than when being chased.
See? There are plenty of cheaper options than those hoity-toity games the uber-wealthy play. You could probably even do all nine of them every single week and still come out on top by the end of the year. How awesome is that?
If you can think of any others, I'd love to hear them. I took out dodgeball and bowling from the list because they were just way too fancy to be included here. Didn't want to throw a bone to the elite.
More from Budgets are Sexy and MSN Money:
DATA PROVIDERS
Copyright © 2014 Microsoft. All rights reserved.
Fundamental company data and historical chart data provided by Morningstar Inc. Real-time index quotes and delayed quotes supplied by Morningstar Inc. Quotes delayed by up to 15 minutes, except where indicated otherwise. Fund summary, fund performance and dividend data provided by Morningstar Inc. Analyst recommendations provided by Zacks Investment Research. StockScouter data provided by Verus Analytics. IPO data provided by Hoover's Inc. Index membership data provided by Morningstar Inc.