Schools say 'yes' to phones in class
Cellphones, e-readers and tablet computers are taking over the classroom, according to a new survey on teachers and technology.
This post comes from MSN Money contributor Michelle V. Rafter.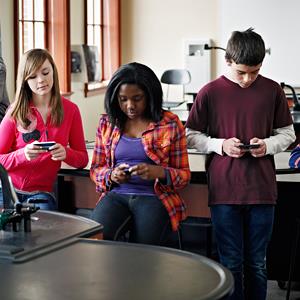 Not long ago, kids could get in trouble for using their cellphones during class. Today, some middle- and high-school teachers encourage it -- as long as students are using the devices for classwork.
Teachers don't mind -- heck, they're using their smartphones for school as much as students.
In fact, close to three-quarters of teachers in a recent survey say they or their students use cellphones in class or for homework.
And cellphones aren't the only mobile devices teachers and students are using at school. Of the of 2,462 U.S. middle- and high-school teachers in a Pew Research Center Internet & American Life study, close to half (45%) say they or their students also use e-readers, and almost as many (43%) use tablet computers, either in class or to work on assignments. "That's more than we thought it would be," says Kristen Purcell, the director of research for the Pew Research Center Internet & American Life Project and a co-author of the report.
Teachers at schools that have yet to lift classroom bans on cellphones feel restricted, according to the nonprofit research center's first comprehensive analysis of teachers and technology.
Tech divides rich, poor schools
When it comes to tech-fueled learning, overall trends mask deep and persistent divides between high- and low-income students. Schools serving poorer students are much less likely than students in more affluent areas to have access to digital learning tools in the classroom or at home.
A large majority of teachers (84%) surveyed agree that cellphones, tablets and other modern digital technologies "are leading to greater disparities between affluent and disadvantaged schools and school districts," according to the report.
The divide is apparent to one special-education teacher at a California middle school with more than 1,000 predominately low-income students. The teacher, who asked that her name not be used, says rules at her school still ban students from having cellphones turned on during class.
In addition, teachers are more concerned with prepping students to meet standardized tests than using the latest digital tools, so integrating the technology into their teaching methods isn't a priority, the teacher says. Besides, the great majority of teachers in her school "don't know what to do with the devices, so they wouldn't complain" about not having them, she says. 
"Nobody's keeping up; even the most sophisticated teacher isn't keeping up. He's too busy getting kids ready for testing."
Other digital divides aren't as deep as researchers assumed. It's not surprising that younger teachers are quicker to pick up new technologies, because that parallels how the general population adopts the latest electronic gadgets, Purcell says.
But the gulf between young and old teachers isn't as marked as anticipated. In fact, teachers 55 and over are more likely than their peers to own smartphones, use Facebook and other social networks and blog or create other types of content online, Purcell says: "When you compare the older teachers to other adults their age, they're way ahead."
What's harder to measure if how effective technology has been in helping kids learn. In some school districts that have invested heavily in technology, test scores have stayed the same, according to a NPR report.
More education tech trends
The study is based on a survey of Advanced Placement and National Writing Project teachers in middle schools and high schools around the country that Pew did in March and April 2012.
Here are some other highlights:
Students' access to tech at home isn't keeping pace. More than half of teachers (54%) say all or almost all of their students have access to the technology they need at school, but only 18% say students have the digital tools they need for learning at home.
Cellphones are still a classroom annoyance. Even as more teachers let kids use cellphones as a classroom resource, 28% find the devices a "major" distraction, and 44% say they're a "minor" distraction.
Teachers use the Internet at least once a week. Teachers are most likely to go online to find instructional materials (84%), keep up with developments in the field (80%) and create lesson plans (80%). Even though a majority of teachers think their schools do a "good job" of supporting their efforts, 85% also look for new ways to use tech for classroom instruction on their own.
Teachers concede students are more tech-savvy. More than four of 10 teachers (42%) believe their students know more than they do about new digital technologies, compared with 18% who feel they're more knowledgeable than their students.
More from MSN Money: 

Technology, like anything else, is fine if used correctly.  I have taught in college and students could have gotten a lot of utility from the use of cell phones.  However, they used it more to try and communicate with one another during tests and quizzes to exchange answers.  If the legwork had been done through study, this activity would not have been necessary.  However, to suggest to them to use the phone for internet research was a foreign concept to them.  So it's a false illusion to suggest that cell phones will enhance learning at the High School and Middle School level.  It will only serve to provide "child care" while the teaching staff devote their time to those things that is of importance to them, one of which is not the education of your children.

So you think allowing kids access to cellphones in class is going to make them focus on the lesson? Not with texting, Angry Birds, etc!  The schools in my area -from which I retired from teaching in 2006- RIGHTLY require cell phones to be off during school hours.  Deprived students?  No, they have laptops and tablets in class to use - beating the hell out of the really "deprived" kids who are stuck with a 3" x 2" cellphone screen.


Cellphone in class is NOT necessary. In Fact a cellphone is not necessary period. The education system in California is a joke, I'm sure teacher don't mind. Means they have to teach less. I'm appalled. Thank God my children are in college I will not credit the California school system for that. It was 100% me. My grandchildren will never step foot on public school grounds. 
Are you sure you want to delete this comment?
DATA PROVIDERS
Copyright © 2014 Microsoft. All rights reserved.
Fundamental company data and historical chart data provided by Morningstar Inc. Real-time index quotes and delayed quotes supplied by Morningstar Inc. Quotes delayed by up to 15 minutes, except where indicated otherwise. Fund summary, fund performance and dividend data provided by Morningstar Inc. Analyst recommendations provided by Zacks Investment Research. StockScouter data provided by Verus Analytics. IPO data provided by Hoover's Inc. Index membership data provided by Morningstar Inc.