Sequester cuts jobless benefits
The long-term unemployed will see their federal unemployment checks cut by 10%. Meanwhile, some states have also slashed payments to the jobless.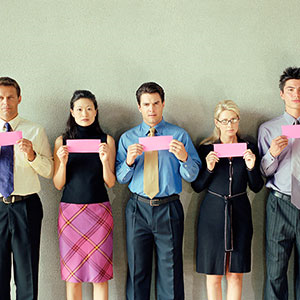 Most of us have gotten through the first few days of sequestration without ill effect. But one group will be feeling real pain from the $85 billion in federal budget cuts very soon -- the 2 million Americans who are getting federal unemployment benefits. Their checks will be cut about 10% at the end of March.
It's a real blow to struggling families.
Sherri Summit, who has one kid in college and a 10-year-old at home, has been unemployed for nine months. She gets $368 a week in federal unemployment benefits and is two months' behind on her mortgage payment, she told the Evansville Courier Press in Indiana. "Where do you cut back when you've already cut back? Do you lose your home?" she said.
Former steelworker Richard Crowe, interviewed by Marketplace, will lose 10% of the $764 unemployment check he gets every two weeks. He's been collecting unemployment for nine months. "It isn't enough to begin with, and then you're losing money on top of it. It ain't good," he said.
The National Employment Law Project says 2 million Americans currently receive federal unemployment benefits, which kick in after workers use up state benefits, which in most states is 26 weeks. The federal money can last an extra 47 weeks, depending on a state's jobless rate. 
That federal money has been lifeline for many folks. According to the National Employment Law Project (.pdf file), "Almost four out of 10 unemployed workers have been jobless for 27 weeks or more, while the average unemployed worker has been out of work for 35 weeks."
Up to 3.8 million jobless people could be impacted by the end of the federal fiscal year in September if sequestration isn't addressed by Congress. The average payment is $300 a week, so the average reduction would be about $30.
Since the amount of benefits varies state to state, how much money the jobless will lose depends on where they live. For example:
In Texas, 87,000 people will see their federal benefits drop by 10% at the end of March. "For the average recipient, who received $322 a week in benefits, the reduction in benefits represents about $32 a week . . . ," says the Houston Chronicle. "For someone earning the maximum weekly benefit of $440, the cut would be $44 a week."
In Alabama, about 16,000 will be affected. The maximum benefit there right now is $265, says The Associated Press.
In Oregon, about 28,000 people will see their benefits cut by 10.7% as of March 31, The Oregonian says.
The reduction comes on top of cutbacks in eight states -- Arkansas, Florida, Georgia, Illinois, Michigan, Missouri, South Carolina and, most recently, North Carolina -- where lawmakers decided that 26 weeks of state benefits was too generous. Fewer weeks of state benefits have caused a corresponding reduction in the number of weeks of federal benefits in seven of those states, says NELP.  (To see how many state and federal weeks of jobless benefits are currently available in your state, check out this article and map from the Center on Budget and Policy Priorities.)
The situation for the unemployed is most dire in North Carolina, which reduced its unemployment compensation last month, despite the state's whopping 9.2% jobless rate. Beginning in July, state benefits will run out in 12 to 20 months, depending on the unemployment rate, and the maximum benefit will be slashed from $535 to $350, says Reuters. Also, reports the Asheville Citizen-Times, there won't be any federal jobless benefits, period:
"Federal emergency jobless benefits also will stop July 1 because the state changed its benefit structure, which isn't allowed under the 'fiscal cliff' agreement last month. The U.S. Department of Labor said the decision by North Carolina to refuse the extra year of benefits after six months will affect 170,000 people and hold back $780 million in weekly benefits."
Erica Lewis of Dobson, N.C., told the Mount Airy News that she's been drawing benefits for 12 weeks and that her husband recently lost his job.
"We used to have the Internet, but we had to give up all of the extras when I lost my job because that is what my paycheck was going for. Now, we don't have the Internet, no cable, and the only way we got (to the Division of Employment Security office) today was because of my daughter, because we don't have money for gas anymore, now that he has lost his job, too."
More on MSN Money:
DATA PROVIDERS
Copyright © 2014 Microsoft. All rights reserved.
Fundamental company data and historical chart data provided by Morningstar Inc. Real-time index quotes and delayed quotes supplied by Morningstar Inc. Quotes delayed by up to 15 minutes, except where indicated otherwise. Fund summary, fund performance and dividend data provided by Morningstar Inc. Analyst recommendations provided by Zacks Investment Research. StockScouter data provided by Verus Analytics. IPO data provided by Hoover's Inc. Index membership data provided by Morningstar Inc.