Why your college could go belly up
Some experts believe the availability of free or nearly free online education will cause many colleges and universities to close.
This post comes from Blaire Briody at partner site The Fiscal Times.

As the U.S. higher education system faces rising costs and reduced state funding, many are asking: What will colleges of the future look like?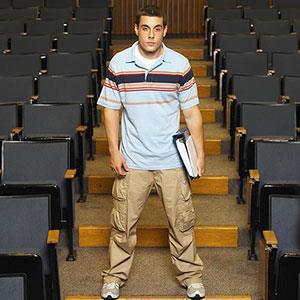 According to a recent cover story in The American Interest, some won't look like anything at all, because they'll cease to exist. Author Nathan Harden estimates that in 50 years, half of the approximately 4,500 colleges and universities in the U.S. will go belly up.
How could this happen? Through technology, he argues. Virtual classrooms, lectures through streaming videos, online exams -- we've already seen these innovations crop up at major academic institutions, but they'll proliferate on a much larger scale and disrupt the higher education system as we know it.
Harvard and MIT already have the online education venture edX, while Stanford has Coursera  and has formed agreements with Penn, Princeton, UC Berkeley, and the University of Michigan to manage their online education programs.
Harden also predicts that as online education becomes more widespread, a college-level education will soon be free (or cost just a minimal amount) for everyone in the world, and that the bachelor's degree will become irrelevant.
"If a faster, cheaper way of sharing information emerges, history shows us that it will quickly supplant what came before," he argues. "We may lose the gothic arches, the bespectacled lecturers, dusty books lining the walls of labyrinthine libraries, but nostalgia won't stop the unsentimental beast of progress from wreaking havoc on old ways of doing things."
Prestigious institutions, he says, will be in the best position to adapt, while for-profit colleges and low-level public and nonprofits will be the first to disappear. "Universities of all ranks below the very top will engage each other in an all-out war of survival. In this war, big-budget universities carrying large transactional costs stand to lose the most. Smaller, more nimble institutions with sound leadership will do best," he writes.
While Harden takes the extreme outlook, signs of the traditional university's bumpy future are already apparent. Moody's Investors Service recently gave a negative outlook to all U.S. universities, citing "mounting fiscal pressure on all key university revenue sources," as a number of states continue to cut higher education budgets, endowments fall, and enrollment numbers and tuition dollars dwindle.
Long-term debt at not-for-profit universities has been growing at 12% a year, according to consulting firm Bain & Co. and private-equity firm Sterling Partners. For-profit colleges, booming businesses only a few years ago, have seen their enrollments fall 7% from 2011 to 2012 (compared with a 1.8% decline for all higher education institutions), despite efforts to offer generous tuition discounts.
Other colleges have gone into survival mode. Some are deferring billions of dollars of maintenance needs, cutting staff and combining resources with nearby schools. Minnesota's St. Olaf College and Carleton College, for example, have begun discussing combining libraries, technology infrastructure, human resources and payroll -- and possibly even their academic programs.
While many students and parents worry that an online education won't offer the same quality or formative experience as a brick-and-mortar school, Harden cites research at Carnegie Mellon's Open Learning Initiative and Ithaka S+R, an academic research and consulting service, which looked at machine-guided learning combined with traditional classroom instruction. They found that students who receive computer instruction do equally well on tests as traditional students, but can learn material much faster.
Others have come out recently on the traditional university's doom: On his blog, billionaire incstor Mark Cuban compared the current higher education system in the U.S. to the newspaper industry. Harvard Business School professor Clayton Christensen recently predicted in The Economist that online technologies would lead to "wholesale bankruptcies" among standard universities over the next decade.
As Harden puts it, "Why would someone pay tens of thousands of dollars to attend Nowhere State University when he or she can attend an online version of MIT or Harvard practically for free?"
More from The Fiscal Times and MSN Money:

I understand both sides of the situation, but frankly a good professor that REALLY teaches is worth it.  Some classes are easy to take online and pass a test,(history, government, english, business courses) but classes like science and math are not easy to take online.  Currently, I am at a university in a Calc II class.  One professor has kind of gone "online".  We come to class, no teaching at all, told to read our book, which is written poorly,  and do online homework.  If we have a question it MIGHT be answered.  Why should I have to pay for a professor that does little to nothing for me and my education?  I am not a student just trying to get through school and get  degree, I really want to learn, but I have questions and want explanation so I can learn, understand and apply mathematics.  I want to know calculus inside and out...this professor is not worth the money I am paying at this university.  Good professors are worth their price, usually it is the older professors that have taught me well, most of the younger ones, I've encountered, are worthless for what I pay. 

Are you sure you want to delete this comment?
DATA PROVIDERS
Copyright © 2014 Microsoft. All rights reserved.
Fundamental company data and historical chart data provided by Morningstar Inc. Real-time index quotes and delayed quotes supplied by Morningstar Inc. Quotes delayed by up to 15 minutes, except where indicated otherwise. Fund summary, fund performance and dividend data provided by Morningstar Inc. Analyst recommendations provided by Zacks Investment Research. StockScouter data provided by Verus Analytics. IPO data provided by Hoover's Inc. Index membership data provided by Morningstar Inc.