Honey Boo Boo's trust fund: A smart move
Here's a real-life lesson in what to do when your child has a windfall or earns a lot of money.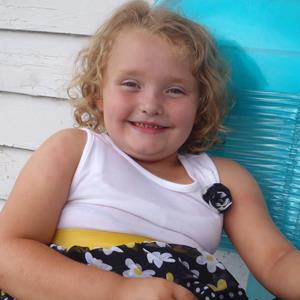 Seven-year-old Alana Thompson -- you know, Honey Boo Boo -- is fortunate to have a financially savvy mom who has set up trust funds for each of her four girls and her infant granddaughter.
June Shannon told TMZ that most of the money earned from each episode of "Here Comes Honey Boo Boo" is deposited by TLC in equal portions into the accounts. The girls can't get at the money until they turn 21, unless they need it for education or have a medical emergency, TMZ says. The other daughters are 18, 15 and 12.
Considering how frugal "Mama June" seems to be -- you can't really have too much toilet paper unless you have to rent space to store it -- this makes sense. Even her makeover for the new season was reportedly done at home, not at a swanky spa. (OK, there is the child pageant pursuit, but that's what got the family its own TV show, so that worked out to their advantage.)
The family reportedly lives in a modest home on the earnings of June's husband, Mike "Sugar Bear" Thompson, a contractor.
We don't know the specifics of this family's trusts. But we do know you don't need to be the parent of a celebrity child or even wealthy to put a trust to good use. For instance, it could be set up to protect your child in case you die.
However, trusts are complicated, and there are many kinds. Consult a lawyer to decide whether you and your family would benefit, what kind of trust to create, and what conditions should be included. You'll also need a competent financial adviser to help you decide how to invest the funds.
Here are some things to consider: 
If the trust is an irrevocable living trust, the terms can't be changed, frustrating any temptation to raid the money later on. The money in the trust cannot be targeted by the trust creator's creditors either. There can also be tax advantages.

Investopedia explains

:
"Since the assets are no longer yours, you don't have to pay income tax on any money made from the assets. Also, with proper planning, the assets can be exempt from estate and gift taxes. These tax exemptions are a primary reason that some people set up an irrevocable trust. If you, the trustor (the person setting up the trust) is in a higher income tax bracket, setting up the irrevocable trust allows you to remove these assets from your net worth and move in to a lower tax bracket."
You can include conditions for disbursement of the money. For instance, if the child develops a substance abuse problem, that kid can be cut off.
You can parcel out the funds over time, although this doesn't seem to be the case in the Honey Boo Boo family trusts.
Hollywood Life says the family started out making somewhere between $5,000 to $7,000 per episode but got a bump up to an undisclosed figure between $15,000 and $20,000 because of the show's popularity. The website added:
"But even with bigger paychecks, the Honey Boo Boo family has insisted on staying grounded. The network offered to help move June and her family into a bigger house, but the 33-year-old mother of four refused. She's an active member of their town, and didn't want to leave her community and family home behind."
Of course, all that saving will be for naught if the girls spend the money right after they get it. June still has her work cut out for her, but she seems to be on the right track. "I want my kids to look back and say, 'Mama played it smart. Not like those other reality TV people,'" June told TMZ.
More on MSN Money:

I would have commented as individual replies but this pertains to both Jfil and Elixr .. did / CAN either of you read? Elixr ... as the one person already replied .. what does this have to do with the story??? The story is about HBB's mom setting up a trust fund and you're ranting about a credit card ... ???
J ... almost the same thing --- the story is about trust funds ... the title "HONEY BOO BOO's trust fund: A Smart Move" and you're response, "This is NOT a smart move" goes on to be about something completely different  ... So why would putting the money in a trust fund NOT be a smart move?  idiot is a pretty bold word but I assume it's a word you've heard alot.
For the record ... I don't even like the show but if you going to comment on an article at least understand the article ... 

Never, never, never, NEVER get or use a credit card for anything. Those credit places like Trans Union, and the other 2, I forget their names, will bend you over and screw you good. You think people that work at credit card companies aren't crooks? Huh, I talked with a guy one time that worked for a major credit card company and he told me he had gotten all his friends cards with very high limits. I'd like to see their credit score cause you know most of 'em were maxed out.

Are you sure you want to delete this comment?
DATA PROVIDERS
Copyright © 2014 Microsoft. All rights reserved.
Fundamental company data and historical chart data provided by Morningstar Inc. Real-time index quotes and delayed quotes supplied by Morningstar Inc. Quotes delayed by up to 15 minutes, except where indicated otherwise. Fund summary, fund performance and dividend data provided by Morningstar Inc. Analyst recommendations provided by Zacks Investment Research. StockScouter data provided by Verus Analytics. IPO data provided by Hoover's Inc. Index membership data provided by Morningstar Inc.