How to pick the best apps for your baby
The youngest family members might not have their own smartphones, but they have their own apps -- lots and lots of them.
This post comes from MSN Money contributor Michelle V. Rafter.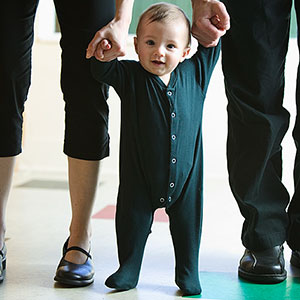 Put away the rattles. Today's babies want to play with Mommy's iPhone.
And play they can. The iTunes or Google Play app stores list hundreds of apps for babies and toddlers up to 24 months, for story time, doodling, learning the ABCs, and figuring out what animals say "moo" and "oink."
Major toy brands, educational media companies and mom-and-pop software shops are delivering dozens of new tiny-tot titles a week to the app stores, says Gary Froehlich, a Vancouver, B.C., app developer who publishes a weekly kids' app report.
Touch-screen devices have invaded all corners of family life, with kids getting their own smartphones at younger and younger ages.
The very youngest members of the household might not have their own phones, but they can have their own apps.
It's no longer a question of keeping screens away from babies and tots -- that train's left the station. The more pressing issues are how much time little ones spend with screens, what they use them for, and who's using the devices with them, says Michael Robb, director of education and research at the Pittsburgh-based Fred Rogers Center for Early Learning and Children's Media.
"These devices are already out there. This is a world children are growing up in," Robb says. "They're surrounded by digital media and technology tools, and it's our job, whether we're working with infants, toddlers or preschoolers, to find the best way to use these tools."
Shopping for baby apps
Here's what child and app makers say parents should consider when evaluating software for their little ones: 
Treat apps like books. Put baby in your lap, look at a page, point to something and talk to them about it. "Say, 'Ah, there's a horse. Remember when we went to the farm?'" Robb says. "That's a good context for learning."
Look for apps that offer unstructured, creative play. "We prefer apps that help you facilitate interaction," whether that's making music, drawing together or reading, Froehlich says.
Look beyond iTunes and Google Play app stores. Parents can see best-of lists, read reviews and get other information on apps for infants and toddlers at sites such as weekly The App Report, Moms with Apps, Best Kids Apps, Smart Apps for Kids, Digital Storytime and Appy Mall. A group of independent developers -- including Jellybean Tunes -- holds a weekly sale of family-friendly apps at App Friday.
Give apps a test run. If you're the parent of a young child, you may end up using an app as much as your child does, make sure it's something both of you like, Robb says.
Check privacy settings. App makers differ on the information they collect -- if anything -- on anyone who downloads and uses their products. A group of app developers is backing an initiative they expect to release later this spring that will encourage the industry to share more about privacy settings and how apps works, "so parents aren't surprised by interactive features that take them off guard," says Lorraine Akemann of Moms With Apps.
Set controls. Some apps and smartphones have disable, lock or "guided access" settings that can keep children from accidentally wandering out of an activity or prevent them from logging into YouTube or other apps a parent might not want them to use.
Using apps together
Research on brain science and early childhood development has shown that children need warm, supportive relationships with adults to learn and grow, so any use of phones, tablets and apps that supports those goals passes muster, Robb says.
That's not to say giving a cranky 2-year-old a phone as a distraction is bad. "There are no studies that say passing back the phone to the kids in the car has any long-term effects. It's still very, very new," Robb says.
The trend has been big for toy makers such as Fisher-Price, which distributes baby apps for free and sells smartphone cases and interactive toys to go with them. The Mattel division has seen downloads of the dozen free apps in its Laugh & Learn line for babies mushroom, to 4 million in the past six months, says Ben Jamesson, senior director of global marketing for Fisher-Price baby toys. The company's popular Animal Sounds app has been downloaded 2 million times, Jamesson says.
Fisher-Price is capitalizing on the apps' popularity by selling $15 to $20 iPhone cases and $35 to $40 iPad cases that turn the devices into interactive storybooks, and $30 to $35 plush toys that smartphones fit into. "The app will interact with the animal," he says.
Aside from free software, infant and toddler apps from independent developers generally run $.99 to $2.99, says Froehlich, who writes the weekly The App Report and develops music apps with his wife Christine at Jellybean Tunes. The majority of kids' apps are still for Apple devices, but more are appearing for Android, Windows and BlackBerry devices, he says.
More from MSN Money:

Very helpful article. I am a very busy mom. So another helpful app is a private sharing and planning app just for my family. My husband and I both work, plus babysitter and all sorts of activity. I just saw this cool app for moms the other day called www.hapimomi.com. I really need that app and can't wait to download it on App store. Looks like you can sign up for it on their Website!

Are you sure you want to delete this comment?
DATA PROVIDERS
Copyright © 2014 Microsoft. All rights reserved.
Fundamental company data and historical chart data provided by Morningstar Inc. Real-time index quotes and delayed quotes supplied by Morningstar Inc. Quotes delayed by up to 15 minutes, except where indicated otherwise. Fund summary, fund performance and dividend data provided by Morningstar Inc. Analyst recommendations provided by Zacks Investment Research. StockScouter data provided by Verus Analytics. IPO data provided by Hoover's Inc. Index membership data provided by Morningstar Inc.