4 'healthy' fast foods that aren't
Fast-food restaurants are finally starting to offer healthier options. The only problem? Many aren't healthier.
This post comes from Amanda Geronikos at partner site Money Talks News.


Nearly every fast-food restaurant is in on America's health craze. In the past few weeks alone, several chains have launched new or reinvented products that boast lower calorie content or less fat.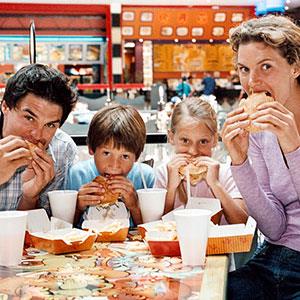 Therein lies the problem. Many of the new options aren't all that healthy, or are barely different from their non-healthy counterparts.
Here are four examples of healthy choices that might be choices, but aren't necessarily more healthy:
1. McDonald's Egg White Delight
McDonald's classic breakfast sandwich is getting a healthy counterpart: the Egg White Delight. The yolk-free sandwich includes a whole-grain English muffin, Canadian bacon, and white cheddar cheese, and is just 260 calories, as noted in a CBS report.
But a regular Egg McMuffin contains just 40 more calories, and provides more nutrients (such as protein) in the egg yolk.
2. McDonald's McWraps
Another recent addition to McDonald's menu, McWraps feature crispy or grilled chicken, and come in three variations: Chicken and Bacon, Sweet Chili Chicken, and Chicken and Ranch.

Sounds healthy, right? Wrong.
A Chicken and Bacon McWrap with crispy (fried) chicken has 600 calories, and contains 1,420 milligrams of sodium, says McDonald's website. A Big Mac has 550 calories.
Even the Chicken and Bacon McWrap with grilled chicken, which appears to be the healthiest of all the McWraps, is the equivalent of nearly two McDonald's hamburgers.
3. Burger King Turkey Burger
Turkey burgers are big business these days. You'll find them at just about every restaurant, pub and, for a limited time this spring, Burger King. The chain's version of the sandwich weighs in at 530 calories, yet a Whopper Jr. contains just 340 calories, according to Burger King's website.
4. Wendy's Flatbread Grilled Chicken Sandwich
Wendy's is testing a Flatbread Grilled Chicken Sandwich. It comes in two forms: Asiago Ranch and Smoky Honey Mustard. With ingredients like applewood-smoked bacon, Asiago cheese, and creamy Asiago ranch sauce, we know the Asiago Ranch variation can't be all that healthy.

And it's not; it's 530 calories, according to MyFitnessPal. You can have almost the same thing -- an Asiago Ranch Grilled Chicken Sandwich (without bacon) -- for 480 calories (and it's probably more filling too).
The bottom line
You know what you're getting into when you enter most fast-food restaurants. And many of us still opt for a Quarter Pounder or Whopper despite any healthier options offered. So my advice: Enjoy fast food every once in a while, but don't make it a habit.
More on Money Talks News and MSN Money:
DATA PROVIDERS
Copyright © 2014 Microsoft. All rights reserved.
Fundamental company data and historical chart data provided by Morningstar Inc. Real-time index quotes and delayed quotes supplied by Morningstar Inc. Quotes delayed by up to 15 minutes, except where indicated otherwise. Fund summary, fund performance and dividend data provided by Morningstar Inc. Analyst recommendations provided by Zacks Investment Research. StockScouter data provided by Verus Analytics. IPO data provided by Hoover's Inc. Index membership data provided by Morningstar Inc.