Want free stuff? Start here
Each week Frugal Nation will feature a list of freebies. This week's offerings include batteries, photo books and kids' meals.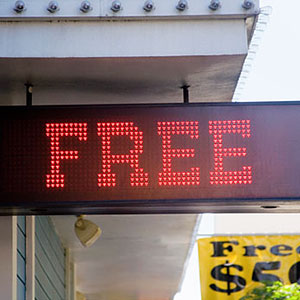 National Battery Day was Feb. 18. Seems you can have a holiday about
anything
just by declaring it.
And just in time for Frugal Nation's new weekly freebies list, the Rayovac company is giving away batteries.
According to
The Freebie Blogger
,
Rayovac will give away four-packs of alkaline batteries to
the first 1,000 fans who enter on Facebook
 on Feb. 22.
Those aren't great odds -- unless you're one of the ones who wins. But even if you don't get the freebies you'll receive a coupon good for $1.75 off two packages of batteries. Combine that with a good sale price and/or a drugstore rewards program and you'll realize decent savings on the price of your next purchase.
Besides, batteries aren't the only things up for grabs.
Each week I'll be highlighting a selection of offers that catch my eye. Some will be one-time-only deals and others "evergreen" freebies.
When I find offers at other blogs I'll include links to their URLs so you can hop over and see what else they have.


Free for the asking
Photo book for overseas troops.
Friends and families of can put together 20-page soft-cover books courtesy of RocketLife and the USO. The 5-by-7-inch books can be shipped to any APO, MPO or FPO address.
Use this USO link
to get started.


E-books old and new.
Any day of the week Amazon and Barnes and Noble offer a huge variety of free books. Just go to their websites, type "0.00" in the search bar and browse what pops up. Additionally, the 
Free Stuff forum at FatWallet.com
has links that let you search by free e-books by category on Amazon, from classics to graphic novels.
Good Doer wristband
These stretchy bands come in six colors that identify you as "Dreamer," "Idealist," "Explorer," etc.
Visit the Goodnet website
, answer several multiple-choice questions (e.g., "What would you take to a deserted island?") and you'll be sent a link to request the wristband. These would work great in Easter baskets -- or in Christmas stockings if you're already getting your gift closet together. (
Hey! It's Free!
)
90-day subscription to USA Today eNewspaper. Go to the Freebizmag site and scroll down until you see the USA Today offer. Note: You do not need to provide a credit card number. (ForTheMommas)
Food and drink
Kids eat free at Chili's. Through Feb. 21 you can get up to two free children's meals with one adult entrée purchase at participating restaurants. Use the smartphone/printable​ coupon at this post on The Freebie Blogger. 
Starbucks Blonde Roast coffee. Use this link at the Freebie Finding Mom website to sign up for two free cups (one for you, one for a friend). The offer is good through Feb. 22.

Emergen-C vitamin drink mix. Is everyone at your workplace coughing and sneezing? Plenty of people swear by these powders, quaffing them at the first sign of a cold. It can't hurt. It might help. Visit the Emergen-C website to get a sample.

Medium coffee at 7-Eleven. Download an app at The Freebie Blogger and register, then visit the "savings" section when you're ready for your free java. This offer is good through Feb. 28.

Finally: Let's take a minute to appreciate the humble battery. It keeps some pretty important stuff going: smoke detectors, pacemakers, hearing aids, cellphones, laptops and the flashlight you keep around for power failures. However, the family cat probably wishes you'd take the batteries out of that remote-control car your kid got for Christmas.

More on MSN Money:

DATA PROVIDERS
Copyright © 2013 Microsoft. All rights reserved.
Fundamental company data and historical chart data provided by Morningstar Inc. Real-time index quotes and delayed quotes supplied by Morningstar Inc. Quotes delayed by up to 15 minutes, except where indicated otherwise. Fund summary, fund performance and dividend data provided by Morningstar Inc. Analyst recommendations provided by Zacks Investment Research. StockScouter data provided by Verus Analytics. IPO data provided by Hoover's Inc. Index membership data provided by Morningstar Inc.
WHAT IS FRUGAL NATION?
Donna Freedman's Frugal Nation blog is for readers who want to live cheaply -- whether due to necessity or a lifestyle choice. It explores living sustainably and making life more meaningful at the same time.
Donna Freedman, a writer based in Anchorage, Alaska, writes the Frugal Nation blog for MSN Money. She won regional and national prizes during an 18-year newspaper career and earned a college degree in midlife without taking out student loans. Donna also writes about the frugal life for her own site, Surviving and Thriving.