When your iPhone is mugger bait
Thefts of cellphones and other e-devices are soaring. Use these tips to protect your property and maybe save your life.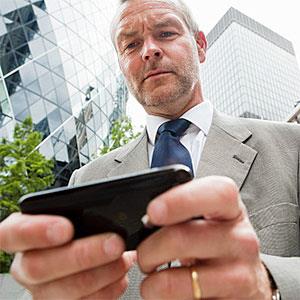 Ever see someone texting while walking, oblivious to oncoming traffic or a shopping mall fountain? That's the kind of person beloved by an "Apple picker," a thief specializing in stealing Apple products.

This ABC News report cites a startling statistic from the Federal Communications Commission: 30% to 40% of robberies in several major U.S. cities involve cellphones.
In early September, the Las Vegas Metropolitan Police Department uncovered two cellphone theft rings. All the robberies targeted similar victims. You guessed it: People who were so focused on their cellphones that they weren't paying attention to the world around them.

It's even worse in San Francisco, where nearly half of all robberies involve cellphones. In a recent USA Today article, a police captain called the crime "your modern-day purse snatching" and pointed out that these phones tend to contain the victims' "entire lives" -- bank account information, private emails and more.

What's a tech-head to do? For starters, hang up and walk.

Bankrate.com blogger Jessica Patel interviewed New York City cop Lt. John Grimpel's for her article, "How much are you worth to a thief?" These are his first two suggestions:

"Pay attention. Don't get lost in activities such as video games or text messages."
"Be aware of your surroundings. Look up every once in a while to check out those around you."
Thieves are targeting not just technology but also its inattentive users. Trouble is, our collective guard may be down more than usual at this time of year, due to
holiday pressures
and more opportunities to socialize, which brings us to Lt. Grimpel's next tips:
"Women: Don't leave your purse on a bar, on the floor or hanging on the back of your chair."
"Men: Don't leave your phone, wallet or other items on a table or bar."
"Keep your toys put away. You are less likely to be a target if your goodies are out of plain sight."
If you think that sounds elementary, then you haven't been in a restaurant or bar lately. Cellphones and tablets are everywhere you look, poised for action lest their owners miss a tweet or a status update.
As for purses (and backpacks and briefcases), you'd think people would know better, but some of them really don't. I once interviewed a woman whose purse was on the bar by her elbow. She turned to chat to a friend and the purse vanished. To add insult to injury: Her smartphone was in the bag and the thief posted profane messages on her Facebook account. Nice.


More layers of protection
As the San Francisco officer noted, a stolen phone could become a potential data breach. If you don't have a password on your cell, put one on there . . . now.
Next, download a phone-finder app. At least one (Find My iPhone) is included in the cell's settings. Others can be downloaded, many of them without charge. If you're an Android user, look for free apps such as Where's My Droid? or Prey Anti-Theft. An app called Plan B can be retrofitted onto either type of phone, i.e.,
after
it gets lost or stolen.
But why risk it? Download an app now, while you've still got your phone (and here's hoping you never need it). After that, take heed of Lt. Grimpel's final warning: "Make sure you have your phone's serial number registered and you have insurance or an anti-theft program on your phone."

I say: Have both! You'll want the serial numbers of all your e-toys, on the off chance that they're recovered by police. If you have homeowners or renters insurance (and if not, why?), then by all means make a claim.

"Theft of gadgets like an iPhone would be covered under a standard home insurance policy, up to the limits set for electronics," says Amy Danise of Insure.com.

Suppose you knock the phone off the bar yourself after knocking back one too many holiday drinks, or drop it into the tavern toilet when leaning over to flush? That's a different story, Danise says: "You would need to pay extra or buy a special policy if you want to cover breakage."

Finally: If some guy with a gun or knife demands your phone, give it up. You can get another phone -- and if you've got the right protection, you might be able to get this one back.
A woman I know was robbed at gunpoint and the teenage thieves ditched her iPhone, apparently because it was password protected. A phone-finder app located the device a few blocks away; the owner's peace of mind, however, is still missing.

More on MSN Money:

DATA PROVIDERS
Copyright © 2014 Microsoft. All rights reserved.
Fundamental company data and historical chart data provided by Morningstar Inc. Real-time index quotes and delayed quotes supplied by Morningstar Inc. Quotes delayed by up to 15 minutes, except where indicated otherwise. Fund summary, fund performance and dividend data provided by Morningstar Inc. Analyst recommendations provided by Zacks Investment Research. StockScouter data provided by Verus Analytics. IPO data provided by Hoover's Inc. Index membership data provided by Morningstar Inc.