9 dangerous financial products
Too often consumers use services and products that lose them money rather than improving the bottom line.
Would you pay $1,900 for a $600 laptop? Lock up your money for 10 years at today's interest rates? Opt for $300 worth of credit with a card that will charge you more than one-third of that amount in fees the first month?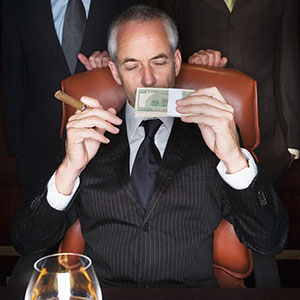 I wouldn't. But plenty of others do, according to Paul Sisolak at GoBankingRates.com.
"Time and again, consumers fall for financial products that may actually lose them money instead of build it. And it's not just a penny here or a dollar there," he says.

"Some banking incentives can be downright dangerous to our financial well-being, causing us to lose out on thousands of dollars over the course of several years."

Sisolak's exhibit No. 1: the 10-year CD.

Yes, I said 10 years.

Who can predict CD rates a decade from now? There's no do-over with a 10-year CD, he notes. Close the account and you'll be hit with fees.

"Combined with inflation, what your CD account was worth in 2012 or 2013 could be valued significantly less in 2020. And that's 10 years of your financial life you can never get back," Sisolak says.

Check out these eight other financial products and practices that can wind up costing you dough.

Someone's making money (hint: it's not you)
2. Overdraft protection. Consumers must opt in for this service, and "banks have tried very hard to persuade them to do so," notes Miranda Marquit in this Wise Bread blog post. It's a moneymaker for the bank; according to a Pew study, 18% of U.S. consumers overdrafted their accounts last year. Better to get a handle on your spending than keep paying up to $35 for each oopsie. If you've currently got overdraft protection, you can always opt back out. Having your debit card declined is embarrassing, Marquit acknowledges, "but at least it is free."

3. Bank giveaways. Is a free T-shirt or toaster really a good reason to select a financial institution? Even if it's a bigger-ticket item like an iPad, a free gift shouldn't be the deciding factor. Instead, focus on finding the bank that offers the services and products you need the most. (See "6 things to know when picking a bank.")

4. Buy here, pay here.
Auto dealers who specialize in older, high-mileage cars at inflated prices are aiming at people "with few other options," according to MSN Money columnist Liz Weston in "
5 stupid solutions to money woes
." Interest rates are high (usually about 24%), borrowers often must pay in person, and a missed payment means repossession. Other options may exist; Weston suggests working with a credit union, or saving up and buying from a private seller on eBay or Craigslist.


'Nothing to show for it'
5. Subprime credit cards.
That's an industry term for cards marketed to people with no credit or bad credit. We're talking cards with 39.9% interest rates and a startling array of fees. Instead, save up $200 to $300 and get yourself
a secured card
. Putting the money aside isn't easy, but with a subprime card "you're going to end up paying that amount in fees (each year) and you've got nothing to show for it," says Curtis Arnold of
CardRatings.com
. "With a secured card, you'd get your deposit back."


6. Prepaid debit cards.
Not only do these offer lack the protection of cards linked to checking accounts, they come with fees that aren't always disclosed at the start. Of 16 major cards examined by Consumer Reports: 
Nine charged to activate the card ($3 to $14.95).
13 assessed monthly fees (up to almost $10).
Seven charged for paper statements ($1 to $5.95).
Five assessed fees if cards were dormant for as little as 90 days.
In addition, some charged for customer service calls (50 cents to $2.99) and most charged for ATM withdrawals ($2 to $2.50, not including the charge from the ATM itself). If you hate bank-linked cards, at least try a credit union.


7. Zero-percent financing.
Suppose you're hit by layoff or serious illness eight months into your "12 months same as cash" deal? Too many consumers "don't understand retroactive interest," says Arnold of CardRatings.com -- and the interest rates are steep, as much as 24.99%.
If you are disciplined enough to budget for monthly payments, and have some money set aside for curveballs like the ones mentioned above, then 0% financing might be a good deal. So might saving up for items and buying them one by one, and/or buying some things secondhand.


Not a 'reasonable solution'
8. Rent to own.
This
Consumer Reports article
 on the RTO industry notes marked-up products, interest rates of up to 311% and a clientele of lower-earning consumers "who can least afford the higher costs." Even a high-interest-rate credit card is a better deal, according to the article: A laptop bought with a 29.99% credit card and paid off at the same $38.99-per-week rate would ultimately cost $1,000 less. More to the point, that same sum banked every week would mean a laptop paid for with cash -- at a savings of $1,260. "Bottom line: Avoid rent-to-own, even if it means postponing purchases until you can better afford them,"  the article concludes.


9. Payday loans.
These
seem
convenient, notes columnist Weston -- they're available to anyone with a paycheck or a benefits payment from sources such as unemployment or Social Security. However, for every $100 you borrow you'll pay at least $15; for a two-week loan, we're talking an annual interest rate of about 400%. "A payday loan isn't a reasonable solution to either a temporary crisis or a chronic shortage of funds," she says.

Readers:
Which financial products do you find ill-advised, foolhardy or just plain toxic?


More on MSN Money:
DATA PROVIDERS
Copyright © 2014 Microsoft. All rights reserved.
Fundamental company data and historical chart data provided by Morningstar Inc. Real-time index quotes and delayed quotes supplied by Morningstar Inc. Quotes delayed by up to 15 minutes, except where indicated otherwise. Fund summary, fund performance and dividend data provided by Morningstar Inc. Analyst recommendations provided by Zacks Investment Research. StockScouter data provided by Verus Analytics. IPO data provided by Hoover's Inc. Index membership data provided by Morningstar Inc.