A year's worth of gifts at rock-bottom prices
Think beyond Christmas when checking out those unbelievable deals on Black Friday and Cyber Monday.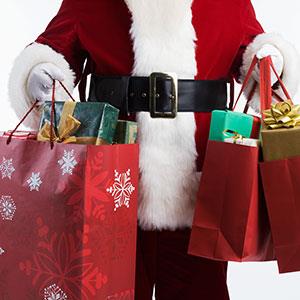 Want to save money all year long? Build yourself a gift closet, i.e., a batch of "evergreen" presents that will see you through just about any occasion. My own gift closet contains journals,
gift cards
, small toys and good fiction.
I didn't pay much for any of it, because I tend to shop clearance tables, yard sales and thrift shops. The gift cards come from rewards credit card programs or from secondary market resellers; I usually have one or two cards on hand at all times.
Not everyone is comfortable giving gift cards
or items that were bought secondhand. While I'd like to point out that some of those "used" gifts are still shrink-wrapped, I understand that this is an intensely personal decision.
There's another way around the issue: getting deeply discounted items from Black Friday/Cyber Monday promotions.
"This is a good time to fill up the gift closet," says Brent Shelton, spokesman for FatWallet.com and Ebates.com.
A couple of his co-workers are planning to hit the $2 bath towel sale at Target: "They buy four of them and there's a (gift) for somebody."
Don't want to stand in line? You probably don't have to, says BFAds.net founder Michael Brim.
"Retailers are really embracing online Black Friday shopping. The vast majority of the items you see in the print circular will be available online," Brim says.
The exceptions tend to be "doorbuster" deals -- you know, the kind of super-loss-leaders that cause some people
to use pepper spray to chase off other shoppers
. You're free to stand in line to get those if you like (and to bring a face mask, just in case).


Reasons to buy
No matter how you shop, think outside the Christmas gift box. Look for super-low prices on presents for:


Mother's or Father's Day.
The possibilities are as varied as the kinds of things your parents want/need, from power tools to paraffin spas.


Birthday parties.
Toy prices are generally best in the second week of December, according to Brim. But here's where those doorbusters and lightning deals come into play. Stashing a few $3.88 board games or $4 stuffed animals is a frugal alternative to buying the gift on the way to the party.
Showers.
Some lovely items for both babies and brides will be discounted pretty deeply. Remember, gift registries are just a suggestion. You can give whatever you want.


High-school graduation.
If your niece or nephew will head off to college next September, think ahead. For example, a Black Friday deal at Target is for extra-long microfiber twin sheets (think "dorm bed") for just $7.50.


College graduation.
Son or daughter de-matriculating next June, or next month? Loss-leader housewares such as a Rubbermaid 20-piece food storage set ($6.92 at Wal-Mart) or a programmable slow cooker ($9.99, Macy's) will help your new grad set up housekeeping.


Retirement.
Is a close relative or friend finally stepping off the treadmill? Look for something that addresses this person's next-stage plans, whether that's reading all of Jane Austen or improving a golf game.


Housewarming.
Plenty of frou-frou home stuff will be on sale on Black Friday, but think about the non-decorative responsibilities of homeowners. Shop vac? A set of hand tools? Sawhorses? Or anything else your friends don't have but will probably need.


Getting the best prices
Deal-finding apps like those at
FatWallet.com
, 
BFAds.net
 and 
Dealnews.com
let you sort by gift categories and by price. If you plan to shop online, access your stores of choice through a cash-back shopping site such as 
Ebates.com
, 
Extrabux.com
, 
Mr. Rebates
and 
ShopAtHome.com
. Many merchants are offering higher-than-usual rebates during the holiday season.

Not interested in cash-back shopping? At least search for online coupons through sites like CouponCabin, RetailMeNot and Savings.com.

Ask about price-matching, suggests consumer writer consumer specialist Andrea Woroch: "Stores will likely be willing to match or even beat the competitor's price. Brick-and-mortars may even match online prices."

A few more tips:

Aim low. Set the deal-finder price at "$10 or less" to see if any suitable gifts pop up. For example, Menard's has Disney-themed children's sleeping bags for $7.44 -- good for sleepovers, and also a fun birthday gift.

Split a purchase with a friend. If times are tight, that coffeemaker or baby monitor becomes an even more affordable shower gift.

Think "free." Some retailers hand out gift cards, holiday ornaments or small gift items to the first shoppers through the doors, or offer free-after-rebate specials on Black Friday. These make good stocking stuffers; some are substantial enough to be wrapped as gifts. (See "Black Friday 2012 freebies" for a current list of rumored and confirmed deals.)

Replace your appliances. Give yourself the gift of lower utility bills by replacing that old fridge or washing machine. Black Friday prices on appliances are the lowest of the year, and some stores throw in delivery and haul-away. Note: Your city or county may offer cash incentives to replace your energy- or water-guzzling devices.

Pay attention. Too often shoppers lose it on Black Friday, i.e., they succumb to the hype and overbuy. Don't do that. Use those shopping apps (or the Thanksgiving newspaper ads, if you're old school) to make a list of the deals that best match both upcoming occasions and your budget.

More on MSN Money:

DATA PROVIDERS
Copyright © 2014 Microsoft. All rights reserved.
Fundamental company data and historical chart data provided by Morningstar Inc. Real-time index quotes and delayed quotes supplied by Morningstar Inc. Quotes delayed by up to 15 minutes, except where indicated otherwise. Fund summary, fund performance and dividend data provided by Morningstar Inc. Analyst recommendations provided by Zacks Investment Research. StockScouter data provided by Verus Analytics. IPO data provided by Hoover's Inc. Index membership data provided by Morningstar Inc.