The answer to gift-card bulge
Got a wallet full of promissory plastic, or a handful of half-used cards in your desk? Technology can help.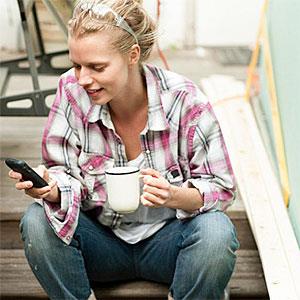 Did you get any gift cards for Christmas? Lucky you. Maybe you ran right out and spent them, or traded them for cold, hard cash.

But maybe you consigned them to a wallet that's already bulging with partially used and/or forgotten plastic scrip. Or maybe you tossed them in a dresser drawer for "later."

(You wouldn't be the only one: My daughter found several such cards almost a year after I put them in her Christmas stocking  -- and she found them purely by chance.)
Unused cards are at risk for two reasons: 

Spillage. That's the industry term for cards that get lost or forgotten. Of course, you can carry them with you but that makes your wallet kind of unwieldy. It also subjects you to . . . .
Theft. "If you lose your wallet or it's stolen, there go your gift cards," says Scott Gamm of Help Save My Dollars.  
Should your cards go missing, there's only a 33% chance of their being replaced by the retailer, according to this MSN Money article. No law requires issuers to offer compensation -- and many of those who do require a receipt or other proof of purchase.

A simple solution exists.

That is, if you have a smartphone: Download a free app that will keep all your gift cards in one place. Apps like GoWallet, Clutch, Gyft, Tango Card and Lemon Wallet corral all your cards so they can be scanned at the cash register.

No more gift-card bulge in your wallet, or the "D'oh!" moment when you realize that once again you forgot to take the cards with you to the mall.

These apps have other functions, such as allowing you to re-gift cards electronically or helping you track deals. However, this article focuses only on the apps' ability to corral your gift card info.

Some of the players
Not all retailers can scan cards directly from your phone, but most can hand-enter the info at the register. However, some might require the original plastic, according to tech writer Jason Cipriani. For example, when he entered a Red Lobster card on Gyft, it indicated the restaurant would "more than likely require (me) to have the physical card."

Here's a quick look at some apps:

Clutch: Andrea Eldridge of Nerds On Call likes the app's ability to organize store loyalty cards as well as gift cards.

GoWallet: "It's snappy, responsive, and can really save you a lot of additional room within your wallet," says Luke Patrick of The iPhone App Review.
Gyft: David Pierce, a senior editor at The Verge, like this app's geo-sensitivity. Any time he enters a store or café for which he has a gift card, Gyft emails a reminder. Sometimes an email is triggered if he merely walks past those establishments. In the past "a few dollars (would) just rot away" because Pierce tended to forget card balances.

Tango Card: Tech writer Gamm is also the forgetful type, so he set a reminder on Tango Card. Now he gets periodic pings reminding him to use up card balances. (It's just as easy to forget a gift card on a phone as in a dresser drawer.)

More on organization
Suppose you lose your phone? According to Pierce, many apps store your card info online; make sure you choose one that does. Whoever finds your cell can't access the material stored on it without a password. That's sort of a moot point since your phone should be password-protected.

(You do have a password, right? If not, stop reading and get one. Seriously.)

If you don't have a smartphone, organize your promissory plastic the old-fashioned way: by making a list of the cards' bar codes and PIN numbers. Yours might be among the 33% of gift cards that are potentially replaceable if lost -- that is, assuming you call to cancel before whoever finds it goes shopping.

You should also register your cards with the retailer that sold them; do this through the websites or by calling the 800 numbers on the card. "If something happens, the retailer can issue you a new one," Gamm says. That is, if the merchant is among the 33% that does make good.

Another option is to use the free gift card registration service offered by ScripSmart, a gift card ratings site. Doing so will get you a monthly email reminding you to use the cards, as well as an alert if a retailer files for bankruptcy.

More on MSN Money:

DATA PROVIDERS
Copyright © 2014 Microsoft. All rights reserved.
Fundamental company data and historical chart data provided by Morningstar Inc. Real-time index quotes and delayed quotes supplied by Morningstar Inc. Quotes delayed by up to 15 minutes, except where indicated otherwise. Fund summary, fund performance and dividend data provided by Morningstar Inc. Analyst recommendations provided by Zacks Investment Research. StockScouter data provided by Verus Analytics. IPO data provided by Hoover's Inc. Index membership data provided by Morningstar Inc.