New Year's resolutions that cost you money
You may have all the best intentions. But some of those well-meaning ideas for 2013 could end up costing you big-time.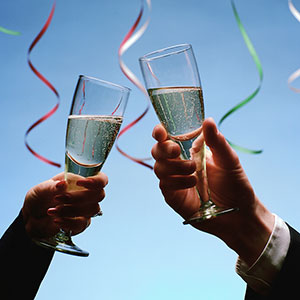 At the end of December we're ready to believe that new year = clean slate. We just know can change our lives by approaching the next 12 months with a new mindset.

Plenty of people make resolutions, but only 8% follow through, according to The Journal of Clinical Psychology.

If you're the kind of person who makes resolutions, try to be among that 8% -- but don't sabotage yourself by making the wrong financial resolution(s).  

"A reality check" is essential for anyone vowing to do things differently in 2013, according to Gail Cunningham of the National Foundation for Credit Counseling.
That includes "being honest about your limitations," she says -- and about any limiting situations. Some of the boilerplate promises we make -- "This year I'll pay off debt/increase job skills/save an emergency fund" -- can actually be counterproductive.
"Paying off debt" is a good resolution that can go bad. For example, suppose you could put an extra $50 on the credit card debt by mailing the electric bill a few days late, or eating nothing but ramen for a couple of weeks?

Bad idea. "Keep the home life stable by ensuring that the rent or mortgage is current, utilities are on, food is in the pantry, gas is in the car and medicine is purchased," Cunningham says.

What about paying off debt versus saving for retirement? "Do both," advises MSN Money columnist Liz Weston. Neglecting to invest for retirement means you lose compound interest, tax breaks and a possible company match, Weston says.
Do it the frugal way

Even a well-meaning resolution such as "This year I'll join a gym" can have a negative impact on finances.

"Regardless of how determined one might initially be, signing a long-term contract at a gym or exercise club could result in wasted money if not used," Cunningham says. The same is true of that elliptical trainer that becomes the world's most expensive clothes valet, or the home treadmill that winds up in a yard sale this summer.
Try free or inexpensive options first: taking the stairs instead of the elevator, getting exercise DVDs from the library or listening to free exercise podcasts, using the stairs instead of the elevator or taking brisk walks with the dog (borrow a neighbor's pooch if need be).

If months go by and you remain super-motivated, maybe a gym is the next step. You could also keep doing the free stuff, or opt for a once-a-month session with a personal trainer to get new workout challenges.

Look before you leap
Here are a few more resolutions to scrutinize very closely. Some are money-related. Others aren't strictly financial in nature but could still cost you cash.


Build an emergency fund.
If you're currently paying down credit card debt, focus on that rather than being hypervigilant about that magic three- to six-month emergency fund. And as noted above, take care of necessities before you tackle either goal.

Go back to school/change careers.
Knowledge is good, but how are you going to pay for it? Change is good, but are you sure you can earn a living? Do a
lot
of research before making big, potentially expensive and/or impoverishing changes. Start slowly: one or two night classes or online courses (ask if your employer will pay for some of it), or trying out your new career as a sideline.


Start a new hobby.
Always wanted to try quilting, woodworking or 
plein-air painting
? Start slowly. Borrow equipment and/or buy it secondhand at first, especially if your home is littered with the ghosts of hobbies past. Those bins of beads or tubs of tools are trying to tell you something: "All this used to be money. Now it's just
clutter
."


Buy a house.
Mortgage rates may be low, but is it really the right time for you to buy? Maybe not, if you're unsure you'll be staying in the area or just unsure that you're ready to deal with homeowner hassles.
Travel.
As you shovel out your car yet again, you think, "This is the year I will go to the Bahamas."  Look long and hard for deals, and also look long and hard at your current spending plan. If you can't afford to travel on what you currently earn, find ways to trim the budget. Having a clearly defined goal makes cutbacks a little easier.


Start a family
. Lovely idea, but hold off a little longer if you're facing lots of debt or an uncertain job situation. Use the extra time to sock away as much as possible into savings, and to parse out details like "at-home parent or child care?" and "stay where we are or rent/buy somewhere else?" Oh, and to enjoy the couplehood stage of your life as much as you can. Once Junior or Sister shows up, things will be very, very different.
To recap: If you made resolutions for 2013, be aware that they can be the devil to follow through on -- just ask 92% of your fellow human beings. And if you made resolutions related to personal finance this year, be sure to give yourself that reality check Cunningham suggests. Personal finance is not one-size-fits-all, and neither are PF resolutions.

More on MSN Money:
DATA PROVIDERS
Copyright © 2014 Microsoft. All rights reserved.
Fundamental company data and historical chart data provided by Morningstar Inc. Real-time index quotes and delayed quotes supplied by Morningstar Inc. Quotes delayed by up to 15 minutes, except where indicated otherwise. Fund summary, fund performance and dividend data provided by Morningstar Inc. Analyst recommendations provided by Zacks Investment Research. StockScouter data provided by Verus Analytics. IPO data provided by Hoover's Inc. Index membership data provided by Morningstar Inc.