10 money lies we tell ourselves
Financial fibs can derail your efforts to pay off debt and save money. It's time to stop rationalizing, justifying and shifting blame.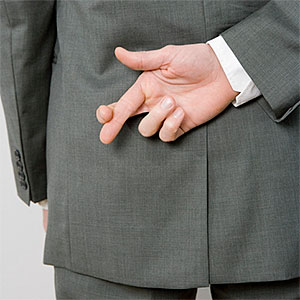 A personal finance blogger named Serena recently listed the "Top 5 lies we tell ourselves about our money."

Only five?
Compared to some people she's doing pretty well. But comparison isn't a good idea, as Serena notes with Lie No. 3: My $5,000 credit card debt isn't that bad -- some people's debt is $30,000.

"Why not compare (yourself) to people doing better?" she asks.

Excellent question.

Obviously the reasons for consumer debt vary. Someone who can't afford insurance could wind up hospitalized by a fall on the ice or a bad case of the flu. Others can justify anything with a bit of financial fibbing:

Charging a pricey treat whose cost you're sure you can cover on payday (Lie No. 1).
Buying something you've wanted forever because it just went on sale (Lie No. 2).
Reasoning that most of your debt comes from buying necessities rather than "frivolous" stuff. (Lie No. 4).
And when unpayable bills show up? That's not your fault, either -- it's that your paycheck isn't enough (Lie No. 5). 
Serena says these lies come from two places: "fear and laziness." To which I say: Yes and no.
For example, sometimes your salary really
isn't
enough. It's no secret that many paychecks aren't keep pace with the cost of living. Entire books are being written on the subject.
Economics aside, it's time to come clean: Many of us
do
rationalize, justify and delude ourselves about money.


Rich but miserable?
Or what about this one:
Wanting more money is just greed.
 Personal finance blogger J. Money
hears that one all the time
. 
"Usually in a high-and-mighty tone, too, as if to look down upon those of us who desire more," he says in a post that includes a list of 10 ways to spend extra cash on anyone
but
yourself.
That sounds like a money lie I've heard:
Rich people aren't happy. They don't enjoy simple pleasures the way we do.
Maybe that's true sometimes, but I bet a lot of rich people enjoy simple pleasures regularly. However, they can pick their spots: savoring a simple slice of bread in a Paris
boulangerie
, or viewing a beautiful sunset from a private island.
That's not to say that some rich folks aren't miserable. But money sure forestalls a lot of financial problems, such as student debt or a lack of medical care.


Changing your outlook
A few more pecuniary prevarications:


It's just money -- you can always make more of it.
Not necessarily. Ask anyone who's been unemployed or underemployed since the recession started.


Life has no guarantees, so why not enjoy my money now?
You're right that life holds no guarantees. For example, there's no guarantee that the first thing your boss says to your tomorrow won't be "Clean out your desk." There's no guarantee that you won't live an additional 60 years only to find that Social Security doesn't begin to cover basic costs. And there's no guarantee that you
can't
enjoy life while planning for the future, so give it a try.


People like us never get anywhere.
There's some truth to this, since "
people born at either end of the economic spectrum are likely to stay there
," according to MSN Money columnist Liz Weston. That said, this is a self-fulfilling prophecy: If you truly believe you can never improve your life, you might never try.
Which leads me to a final, fatal whopper:
I'll always have debt.
You certainly will, unless you start looking for a new approach.
That can be tough to do, since you don't know what you don't know. But staying right where you are won't work, either. Hit the public library, visit
MSN Money's Personal Finance page
and keep reading Frugal Nation for ideas about ways to look at money differently.


Readers:
What financial lives did you once tell yourself? How did you recognize them? Got any tips to share?


More on MSN Money:
DATA PROVIDERS
Copyright © 2014 Microsoft. All rights reserved.
Fundamental company data and historical chart data provided by Morningstar Inc. Real-time index quotes and delayed quotes supplied by Morningstar Inc. Quotes delayed by up to 15 minutes, except where indicated otherwise. Fund summary, fund performance and dividend data provided by Morningstar Inc. Analyst recommendations provided by Zacks Investment Research. StockScouter data provided by Verus Analytics. IPO data provided by Hoover's Inc. Index membership data provided by Morningstar Inc.
WHAT IS FRUGAL NATION?
Donna Freedman's Frugal Nation blog is for readers who want to live cheaply -- whether due to necessity or a lifestyle choice. It explores living sustainably and making life more meaningful at the same time.
Donna Freedman, a writer based in Anchorage, Alaska, writes the Frugal Nation blog for MSN Money. She won regional and national prizes during an 18-year newspaper career and earned a college degree in midlife without taking out student loans. Donna also writes about the frugal life for her own site, Surviving and Thriving.