5 pros, 5 cons of daily deal sites
Social buying vouchers and bargain sites can prop up your budget. They can also nickel-and-dime you to death.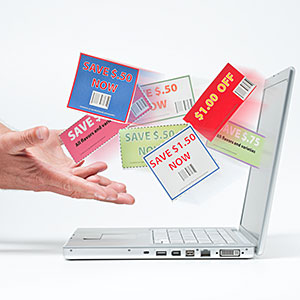 Every day I get emails from at least a half-dozen daily deal and social buying websites. A glance at the subject lines ("auto detailing," "laser tattoo removal") lets me delete most of them unopened.
The ones I do open sometimes lead to purchases. More often, they lead to little internal tussles:
Do I really need that? Don't my nephews already have enough toys? Yes, frozen yogurt is tasty, but more sweets are NOT what the doctor ordered.
That's why
a post on the Moneycrashers website
resonated with me. "5 questions to ask when buying from daily deal websites" is a good reminder that sometimes a "bargain" really isn't.
Used well, bargain/deal sites save you money. Used incorrectly, they wind up costing you cash.
Here's a good example, albeit one that makes me look dumb. Last year I bought a Groupon to take three family members to an Alaska water park. (Yes, I
do
know how funny that sounds.) Normally I consider the place too pricey; at 50% off, it was bearable.
But an interstate move, a bunch of extra freelance work, the holiday season and a trip to the East Coast ate up all my time, and the deal expired. The voucher still held the amount I'd originally paid, but for all of us to get in I had to pony up an additional $35.
Like I said: dumb.
In that Moneycrashers post Jacqueline Curtis provides a good reality check for anyone with an inbox full of come-ons from the likes of Living Social and Deal Chicken. I'll expand on that by offering five reasons you should use daily deal sites, and five reasons you shouldn't.


Reasons to shop
1. Great prices on something you need.
Whether that's a new winter coat or a dental exam and X-rays, social buying and deal sites can really stretch your dollars. (That is, if they really
are
the best deals; more on that in a minute.)


2. Building a gift closet.
Watch these sites year-round and the 2013 holiday season will be mostly pay-as-you-go. Look for "evergreen" gift items so you'll always have a few on hand; last-minute shopping will almost always cost you more.



3. Discount entertainment.
So you allot yourself $50 a month for fun? It can go further with deals on sports events, cultural activities and dinners out.


4. Discount dates.
If your sweetheart is a frugalist, let him or her know that those theater tickets were 50% cheaper. Savvy = sexy.


5. The chance to try a new merchant/service.
Not sure whether you'll like Bolivian-style sushi? No need to pay full price if there's a social buying voucher.


Reasons not to shop
1. They don't always save you money.
You may be able to find as-good or better deals by using price comparison websites like
Nextag
 or 
PriceGrabber.com
. Curtis also points out that the fine print ("Good only Tuesday through Thursday") might turn a swell deal into a tough-to-use item.


2. The scarcity effect.
Phrases like "the deal is on!" and "while supplies last" can create the feeling that you're about to miss your chance. This sense of urgency might cause you to click "buy" without checking those price comparison sites -- or without asking yourself whether you can really afford this.


3. Some things are a little too cheap.
A two-year magazine subscription that costs less than a fast-food combo meal is mighty tempting. But do you have time to read this mag, or will its presence create mental and physical clutter? More to the point: Were you simply
dying
to read Flint Knappers Monthly before you saw the daily deal, or did the ridiculously low price plant the idea in your head?


4. Deals create need.
You don't
need
an Angry Birds ski cap. You just want one. (Well, you want one now that you know of its existence.) A low price plus that scarcity mindset might make you rationalize the purchase even if it's not in your current budget. And speaking of budgets . . . .


5. Deals can knock you off the wagon.
Suppose you're determined to pay off your credit cards within the next six months. No matter how little a deal costs, that's money that
won't
go to your rapid debt repayment plan. Worse, the sites are subtly encouraging the kind of behavior that got you into trouble in the first place. If it's not in your budget, don't buy it.


Readers:
Do you use daily bargain/deal sites? Why or why not?


More on MSN Money
:
DATA PROVIDERS
Copyright © 2014 Microsoft. All rights reserved.
Fundamental company data and historical chart data provided by Morningstar Inc. Real-time index quotes and delayed quotes supplied by Morningstar Inc. Quotes delayed by up to 15 minutes, except where indicated otherwise. Fund summary, fund performance and dividend data provided by Morningstar Inc. Analyst recommendations provided by Zacks Investment Research. StockScouter data provided by Verus Analytics. IPO data provided by Hoover's Inc. Index membership data provided by Morningstar Inc.
WHAT IS FRUGAL NATION?
Donna Freedman's Frugal Nation blog is for readers who want to live cheaply -- whether due to necessity or a lifestyle choice. It explores living sustainably and making life more meaningful at the same time.
Donna Freedman, a writer based in Anchorage, Alaska, writes the Frugal Nation blog for MSN Money. She won regional and national prizes during an 18-year newspaper career and earned a college degree in midlife without taking out student loans. Donna also writes about the frugal life for her own site, Surviving and Thriving.