How to save on your Super Bowl bash
A little creativity and organization can make this your most economical party of the year.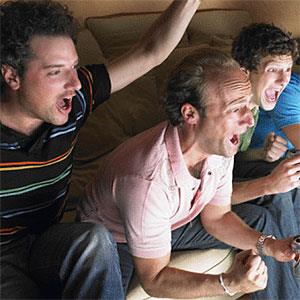 Given that the cheapest available seat for Super Bowl XLVII is going for $1,580 on StubHub, watching the game on TV is definitely the frugal thing to do.

Not that the viewers at home won't be spending. The Retail Advertising and Marketing Association estimates we'll shell out $11 billion for one night of football. Some 5.1 million people even plan to buy a new TV just for the occasion. Retailers know this, and they're offering big-screen prices "as good as we've ever seen," says Brent Shelton of FatWallet.
Don't forget the noshes, either. Last year we gulped an estimated 1.25 billion chicken wings (which I don't understand -- there's hardly any meat on them!) and 15,000 tons of chips. Factor in the pizza delivery, the burgers on the grill or the pigs in the blankets and you'll see how we spent $55 million on food and $237 million on soft drinks for Super Bowl XLVI.

That said, the Super Bowl can actually be a pretty cheap date. If you've got a decent-sized TV, comfortable seating and a bunch of friends who can be counted on to do what they're asked, this could be the most economical party you throw all year.

First order of business: Make logo gear optional. Seriously. Licensed jerseys and T-shirts are darned expensive, unless you luck into them at a yard sale or thrift store. Suggest that friends can show their allegiance by wearing their team's basic colors in some way, such as  Ravens-black pants or a 49ers red hair scrunchie.

Timing has a lot to do with cost, so consider what time you want your bash to begin. Programming actually starts at 11 a.m. EST with "Road to the Super Bowl," although kickoff isn't until 6:30 p.m. Even if you ask them to wait until the 2 p.m. start of "The Super Bowl Today," that leaves plenty of time to eat and drink before the game even starts.

Either plan for lots of snacks or resign yourself to hosting an actual meal after the appetizers. Doesn't mean you have to cook it, though: Melissa Klein of celebrations.com suggests a Super Bowl potluck. You provide one or two main dishes (chili is cheap and always a favorite) and ask guests to bring their favorite party dishes.

Speaking of dishes: Klein also suggests using what you have, vs. spending on paper plates and disposable flatware. "It might take longer to clean up," she says, "but you will save cash and the environment."

A variety of taste
Or you could do an all-appetizers buffet -- again, providing some nibbly bits and asking friends to bring their own favorites. No need to go broke filling people up, either: 

Buy corn tortillas from a warehouse store, dollar store or bakery outlet. Slice into strips and fry small batches in a couple of inches of oil until crispy. (Hot from the fryer, these things will vanish almost instantly. Get a lot of tortillas.)
Open a can of diced tomatoes and peppers and add a little lime juice, fresh or dried cilantro, whole kernel corn and some black beans. Now you get to say, modestly, that you made the salsa and the chips yourself.
Go beyond the usual Chex snack mix using flavor variations from iFoodTV.com -- surprising tastes like Asian, East Indian, caramel or peanut butter.
Visit the Popcorn Board's recipes section to find tips on treats like Blazing Buffalo Ranch, Hot Mustard, Chili-Lime, Nacho Cheese and Lime Pickle. (Hint: Keep the beer cold.)
Reduce stress by keeping your own contribution simple, suggests Lynette Rice of 
CleverlySimple.com
. "Stick with a few (kinds) and double the recipe. You'll be purchasing fewer ingredient types," Rice says in
a Super Bowl tips post at Savings.com
.
Something to drink with that?
Beverages may cost you as much as or more than food. A couple of frugal options are lemonade and homemade iced tea. Plan for a couple of gallons of each. Doctor a dollar-store lemonade mix by adding fresh lemon or lime juice, plus some pureed strawberries or raspberries.
If your friends want beer, let them bring it themselves. Ditto with harder stuff, although you could provide mixers (soft drinks will be big loss leaders in the days leading up to Super Bowl Sunday). Note: It is imperative to make sure no one drinks and drives. Either make sure there are designated drivers or let tipsy pals sleep over.

Since this is a long, long party, why not have something else to do during the pregame show or halftime? Weather permitting, an obvious choice is a pickup football game, says Jennifer Sellers of HowStuffWorks.com. Or have your guests bring their favorite songs for a lip-syncing contest, in honor of the "live or faked?" nature of the singing of the national anthem.

Donna Pilato of About.com suggests several games, too, such as don't say "football," sports charades and a pigskin toss. (The last can be a foam football indoors if it's 10 degrees and snowing where you live.)
Prizes need not cost a lot, since people will compete hard even for a $5 coffeehouse gift card. For some, having won means as much as or more then scoring a free latte.

Readers: Are you having a Super Bowl party? Have any tips for keeping costs reasonable?

More from MSN Money:

DATA PROVIDERS
Copyright © 2014 Microsoft. All rights reserved.
Fundamental company data and historical chart data provided by Morningstar Inc. Real-time index quotes and delayed quotes supplied by Morningstar Inc. Quotes delayed by up to 15 minutes, except where indicated otherwise. Fund summary, fund performance and dividend data provided by Morningstar Inc. Analyst recommendations provided by Zacks Investment Research. StockScouter data provided by Verus Analytics. IPO data provided by Hoover's Inc. Index membership data provided by Morningstar Inc.