The answer to holiday overspending
This simple tactic will keep you at (or under) budget -- and move you closer to your dreams.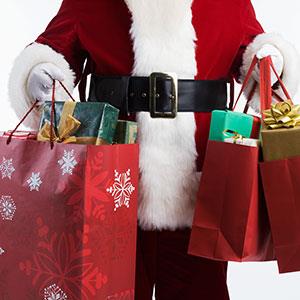 Ben Woolsey of CreditCards.com offers a tactic to keep you under budget during the holidays: Remember the money you already spent.
Specifically, he suggests putting a list of all current financial obligations in your wallet. "When tempted to overspend, remind yourself of what you owe," says Woolsey, director of marketing and consumer research.
That's a good idea, but I'd like to take it further. In a post called "
Goal-oriented groceries
," I suggested a simple way to stick to your budget: Start each list with a dream.
Seriously: At the head of the list write some personal finance goal, such as "pay off consumer debt." Then write "bread, eggs, milk," and write the goal again. Add a few more grocery items, and reiterate your money ambition.
This will work in any store. Thus I propose "goal-oriented holiday shopping."
Instead of keeping that roster of money owies in your wallet, as Woolsey suggests, write it right on your shopping list -- and include a few dreams along with "rent" or "car payment." Use a pen to write out the gifts and a Sharpie to write down your obligations/goals, so they can't be ignored or crossed out.


Staying on track
Don't usually make a gift list? Do it from now on, because shopping without a plan is not smart. Ever gone to the store with
a $50 food budget
and wound up spending $75 thanks to impulse purchases of chips, cookies or craft beer? 
If you find freshly baked chocolate chip cookies hard to resist, you probably don't have much chance against recorded holiday songs. As noted in "
Why we lose it on Black Friday
," retailers know exactly how to push a consumer's buttons.
That's where goal-oriented holiday shopping can help. Having "student loans" or "Roth IRA" right next to "slippers for Mom, gloves for Dad" reminds you of other obligations or, yes, other dreams.
It's easy to overspend if you're excited about the holiday (see "pushing our buttons, above"). It's even easier if you're tired and/or rushed.
Speaking of which: All you habitual procrastinators need to make your goal-oriented shopping lists
now
. Last-minute shopping costs more due to:
Eleventh-hour panic. The store's closing in 45 minutes -- no time for price comparison.
Slimmer selections. If they're fresh out of Dearforms and Isotoners, you'll have to take whatever you can get -- which might mean spending more.
Shipping costs. Pony up for the overnight service, chump.
Overspending will take you even further into the hole. So make that list and move closer to your financial goals, whether that's vanquishing your student loans, saving for retirement or replacing tires so bald they look like inner tubes.


More on MSN Money:
DATA PROVIDERS
Copyright © 2014 Microsoft. All rights reserved.
Fundamental company data and historical chart data provided by Morningstar Inc. Real-time index quotes and delayed quotes supplied by Morningstar Inc. Quotes delayed by up to 15 minutes, except where indicated otherwise. Fund summary, fund performance and dividend data provided by Morningstar Inc. Analyst recommendations provided by Zacks Investment Research. StockScouter data provided by Verus Analytics. IPO data provided by Hoover's Inc. Index membership data provided by Morningstar Inc.