Fight seasonal stress with a 'holidate'
Drop that to-do list and make time for someone special. Single? Plan some R&R with a BFF.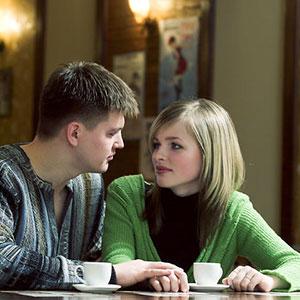 Find yourself sniping at your spouse or partner at this time of year? Wouldn't surprise me. As I noted in "
Why we lose it on Black Friday
," the holidays can be emotionally hectic. It's easy to feel steamrollered by social, familial and commercial pressures to create the perfect celebration.
Your regular to-do list is probably long enough already. When you add decorating, shopping, school holiday programs, preparation of traditional foods, gift-wrapping, and maybe even travel or hosting the visiting relatives -- well, it's enough to make anyone a little tense.
Plus: A lot of these things cost money. Bonus tension!
The folks at the Daily Worth website suggest a simple coping mechanism: date night.
"
A joint holiday solution
" suggests stepping away from the to-do list: "By pledging to set aside a little togetherness time in the coming weeks -- just to relax, don't even discuss what you're getting his mom (please) -- you can tap some of that seasonal joy."
"Whether it's planning a cup of coffee, a concert, a fireside snuggle (or all of the above), you'll reap the double benefit of feelin' the love -- and keeping the channels of communication open, so decisions and purchases are more fun, less fraught."
While I think this is a fine idea, I'd like to embroider it a bit: 
This "holidate" should be frugal, so as not to add financial stress.
It shouldn't be the sole province of couples.
Recharge your batteries
Single people need stress relief, too. After all, they're doing some or all of the same things couples do, and on one salary. How many doting aunts and uncles shop for just the right gifts, attend those school or church programs or make the trek "home" for the holidays?
That is, if they can get time off. Single folks tend to get drafted to work during the most wonderful time of the year.
Thus anyone -- couples or singles, parents or the child-free -- who wants to enjoy the season more should be sure to take time away from it. Use one or more of these frugal strategies to recharge your batteries:

Go out – frugally. Enjoy restaurants, theater and other entertainments via the secondary market for social buying vouchers. (For details, see "The cure for a Groupon goof.") Watch for buy-one-get-one and other offers through coupon mailers and a restaurant or theater group's Facebook page. Look for free movie previews at the Gofobo website.

Take a walk. Enjoy neighbors' holiday decorations or just get some fresh air. Have tea or cocoa when you get home. (Or a cold drink, if you live someplace warm.)

Sit by that fire. If you have a fireplace, light it up and watch the flames. Talk (about anything except the holidays!), listen to your favorite music or just be silent.

Enjoy community events. Attend a concert, play, tree-lighting or whatever's going on. You get all of the seasonal pleasure without any of the work.

Have friends over. Show a film. Watch a game and serve frugal snacks. Play cards. Experiment with new hairstyles and makeup. Whatever feels like fun, in other words. (For some unusual ideas, see "8 cheap, extraordinary entertainments.")

Visit an art gallery. If you do this during an opening, you may even get some wine and cheese.

Go shopping -- for somebody else. Choose a name from the Angel Tree and visit the toy department. You can be a kid again for a little while.

More on MSN Money:

DATA PROVIDERS
Copyright © 2014 Microsoft. All rights reserved.
Fundamental company data and historical chart data provided by Morningstar Inc. Real-time index quotes and delayed quotes supplied by Morningstar Inc. Quotes delayed by up to 15 minutes, except where indicated otherwise. Fund summary, fund performance and dividend data provided by Morningstar Inc. Analyst recommendations provided by Zacks Investment Research. StockScouter data provided by Verus Analytics. IPO data provided by Hoover's Inc. Index membership data provided by Morningstar Inc.