Find an affordable flu shot
The influenza season is off to an early -- and nasty -- start. If you're without health insurance, try these tactics for getting vaccinated today.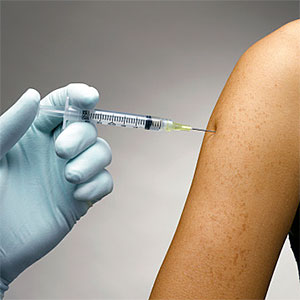 As of earlier this week, eight Chicago-area emergency rooms weren't accepting new patients. The ERs went on "bypass" status, asking ambulance drivers to take cases elsewhere if it's safe to do so.

What was the cause of the patient overflow? The flu.
If you didn't get vaccinated last fall, it may be time to rethink that decision.

In Chicago and across the nation, the flu season is "off to its earliest and most active start in nearly a decade," according to the Chicago Tribune. Normally, the time frame is from mid-December through March, peaking during the second half of January.

But between Sept. 30 and Dec. 31, nearly 100 flu patients were admitted to intensive care units in the Chicago area alone. In the same time period last year, one person was sent to a Chicago ICU.

At least the Chicago patients are still indoors. A hospital near Allentown, Pa., has set up a tent outside the emergency room for flu patients. Pennsylvania is being hit hard by the virus, with 11,327 laboratory-confirmed​ flu cases and 22 fatalities since Oct. 2, according to The Pittsburgh Tribune-Review.  

It takes about two weeks for the influenza vaccine (via injection or inhalation) to become effective, according to the Centers for Disease Control. Your health insurance should cover the cost of vaccination, though  a copay or other fee might be required.

No insurance? Here are some ways around the $32-$44 immunization cost:

Inexpensive or free prevention
Public health. Go to your state's department of public health website to look for information on immunization at public health clinics. Depending on your income, your shot might be free.
Federally qualified health centers.
More than 8,500 federally qualified health centers provide care based on patients' ability to pay. If you can't afford health insurance or a private doctor, use this link to find sliding-scale health care, which includes immunizations.


Medicare.
The senior health program covers flu vaccines with no copay and no deductible.


Vaccines for Children program.
More than 44,000 doctors nationwide offer free immunizations through this program. Children younger than 19 can use VFC if they are uninsured, underinsured, Medicaid-eligible or American Indian/Alaska Native. Note: Some doctors may charge a fee for administering the vaccine, but your child cannot be turned away if you can't afford the fee.
Other places for care
Flu shots may be offered through workplaces, churches, schools and Women Infant Children nutrition programs. They also pop up in random places, such as the Pennsylvania Farm Show, which features free influenza vaccine  this year through Jan. 12.

I can think of three ways to look for offbeat opportunities like those:
Check your local newspaper and/or its website.
Do a Bing search for free or reduced-price shots in your neighborhood.
Call the 2-1-1 essential services clearinghouse number and ask if any social services agency or organization is giving flu shots.
If you have insurance but no primary care physician, get immunized at one of those "doc in the box" urgent care clinics or at a pharmacy or retail store. Walgreens, CVS and other stores may even bill insurance, i.e., you won't have to pay up front.
Still searching? Type your zip code into the "vaccine finder" at Flu.gov to find providers in your area.

More on MSN Money:
DATA PROVIDERS
Copyright © 2014 Microsoft. All rights reserved.
Fundamental company data and historical chart data provided by Morningstar Inc. Real-time index quotes and delayed quotes supplied by Morningstar Inc. Quotes delayed by up to 15 minutes, except where indicated otherwise. Fund summary, fund performance and dividend data provided by Morningstar Inc. Analyst recommendations provided by Zacks Investment Research. StockScouter data provided by Verus Analytics. IPO data provided by Hoover's Inc. Index membership data provided by Morningstar Inc.