Free health screenings through May
The CVS pharmacy chain offers a handful of free tests -- no appointment needed. Also: Free movies, paint, cat food and a warehouse club trial membership.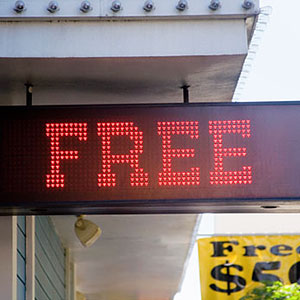 Checked your cholesterol lately? Let CVS/pharmacy do it for you this week or next, for free. There's a free gift in it for you, too.

A nutrition assessment plus screenings for glucose, cholesterol, body mass index and blood pressure will be provided free of charge at CVS/pharmacy locations in 11 major U.S. metropolitan areas.

Offered through the chain's "Project Health" program, the screenings take place from 2 to 6 p.m. every Thursday, Friday and Saturday in March, April and May. After you've done all the tests you'll receive a $5-off coupon and a tote bag.

Where do you have to live to get a deal like that?

Near one of the stores in these areas: Atlanta, Chicago, Dallas-Fort Worth, Detroit, Houston, Los Angeles, Miami, New York City, Philadelphia and Washington, D.C.

The free screenings resume from September through November. During the fall months vision and bone density screenings may also be offered. Sounds like a project to me: How much you can improve your health between now and Thanksgiving?

More free stuff
Movie ticket. Through Thursday, March 28, you can get a free child's ticket for "Oz the Great and Powerful" if you buy two adult tickets at Regal Cinemas. You must be a member of both Disney Movie Rewards and Regal Crown Club; it doesn't cost to join either program. The code DISNEYOZ will unlock this freebie. (Link courtesy of Bryan at Living on the Cheap.)
Warehouse club trial membership. BJ's Wholesale Club is offering a 60-day gratis membership. You have until July 14 to start the trial. This is a great way to find out if an annual membership would be worth it for your household. (Thanks to Freebie Finding Mom.)
Family video. A company called Feature Films for Families is offering free DVD titles such as "Rigoletto," "Who Stole My Voice?" and "The Bellflower Bunnies." (Thanks to Damien at FreeStuff.tv.)

Educational apps. Feeling vaguely guilty about how much time your kids spend playing games on your smartphone or tablet?  FatWallet.com's Free Stuff Forum links to a pair of learning games: "Marbleminds Phonics," which teaches kids the sounds letters make so they can build words, and "Math Basic," aimed at kids between 2 and 6 years of age. Download them and sneak a little education into their gaming; after all, too much time spent around that many angry birds can't be good for them.

Free cat food
. If you're a Petco Rewards member you can print a coupon for
a can of Friskies or Fancy Feast cat food
. The offer expires May 31. And if you're more of a dog person? Print the cat-food coupon anyway and donate it to a cat rescue group or to the store's "pet food bank." (Link courtesy of Savings.com.)
Free paint. Get a coupon for an 8-ounce sample of Valspar paint, redeemable at Lowe's. Nope, it's not enough to do your entire living room -- but one-sixteenth of a gallon can cover up to 28 square feet, so you could use it as an accent or to see how a particular color will look on part of a wall. Or just use it to paint the outside of a birdhouse -- maybe it'll calm those angry birds a bit. (Thanks to Heather at Freebies 4 Mom.)
Ben & Jerry's. Mark your calendar now: April 9 is Free Cone Day at Ben & Jerry's ice cream shops. Expect lines. (Link courtesy of Jen at BeFrugal.com.)
More on MSN Money:

DATA PROVIDERS
Copyright © 2014 Microsoft. All rights reserved.
Fundamental company data and historical chart data provided by Morningstar Inc. Real-time index quotes and delayed quotes supplied by Morningstar Inc. Quotes delayed by up to 15 minutes, except where indicated otherwise. Fund summary, fund performance and dividend data provided by Morningstar Inc. Analyst recommendations provided by Zacks Investment Research. StockScouter data provided by Verus Analytics. IPO data provided by Hoover's Inc. Index membership data provided by Morningstar Inc.