Beating the high cost of Halloween
Join our Facebook chat for tips on costumes, decor and food that's frightfully frugal.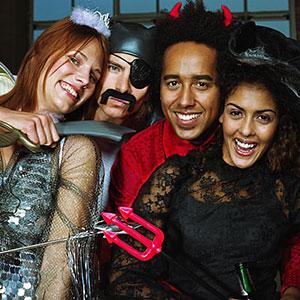 You know what's
really
scary about Halloween? The amount of money some people spend on it. Keeping the holiday both fun
and
affordable is the topic of a Facebook chat this Thursday, Oct. 4.
Drop by the
MSN Money Facebook page
 at 7 p.m. ET to hear topics such as:
How to save 50% or more on costumes.
How to get free shipping and cash-back rebates of up to 13%.
Where to find costume swaps in your region, and how to stage your own.
Other sources for costumes and decorations that are cheap or even free.
Suggestions for great Halloween parties.
Bring your questions and some of your own tips to share. Remember, this is one day in the year when you can dress up and act out without fear of public censure. According to a recent survey, nearly one-third of U.S. adults dress in costume each Oct. 31. Trick or treat!
WHAT IS FRUGAL NATION?
Donna Freedman's Frugal Nation blog is for readers who want to live cheaply -- whether due to necessity or a lifestyle choice. It explores living sustainably and making life more meaningful at the same time.
Donna Freedman, a writer based in Anchorage, Alaska, writes the Frugal Nation blog for MSN Money. She won regional and national prizes during an 18-year newspaper career and earned a college degree in midlife without taking out student loans. Donna also writes about the frugal life for her own site, Surviving and Thriving.
SMART SPENDING
Want to buy a house? Take a number
Remember when real estate was so hot there were homebuyer lotteries and bidding wars? And people so desperate to buy that they'd make an offer sight-unseen? In some markets, they're back.