Keep your wallet in your pocket
Spending shouldn't be too easy. Saying no not only improves the bottom line but makes the yes occasions that much better.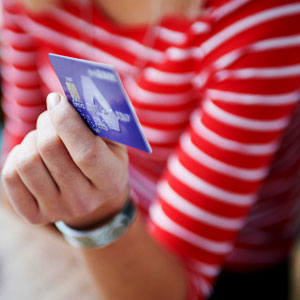 Back when I was a midlife college student paying off divorce-related debt, my default setting was "no."
No, I couldn't skip
packing my lunch
. No, I couldn't shop anywhere but
the thrift store
. No, I couldn't go to every new movie that came out, or even to most of them.
As my finances improved, the knee-jerk "no" morphed into "You can have it if you think it through." So how often does that translate to "yes"?
Not very often, actually. My oft-repeated mantra "I save where I can so I can spend where I want" isn't just window dressing. Being cautious with funds means I can say yes to things that matter: visits to relatives and friends, charitable donations, therapeutic massages.
More to the point, I can say yes without neglecting other things that matter, like saving for retirement and paying for my health insurance.
I don't mind spending per se. I just don't want it to be too easy. Maybe you shouldn't either.


The hedonic treadmill
Getting everything you want as soon as you want it sets the wow-factor bar higher and higher. You get accustomed to eating out all the time, to shopping whenever the whim strikes, to weekend entertainments that must be increasingly fabulous.
It's the "
hedonic treadmill
" effect: Little extras and perks cease to be swell treats and start becoming necessities.
Thus saying "no" or "maybe next time" improves not only the bottom line but also your enjoyment of the occasions when you
do
say "yes." A really nice meal, or a ticket to the ballet or the basketball game, is an incredible luxury because you don't get it all the time.
Hesitating over a purchase is mindful, not miserly. For me, the answer is "not now" probably 75% of the time. Even so, my life feels impossibly rich because I know that I
could
have it if I choose. The richness lies in that choice: where my money will go, and when it will stay.


Readers:
Do you say yes more than no, or the other way around?


More on MSN Money
DATA PROVIDERS
Copyright © 2014 Microsoft. All rights reserved.
Fundamental company data and historical chart data provided by Morningstar Inc. Real-time index quotes and delayed quotes supplied by Morningstar Inc. Quotes delayed by up to 15 minutes, except where indicated otherwise. Fund summary, fund performance and dividend data provided by Morningstar Inc. Analyst recommendations provided by Zacks Investment Research. StockScouter data provided by Verus Analytics. IPO data provided by Hoover's Inc. Index membership data provided by Morningstar Inc.